Spartans have Super Bowl link to Sean McVay
Grandfather John McVay was Duffy Daugherty assistant and Ohio coaching legend
Photo: 1) Sean McVay; 2) Sean McVay as 16-year-old with (l-r ) father Tim McVay, Admiral James Stockdale (Vietnam POW), Bill Walsh and John McVay; 3) John McVay (c) with Jim Proebstle (r) and Dick Proebstle (l); 4) Unintended Impact book cover
The coaching DNA linking New England head coach Bill Belichick and his father Steve, a respected 34-year Navy assistant, are retold with every Patriots Super Bowl trip. But the Belichick family has company this week in Atlanta.
Sean McVay, who has taken the Los Angeles Rams to Super Bowl LIII opposite the Patriots in only his second year as head coach, has his own golden roots. The 33-year-old wunderkind's football DNA connects to his grandfather, John McVay.
John's college coaching career began as an assistant from 1962 to 1964 under Michigan State's Duffy Daugherty, a College Football Hall of Famer whose 1960s Underground Railroad teams led the integration of college football.
McVay moved on as a head coach at Dayton University (1965-1972), as a World Football League head coach with the Memphis Southmen (1974-75) and a NFL head coach with the New York Giants (1976-78). Now 88 and retired living in the Bay Area, he finished his career as an executive with the San Francisco 49ers dynastic run throughout five Super Bowl title seasons in the 1980s and into the 1990s, including two years as general manager.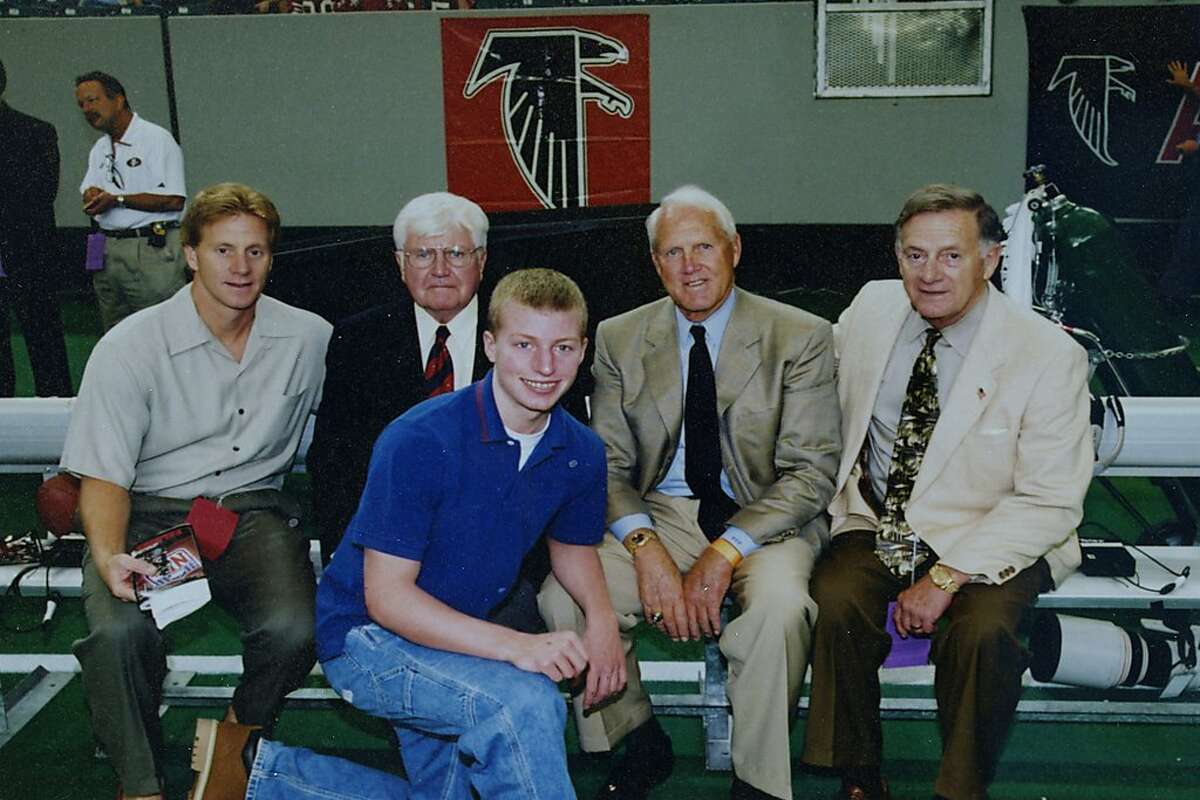 But the first whistle John McVay wore was on the royal turf of Ohio high school football. His Canton Central Catholic teams, with a 47-7-2 record from 1953 to 1961, encroached upon the sacred ground of state and national powers Canton McKinley and Massillon Washington.
In those days, the Canton area was better known for high school football than the Pro Football Hall of Fame that houses the bust of coach Paul Brown and other immortals. Ground wasn't broken on the Hall of Fame building until 1962; Brown got his start at Massillon Washington (1932-40) before Ohio State, the Cleveland Browns and Cincinnati Bengals.
One of McVay's high school and college players was Jim Proebstle, a senior tight end on Michigan State's 1965 national championship team as voted by United Press International (now USA Today).
"His impact as head coach at Central Catholic shaped young men, like myself, that were fortunate enough to play for him," Proebstle said. "The culture of Massillon and Canton reeked high school football. The Canton McKinley Bulldogs and Massillon High School Tigers were powerhouse programs to be reckoned with at the time.
"No one really heard of Central Catholic until McVay came along. His record in the heart one of the toughest high school football conferences in Ohio is a legacy that still stands 60, 70 years later."
McVay developed numerous players that went to Big Ten schools and other colleges before Daugherty tapped him for his staff.
Proebstle's high school teammates included his older brother Dick, a Michigan State quarterback, and Alan Page, a Notre Dame College Football Hall of Famer and Minnesota Vikings Pro Football Hall of Famer. Jim's 1961 team featured six future Division I players.
"As I fast forward to today and think about the value of playing football for Coach McVay, the benefits are easy to identify," he said. "Skills that lasted a lifetime: teamwork, handling adversity, discipline, fair play, appreciation for differences, and having fun while learning how to compete and achieve a goal aren't acquired easily."
McVay's football lessons are so ingrained with Proebstle he supports the game despite watching his older brother Dick's health decline until death from Chronic Traumatic Encephalopathy (CTE). The degenerative disease from head trauma has forced football at all levels to adopt more safety rules.
In other families, members that have seen CTE's toll are now anti-football. But Proebstle is among those focused on preserving the game's values through applying safety rules and emphasizing teaching with tackling techniques.
Proebstle wrote a best-selling non-fiction book on his brother's battle with CTE: "Unintended Impact, One athlete's journey from concussions in amateur football to CTE dementia." He uses proceeds for the Dick Proebstle Scholarship Fund through the Michigan State University Football Players Association.
In the book, Jim writes about Dick's first concussions in high school through the severe concussion he suffered in 1963 spring football that ended his career. Michigan State's doctors told Daugherty that Dick couldn't risk more football.
Dick spent 1964 working as a volunteer freshman coach tutoring Jimmy Raye, a sophomore backup in 1965 to All-American Steve Juday and starter in 1966 and 1967. Raye credits Dick for helping him learn the offense that was a style opposite from what he played at Fayetteville (N.C.) E.E. Smith.
Raye was inducted into Michigan State's Hall of Fame for his playing career as the South's first black quarterback to win a national title on the 1966 team and his long pioneering coaching career in college and the NFL spanning five decades.
The 1966 Spartans were named national co-champions with Notre Dame by the National Football Foundation MacArthur Bowl following their 10-10 tie in the Game of the Century. The 1965 and 1966 title teams featureed College Football Hall of Famers Bubba Smith, George Webster, Gene Washington and Clinton Jones.
"While people wrestle today with the risks of amateur football, all of us, coaches included, were blind to those risks at that time," Proebstle said. "What I can say with certainty, for me at least, is that the benefits of playing high school football for John McVay and college football for Duffy Daugherty were unparalleled to any option available at the time."
Proebstle's respect for McVay is why he's followed his grandson with keener interest than most Rams fans.
Sean McVay's football roots include his father, Tim, who was an Indiana defensive back. Sean played wide receiver at Miami of Ohio, his grandfather's alma mater.
John lined up at Miami for Woody Hayes (1950) and Ara Parseghian (1951-52). Parseghian is among the coaches with statutes in Miami's "Cradle of Coaches Plaza." The others are Earl "Red" Blaik, Paul Brown, Carm Cozza, Paul Dietzel, Weeb Ewbank, John Pont, Bo Schembechler, Thomas Van Vooris and John Harbaugh.
Harbaugh, who won Super Bowl XLVIII with the Baltimore Ravens, was added in 2014, even though he was a player and not a coach at Miami.
Miami may have to soon make room for Sean McVay, but a statue should include a notation crediting his grandfather.
-30-
* * *
I invite you to follow me on Twitter @shanny4055
Tom Shanahan, Author: Raye of Light http://tinyurl.com/knsqtqu
-- Book on Michigan State's leading role in the integration of college football. It explains Duffy Daugherty's untold pioneering role and debunks myths that steered recognition away from him to Bear Bryant.
http://shanahan.report/a/the-case-for-duffy-and-medal-of-freedom
David Maraniss, Pulitzer Prize winner and biographer; "History writes people out of the story. It's our job to write them back in."
Click here for the link to order from August Publications