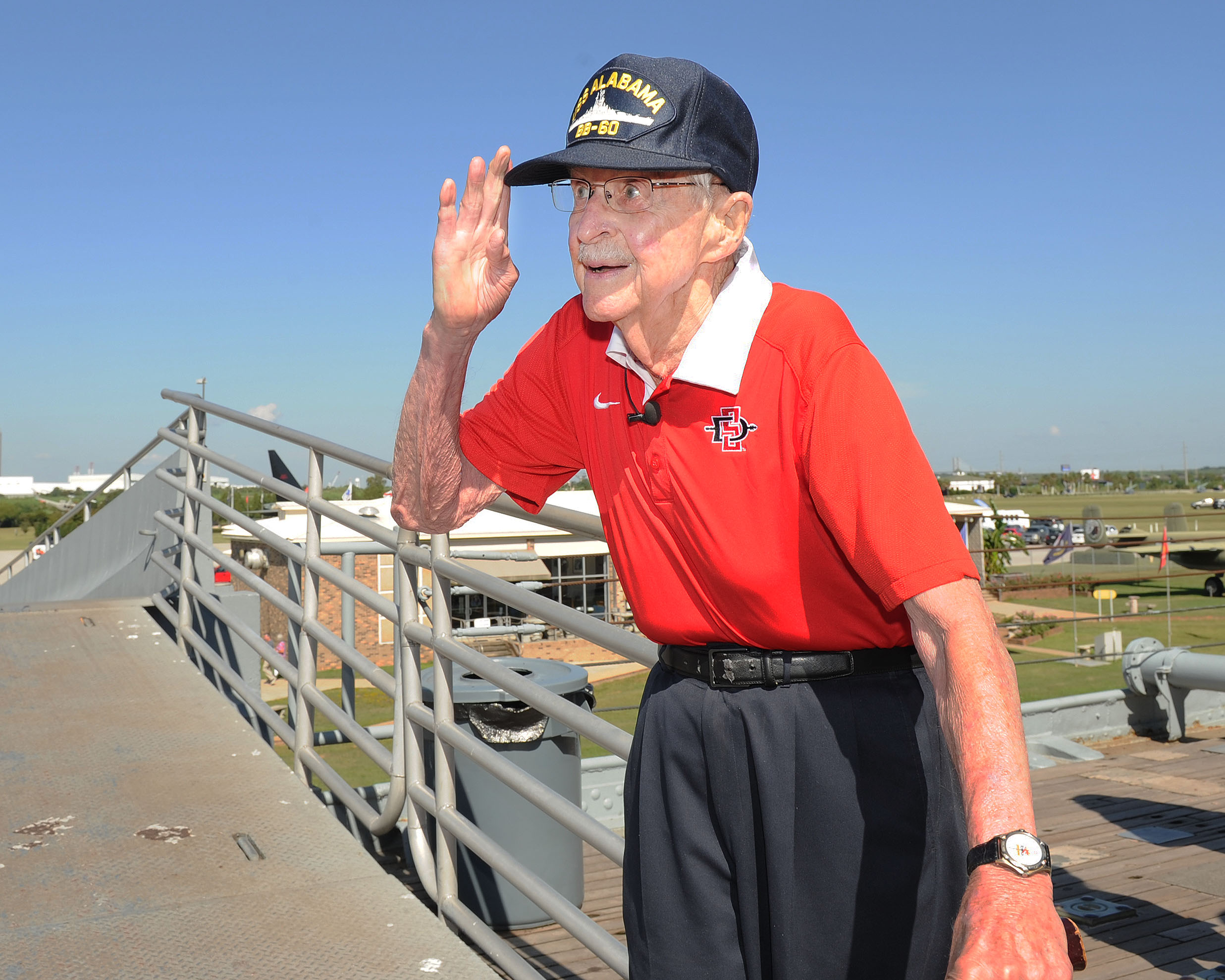 SDSU trip to Alabama marks lifetime journey
San Diego State superfan Tom Ables attending 774th game and revisiting USS Alabama this weekend
Photo: Tom Ables saluting the USS Alabama
I'm re-posting my story from last year when Tom Ables traveled to the San Diego State-South Alabama game and visited the USS Alabama that served on before attending San Diego State in 1946. Tom passed away on Oct. 17, 2017 at age 91. He had attended his 788th game two before he died.
* * *
San Diego State football's unquestioned No. 1 fan completes a 70-year-old circle this weekend. Tom Ables' lifeline includes serving aboard the USS Alabama and attending his 774th San Diego State football game.
Ables, 90, travels with his beloved No. 19-ranked Aztecs (3-0) to watch them play South Alabama (2-2) Saturday at Ladd-Peebles Stadium in Mobile. The road trip includes revisiting the USS Alabama Battleship Memorial Park in Mobile Bay. ...
Ables served aboard the Alabama in one of its four engine rooms.

"My emotions already are so high, I can't imagine what it will be like Saturday," Ables told me. "I did visit my old ship once when I was at a trade show in New Orleans and drove over. But this time, coupled with my Aztecs, wow. I just hope I don't cry."
Upon deboarding the Alabama in 1946, Ables enrolled at San Diego State that fall. He has been attending Aztecs games ever since – through the good times and the bad.
Included in the past 773 SDSU games was a streak of 600 in a row that began in 1964. It was the longest nation for a fan attending a school's home-and-away games until it came to an end last year.
Ables suffered two serious ear infections that prevented him from traveling to Honolulu to see the Aztecs rout Cincinnati 42-7 in the Hawaii Bowl.
Now that he's a nonagenarian, the South Alabama contest will be his second road game in a new streak of four in the 2016 season. The first road trip was two weeks ago when the Aztecs defeated Northern Illinois 42-28 in DeKalb, Ill.
The season included senior running back Donnel Pumphrey, who broke Marshall Faulk's career rushing record, presented Ables with the game ball.
"Obviously, I never dreamed of getting a game ball," Ables said. "I haven't made one tackle, ever. When he gave it to me, I was shocked, and asked him if he was serious."
The 2016 season adds another chapter to Ables' book, "Go Aztecs." The history of San Diego State football through his eyes was first published in 2013.
Without Ables' 2015 ear infection, an illness in 1964 that kept him home under doctor's orders from a game at Cal Poly San Luis Obispo and the expense of traveling to Hawaii for the 1952 Pineapple Bowl, the South Alabama streak would have extended from 1946 to 774 in a row this weekend.
The all-time record is 797 set by the original college football super fan, USC's Giles Pellerin. He died at age 91 in 1998 while attending the USC-UCLA game at the Rose Bowl.
Ever since then, Ables has joked, "That was scripted in heaven. That's the way I want to go."
Gilles' death handed the active title to Alabama super fan Dick Coffee, who died at age 91 with 787.
As fate would have it, Alabama sought a game with San Diego State in 2013 that would have brought Coffee and Ables together, but the Aztecs didn't accept the deal. Coffey died in June 2013 before the season.
In 70 years, Ables has attended games at the venerable West Coast venues from the Pacific Northwest's Husky Stadium at Washington and Autzen Stadium at Oregon to the Bay Area's Memorial Stadium at Cal and Stanford Stadium to Southern California's Los Angeles Memorial Coliseum and the Rose Bowl.
In recent years, San Diego State has visited Big Ten stadiums and North Carolina's Kenan Stadium in 2014.
Ables rates Ohio State's Ohio Stadium as the most intimidating crowd, Wisconsin and Camp Randall the most enjoyable environment and Michigan Stadium the most overrated.
"One year we were playing well at Michigan," Ables said. "We only had about 1,000 fans, but I was down on the field and you could hear them. Something like that would never happen at Ohio State."
Ables' San Diego State love affair includes the depths Paul Governali, the 1942 Maxwell Trophy winner as a Columbia quarterback that coached the Aztecs to an 11-27-4 record from 1956 to 1960. It reached dizzying heights under passing game master Don Coryell (1961-72) before he moved on to innovate NFL offenses with the St. Louis Cardinals and San Diego Chargers.
The Aztecs were mired in mediocrity throughout the late 1990s and 2000s until the current rejuvenation begun in 2009 by Brady Hoke with Rocky Long as his defensive coordinator and continued once Long succeeded Hoke in 2011.
Ables' support never wavered. San Diego Union-Tribune columnist Nick Canepa once wrote, admirably, that Ables was "loyal to a fault."
Now, at age 90, Ables revels in following a San Diego State team ranked in the Top 25 for the first time since in 1995. The Aztecs' 13-game winning streak is second only to Alabama's 16 in a row.
The season includes the serendipitous bonus of being reunited with the USS Alabama as part of an Aztecs road trip.
"Rocky has done it the solid way; no big flashy turn around but each year continued to build a program that has arrived," Ables said. "Good for him. Even when as recently as early last year there were people calling for his head (after a 0-3 start). Now we have the second longest winning streak in America."
They also have college football's most loyal fan, whether it's his old of 600 to an upcoming 774th game.
Follow Tom Shanahan's FanRag Sports stories on Twitter: @shanny4055
-30-