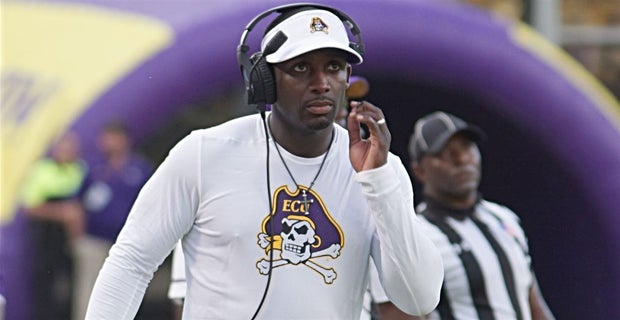 Scottie Montgomery fired with one game left
Former Duke offensive coordinator was on hot seat after back-to-back 3-9 seasons
Photo: Scottie Montgomery
For East Carolina's last two home games, a loss to Memphis and a win over Connecticut, Lee Workman stood with a poker face at a side door to a team meeting room that doubles for post-game media sessions.
Workman has been serving as the ECU athletic department's acting chief operating officer in the absence of an athletic director. His facial expressions differed little when head coach Scottie Montgomery answered questions after a disappointing loss or an encouraging win. ...

Click here for the rest of my N&O story
* * *
I invite you to follow me on Twitter @shanny4055
Tom Shanahan, Author: Raye of Light http://tinyurl.com/knsqtqu
-- Book on Michigan State's leading role in the integration of college football. It explains Duffy Daugherty's untold pioneering role and debunks myths that steered recognition away from him to Bear Bryant.
http://shanahan.report/a/the-case-for-duffy-and-medal-of-freedom
David Maraniss, Pulitzer Prize winner and biographer; "History writes people out of the story. It's our job to write them back in."
Click here for the link to order from August Publications