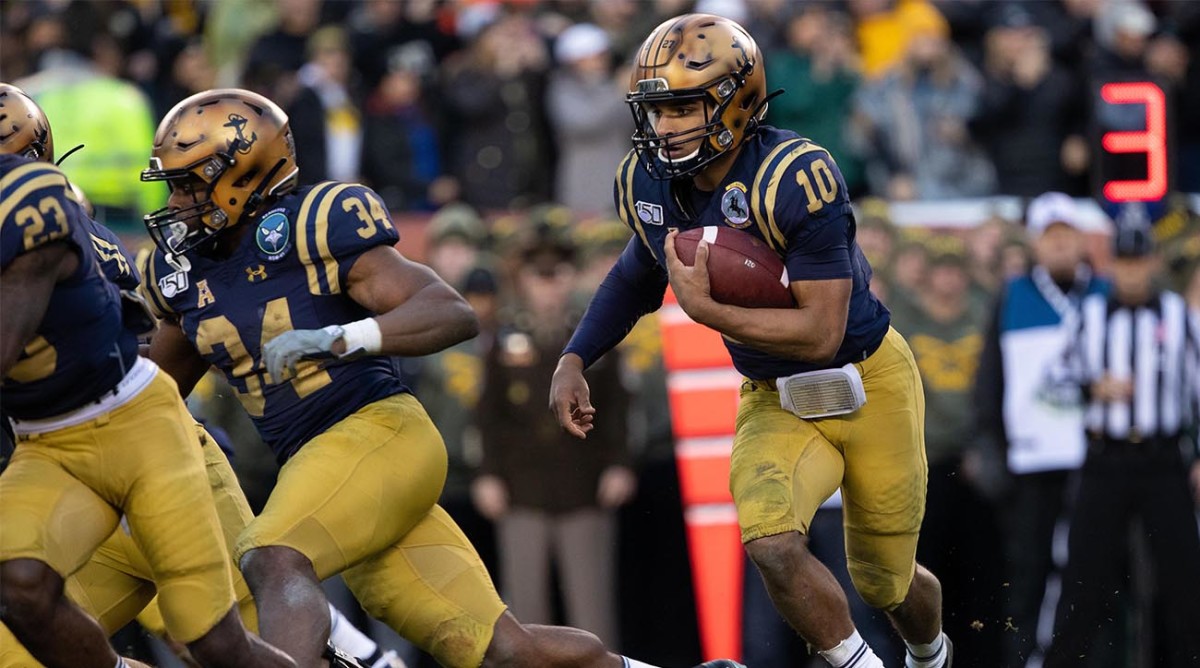 Perry worthy of attention Reynolds earned
AFAN newsletter on dynamic Army-Navy Game QBs and a Heisman helicopter
Photo: Malcolm Perry
Navy quarterback Malcolm Perry put on a performance for the ages in the 120th edition of the Army-Navy Game, the grandest rivalry in college sports, rushing for 304 yards and two touchdowns last week to lead Navy's 31-7 victory.
If some retrospect can be allowed, maybe he deserved some of the national attention and Heisman Trophy votes that Navy quarterback Keenan Reynolds gained four years ago, when Reynolds was a third-team All-American pick that was fifth in the Heisman voting.
Both guided their teams to Top 25 rankings -- Navy No. 23 this year, No. 18 to finish 2015. Both were double-digit victory seasons -- Navy 10-2 with the Liberty Bowl remaining against Kansas State and Navy 11-2 in 2015.
Perry's switch to a full-time quarterback this year resulted in a prolific season. He established a Navy season season record for total offense yards (2,831) and season rushing record (1,804). He also became the third Navy player with 4,000 career rushing yards (4,146) behind Reynolds (4,559) and running back Napoleon McCallum (4,179).
McCallum twice finished the Heisman voting top 10, sixth in the 1983 and seventh in 1985. Until Reynolds in 2015, those were the highest Heisman finishes for a Navy player since quarterback Roger Staubach, won it in 1963.

Four years ago I wrote that the Heisman Trophy trustees blew it. They should have invited five finalists to New York for the Heisman TV show/ceremony to thus include Reynolds.
There was a conflict with the Army-Navy Game played in Philadelphia in the late afternoon on the same day of the Heisman evening festivities in New York, but Navy officials informed the Heisman directors that Reynolds could be flown in a helicopter for a 90-minute flight to New York. A Manhattan helicopter port was located one mile from the Downtown Athletic Club.
The Heisman people passed. It was a missed opportunity for the college game that should be about more than the Power 5 schools involved in the College Football Playoff. Otherwise those programs suck all the air out of the room.
I wondered if the Heisman trustees were so far removed from the real world they are unaware football is in a fight for survival. Participation numbers are down at the youth and high school levels. Here was a chance to show there was a place for a lightly recruited athlete on college football's prestigious Heisman stage. Here was a chance to celebrate an athlete that has made a selfless commitment to serve his country upon graduation.
The point here is extenuating circumstances prevented Perry from catching lightning in a bottle similar to McCallum and Reynolds. But with Perry, we can't blame the Heisman officials for failing to invite Perry to New York. The Heisman voters, notorious for picking the wrong winner or a dubious top 10, are the culprits.
Perry's 1,804 yards rushing ranks fourth in the nation. A 2,000-yard season is possible since Navy has the Liberty Bowl against Kansas State, a Tennessee homecoming for the kid from Clarksville. The Liberty Bowl is Dec 31 in Memphis.
So why didn't Heisman voters appreciate Perry as much as they did Reynolds?

One reason was Navy bounced back from a 3-10 record last year. Perry didn't start his senior year with the broad name recognition that Reynolds enjoyed.
Reynolds was a four-year starter coming off seasons of 8-5, 9-4 and 8-5. The Midshipmen swept Army in all four years he played, including winning the Commander-in-Chief's Trophy three times, 2012, 2013 and 2015.
Instead, Perry's monumental day was about ending Army's three-year winning streak rather than extending the win column. The senior Midshipmen faced the ignoble identity of never having beaten Army if they didn't win in 2019.
Prior to 2016, the Army quarterbacks responsible for ending Navy's 14-year winning streak were Ahmad Bradshaw (2016 and 2017) and Kelvin Hopkins (2018).
About midway through the 14-year streak, the losses prompted Army to form ad hoc committees with former players and administrators to study why Army had fallen behind Navy and its other service academy rival, Air Force.
Many of those recommendations implemented helped Army coach Jeff Monken rebuild the program to three straight winning seasons, three consecutive bowl victories and back-to-back Commander-in-Chief's Trophy seasons (2017 and 2018).
Injuries contributed to Army dropping to 5-8 in 2019 this year, with Navy sweeping Air Force and the Black Knights for the CiC. But more than any other position, Army had to catch up at quarterback.
From 2012 to 22015, Army didn't have quarterbacks to match Reynolds, who won all four of his Army-Navy Games. But then along came Bradshaw's breakout season in 2016, leading the Black Knights to a 21-17 streak-buster victory in an 8-5 season.
In 2017, Bradshaw set an Army season rushing record with 1,746 yards as the Black Knights beat Navy 17-10 and finished 10-3.
A year ago Hopkins, as a junior, made it three in a row with 17-10 win in an 11-2 season that finished with a No. 19 national ranking. Hopkins was the first Army quarterback with 1,000 yards rushing (1,017) and passing (1,026) in a season.
This year's Army-Navy Game could have been a showdown between two dynamic quarterbacks rather than one side having an advantage. That would have raised interest in the game and more awareness for the QBs as award candidates.
But the injury bug slowed down Hopkins, starting with the second game at Michigan. Despite an injury in pre-game warm-ups, the Black Knights still took Michigan to double-overtime before losing 24-21. Nagging injuries limited him the rest of the year until he ran for 208 yards and a touchdown in a 47-6 win over VMI.
He subsequently started the next game two weeks later at Hawaii while he was finally close to full strength. He compiled 156 yards total offense in the first half – 87 rushing, 69 passing -- in the first half of the game at Aloha Stadium.
He was driving Army for a touchdown late in the second quarter, but he came up injured after a 32-yard run to Hawaii's 34, preserving Hawaii's 21-17 halftime lead. Sophomore Christian Anderson, Army's third-team QB with Jabari Laws out for the year, finished the 52-31 loss.
With a bye week to prepare for Navy, Hopkins was optimistic at the start of the week, but he pulled a hamstring in practice. Sophomore Christian Anderson, Army's third-team QB with backup Jabari Laws already out for the season, started. Hopkins was limited to spot duty against Navy.
Perry had the stage to himself in Philadelphia as the difference-maker. Not enough Heisman voters were watching earlier in the year.
* * *
I invite you to follow me on Twitter @shanny4055
Tom Shanahan, Author: Raye of Light http://tinyurl.com/knsqtqu
-- Book on Michigan State's leading role in the integration of college football. It explains Duffy Daugherty's untold pioneering role and debunks myths that steered recognition away from him to Bear Bryant.
http://shanahan.report/a/the-case-for-duffy-and-medal-of-freedom
Don't believe the myths at Duffy Daugherty's expense about Bear Bryant's motivation to play the 1970 USC-Alabama game or myths about the Charlie Thornhill-for-Joe Namath trade. Bear Bryant knew nothing about black talent in the South while he dragged his feet on segregation.
http://www.shanahan.report/a/forty-four-underground-railroad-legacy-facts
http://shanahan.report/a/myths-that-grew-out-of-1970-alabama-game-with-usc
http://shanahan.report/a/mystery-solved-in-thornhill-and-namath-myth
David Maraniss, Pulitzer Prize winner and biographer; "History writes people out of the story. It's our job to write them back in."
https://www.augustpublications.com/products/raye-of-light-jimmy-raye-duffy-daugherty-the-integration-of-college-football-and-the-1965-66-michigan-state-spartans
https://www.augustpublications.com/