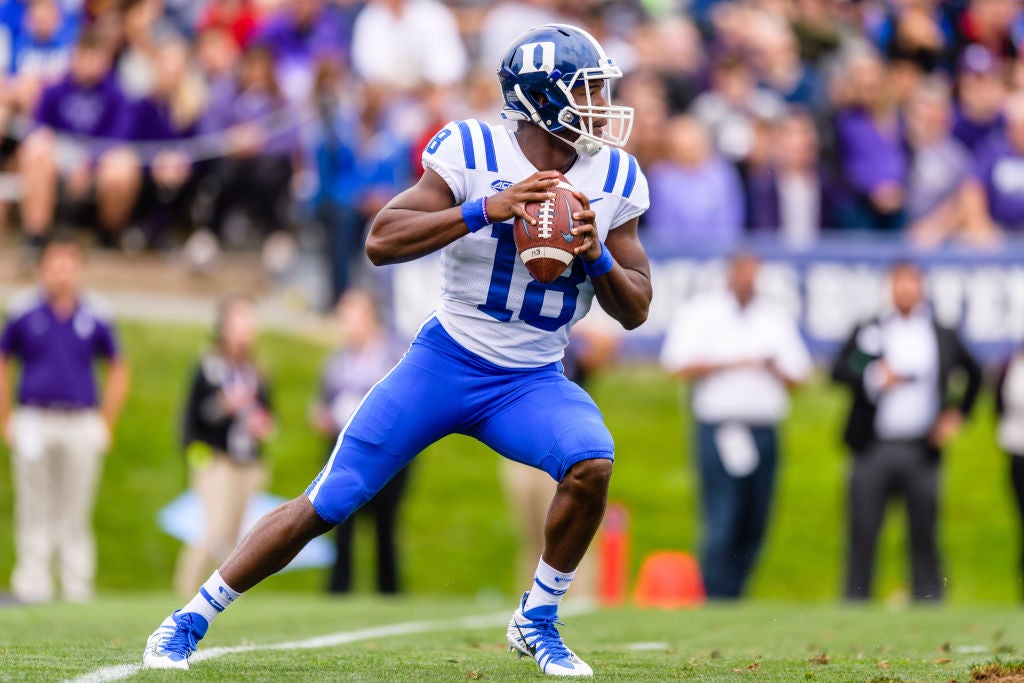 No one can beat Blue Devils at this number
Cutcliffe says four-game transfers quit on team; Brown out for season with surgery
Photo: Quentin Harris
DURHAM — Duke likely never catches Alabama, Clemson and other College Football Playoff regulars, but coach David Cutcliffe's program features a statistic no other school in the nation can beat. The distinction dates to 2007, his first Durham season.
Number of undergraduate transfers: 0 (zero).
Such unusual stability has contributed to Duke's continuity and depth, with prime examples fifth-year senior quarterback Quentin Harris and senior linebacker Koby Quansah. They were comfortable waiting their turns behind two future NFL players — New York Giants QB Daniel Jones and Jacksonville Jaguars LB Joe Giles-Harris. ...

Click here for the remainder of my Wilson Times story
* * *
I invite you to follow me on Twitter @shanny4055
Tom Shanahan, Author: Raye of Light http://tinyurl.com/knsqtqu
-- Book on Michigan State's leading role in the integration of college football. It explains Duffy Daugherty's untold pioneering role and debunks myths that steered recognition away from him to Bear Bryant.
http://shanahan.report/a/the-case-for-duffy-and-medal-of-freedom
Don't believe the myths at Duffy Daugherty's expense about Bear Bryant's motivation to play the 1970 USC-Alabama game or myths about the Charlie Thornhill-for-Joe Namath trade. Bear Bryant knew nothing about black talent in the South while he dragged his feet on segregation.
http://www.shanahan.report/a/forty-four-underground-railroad-legacy-facts
http://shanahan.report/a/myths-that-grew-out-of-1970-alabama-game-with-usc
http://shanahan.report/a/mystery-solved-in-thornhill-and-namath-myth
David Maraniss, Pulitzer Prize winner and biographer; "History writes people out of the story. It's our job to write them back in."
https://www.augustpublications.com/products/raye-of-light-jimmy-raye-duffy-daugherty-the-integration-of-college-football-and-the-1965-66-michigan-state-spartans
https://www.augustpublications.com/