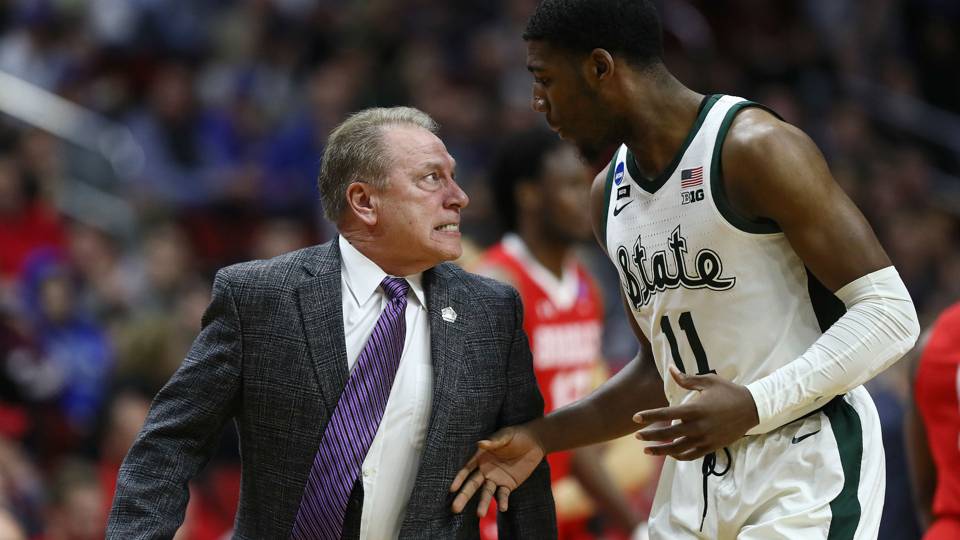 Newell and Heathcote had own Izzo moments
But those Michigan State Hall of Fame coaches didn't face social media platforms
Photo: 1) Tom Izzo and Aaron Henry; 2) Pete Newell; 3) Jud Heathcote, Greg Kelser and Magic Johnson in 1978 at Market Square Arena; 4) Tom Izzo
L'Affaire Izzo erupted in the French-named city of Des Moines, but only casual fans viewed the flashpoint moment as abnormal during Michigan State's victory over Bradley Thursday in the opening round of the NCAA Tournament victory.
Tom Izzo often snarls his teeth and strains blood vessels from neck to forehead. Not only that, there is precedent linking Izzo and two other Michigan State basketball Hall-of-Fame coaches.
Pete Newell and Jud Heathcote also drew attention for yelling at players, including Newell ending his conflict with an impromptu French twist. The difference for Izzo is today's world includes the exponential 1-2 punch of digital video hooked up to the Internet. The scenes are readily blasted to all social media and news platforms.
It wasn't that way for Newell, Michigan State's coach from 1950-1954, or Heathcote, Izzo's mentor and the Spartans' coach from 1976 to 1995, when they were chastised by smaller audiences.
For Newell, the incident involved the wife of a prominent professor who objected to Newell's language directed at his players. The professor and his wife had seats near the Spartans' bench at what was then still considered a modern Jenison Fieldhouse.
Newell chuckled while retelling the story when I had the pleasure of joining him for a reunion with Michigan State 1950s players in Rancho Santa Fe, Calif. I wrote about it in my first story for Jim Comparoni in the old print edition of Spartanmag.
Newell had arrived at Michigan State already a prominent basketball coach, having led the University of San Francisco to the 1949 NIT title at time when the NIT and NCAA championships were of nearly equal prestige. He relished the chance to coach in the Big Ten and considered Jenison a palace compared to USF's facilities (only cold weather took him back to California, where he led Cal to back-to-back NCAA finals, winning in 1959 and falling to Ohio State in 1960).
Aggressive defense was one aspect that set Newell apart in those days, but the way he enforced his style offended the professor's wife. She didn't care for him yelling, "Quit playing grab-ass !" He meant his defenders reaching with their hands instead of moving their feet.
His solution was to yell, "Quit playing GRUH-boss!" He told the professor's wife it was a French word. That was OK with her.
Not only did it solve his problem with the professor's wife – granted, mild language by today's standards -- he ended up using "GRUH-boss" later in his career as a TV/radio analyst for USC games.
For Heathcote, complaints were over his in-your-face shouting at players – not unlike what we see from Izzo.
Heathcote arrived at Michigan State from Montana, where he had a reputation for demonstratively acting out his sideline frustrations. In fact, then-athletic director Joe Kearney, who hired Heathcote, used that as a selling point upon introducing him as Spartans' new head coach.
Kearney said the new coach will sometimes need a seatbelt on the bench, meaning it as a virtue for challenging his players and intimidating referees.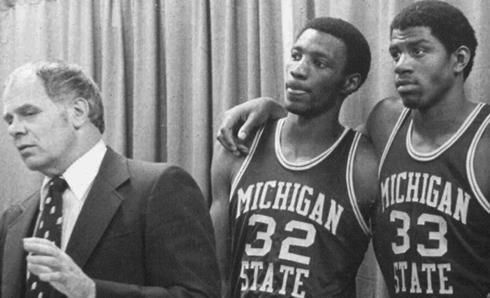 In those early days, Greg Kelser took the brunt of Heathcote's criticism, but that was because he saw more in Kelser's potential. He coaxed out of him an All-American career on the Spartans 1979 NCAA title team with Magic Johnson. He was a first-round NBA draft pick that played six seasons.
But prior to the national title season, Magic and Kelser led Michigan State to the 1978 NCAA Tournament that was the Spartans' first trip since 1957. Michigan State beat Providence in an opening-round game played at the old Market Square Arena in Indianapolis.
I remember Magic and Kelser joining Heathcote to meet with the media after the game. Kelser was asked about Heathcote yelling so harshly at his players.
Similar to L'affaire Izzo in Des Moines, a national writer asked the first question. The reason, then as now, was Heathcote yelling wasn't any more unusual to the Michigan State media then than it is to the media familiar with Izzo.
Kelser shrugged his shoulders and said it was Heathcote's way of caring for his players and getting the most out of them. I don't recall a followup question.
In those days, Heathcote's words in timeout huddles also drew unwanted attention, so his solution established a practice now common among teams. Managers quickly set up folding chairs that are placed further out on the court to move the huddle away from the spectators' ears.
But times have changed.
Izzo doesn't have the luxury of coming up with a solution for his style of coaching. Cameras are everywhere and social media platforms allow everyone to bellow an opinion.
The CBS TV crew of Kevin Harlan, Reggie Miller, Dan Bonner and Dana Jacobson on the sidelines didn't help Izzo, either. They failed to offer a hint as to what set off Izzo, although a crew familiar with the Spartans would have had an strong idea.
The producers in the truck didn't roll back the video to spot Henry jogging up the court, which was Izzo's primary complaint about his effort in a do-or-die NCAA game. The producers otherwise could have said that into the ear of Miller, who is usually very good, to offer a theory. Their lack of insight left them silent and Izzo open to attacks from the uninformed casual fan.
Izzo also suffers from an era of sensitivity in the wake of former Indiana coach Bob Knight's history for abusing players. Knight's behavior for grabbing players was known dating to the 1970s, including throwing a chair across the court in 1985. But he wasn't fired until 2000 after a video surfaced of him choking a player in a practice.
However, comparisons between Knight and Izzo stop at bulging blood vessels. Knight didn't suffer fools. He challenged in a bullying manner anyone that questioned him and his tactics.
Izzo's finger-wagging at Henry was a bad optic and unusual from his past outbursts, which is why the video went viral. But afterward Izzo answered questions to explain his madness.
He admits he gets hot, but he also clarifies he talks with his players so they understand why he yells at them. They accept he is pushing them. The seniors help the younger players get through their first experiences.
Izzo's practices and locker rooms are open enough times to the media during the season that the regulars know an outburst from him is expected. They also recognize Izzo understands who can take being yelled at in that manner. Michigan State didn't try to shield Henry from the media when the locker room was open Friday.
"We all knew that there was nothing that had to be blown up about it," Henry said in video posted on Spartanmag.com. "It was more about the people outside core, outside of the group, that just seem surprised about it. No worries from the players' end, the coach's end. I signed up to be a part of this and I'm loving it so far. I hope he keeps coaching me and I hope I get yelled at more. Not that I'm messing up, but just to keep going."
That explains why the question for Kelser in Indianapolis in 1978 and for Izzo in Des Moines in 2019 came from a national writer before the local media. It's only news outside of Michigan State.
Today's MSU coach with a resume of one NCAA title and seven Final Four trips was asked again about the incident on Friday during an NCAA media session before his second-seeded Spartans (29-6) practiced for their second-round game against 10th-seeded Minnesota (22-13) at 7:45 p.m. Saturday in Des Moines.
"To me it was ridiculous the way it blew up," L'Affaire Izzo said. "I would publicly thank the many, many people that just saw it as ridiculous. People reacted. It's nothing to do with anything with me, with Aaron. I was thinking of benching him, but I decided I'm going to start him anyway and we're going to move on.
"He's a great kid. That has improved so much, but for us to be a championship team, for us to move on, he's got to continue to improve even more. He understands that. I understand that. My players understand that. I hate to say it, that's all that really matters to me."
* * *
I invite you to follow me on Twitter @shanny4055
Tom Shanahan, Author: Raye of Light http://tinyurl.com/knsqtqu
-- Book on Michigan State's leading role in the integration of college football. It explains Duffy Daugherty's untold pioneering role and debunks myths that steered recognition away from him to Bear Bryant.
http://shanahan.report/a/the-case-for-duffy-and-medal-of-freedom
Don't believe the myths at Duffy Daugherty's expense about Bear Bryant's motivation to play the 1970 USC-Alabama game or myths about the Charlie Thornhill-for-Joe Namath trade. Bear Bryant knew nothing about black talent in the South while he dragged his feet on segregation.
http://shanahan.report/a/myths-that-grew-out-of-1970-alabama-game-with-usc
http://shanahan.report/a/mystery-solved-in-thornhill-and-namath-myth
David Maraniss, Pulitzer Prize winner and biographer; "History writes people out of the story. It's our job to write them back in."
Click here for the link to order from August Publications
-30-