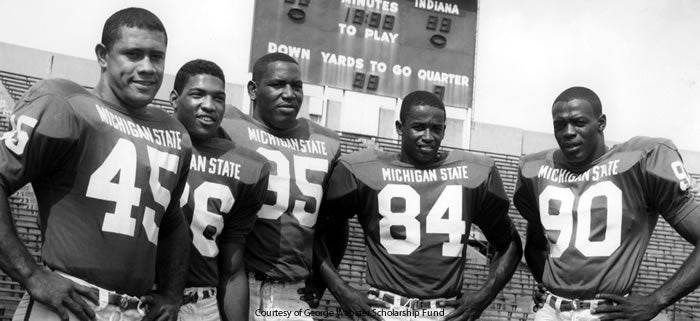 Michigan State Hall of Fame and golden glow
Recent classes enshrined have reached back to recognize 1960s golden era
Photo: L-R: Bob Apisa, Clinton Jones, Bubba Smith, Gene Washington and George Webster
Michigan State's 1960s golden era shines brighter these days. The luminescence, like a firefly's glow, isn't artificial. It's a result of the MSU Hall-of-Fame committee reaching back to honor previously overlooked special athletes.

Football is king, but there is more to the 1960s than the 1965 and 1966 national championships that cast such a large shadow. The golden era was a product of Biggie Munn's vision of an all-around athletic program.
Munn had been lured from Syracuse to Michigan State in 1947 by president John Hannah to build a football national power. That was the building block to a world-class university. After seven seasons, Munn stepped down and took over as athletic director. He promoted assistant coach Duffy Daugherty, who served as head coach from 1954 through 1972.
A Big Ten all-around athletic program was in Munn's blood. At Minnesota, he was an All-American football player and two-time track and field Big Ten champion in the shot put.
In the 1960s, the Spartans won six national titles in four sports: football, 1965 and 1966; hockey, 1966; men's soccer, 1967 and 1968; and wrestling, 1967.
Other sports were Big Ten champions or Big Ten and NCAA contenders. Individuals brought home a plethora of Big Ten and All-American honors and medals from NCAA and Big Ten meets.
Homecoming week seems like a good time to recognize the golden work of Michigan State's Hall-of-Fame committee.
Last month, Spartans fullback Bob Apisa was enshrined. His selection filled out the iconic photo of five two-time All-American players from the 65-66 teams: Bubba Smith, George Webster, Gene Washington, Clinton Jones and now Apisa.
In 2012, Jones was added to Michigan State's Hall alongside Smith, Webster and Washington. Daugherty, Smith, Webster and Washington were members of the inaugural class in 1992.
It wasn't long after Apisa and Jones were named to Michigan State's Hall that they earned entry into another hall. Apisa will be enshrined in the Polynesian Football Hall of Fame the weekend of Jan. 19-20 in Hawaii. Jones was inducted in the College Football Hall of Fame in 2015 alongside Smith (1988), Webster (1987) and Washington (2011).
Coincidence? Maybe, but their selections no doubt raised awareness among voters among the respective committees.
It's also probably not a coincidence the increase in golden era inductions has developed since a Michigan State graduate was named athletic director. Mark Hollis, a basketball team manager under Jud Heathcote, assumed the position in 2008. He oftens speaks of how Hall-of-Fame weekend is special to him.
The recent additions extend beyond Apisa and Jones as recognizable names.
In the Class of 2016, football's Steve Juday, wrestling's Don Behm and soccer's Trevor Harris were enshrined. Juday was a 1965 All-American quarterback that led the Spartans to the first of their back-to-back Big Ten titles and the Rose Bowl. Behm was a 1968 Olympic silver medalist, two-time All-American and member of the Michigan State's 1967 NCAA championship team. Harris was a two-time first-team All-American and leading scorer on the national championship soccer teams of 1967 and 1968.
In the Class of 2017, Apisa wasn't alone. He was joined by Joe Baum, Michigan State soccer's goal-keeper on the national title clubs. He later served as men's heads coach 32 years and women's head coach five seasons.
Other 1960s legends named this decade: Ed Budde (football), Steve Garvey (baseball) and Ken Walsh (swimming), 2010; George Szypula (gymnastics coach), 2012; Hank Bullough (football defensive coordinator), 2013; and Dave Thor (gymnastics), 2014.
Hall-of-Fame committees have a difficult task. I've served on Hall-of-Fame committees and know how it's impossible to satisfy everyone. There are differing opinions on who is great and who is very good. The Hall of Fame is for the great – not the very good.
Below are few more names I offer for consideration. The names below might be considered "the very good" among some Michigan State fans, but I see unique accomplishments that separate them.
One measuring stick voters for the Pro Football Hall of Fame use is this: "Can you write the history of pro football without him?"
Can you write the history of Michigan State football without Jimmy Raye's pioneering paths as a black quarterback and NFL assistant coach? Charlie Thornill leading one of college football's all-time dominant defense in tackles?
--- Jimmy Raye, quarterback, Fayetteville, N.C.: There were virtually no black quarterbacks in the 1960s when Daugherty made the bold decision to start Raye. He backed up senior Steve Juday as a sophomore in 1965 and was a two-year starter in 1966 and 1967. Following the 1966 Game of the Century matching Michigan State and Notre Dame, the schools were named co-national champions by the National Football Foundation's MacArthur Bowl for their 9-0-1 records and controversial 10-10 tie. In those days, milestones by minority athletes weren't noted as they are today, and Raye's stature as the South's first black quarterback to win a national title was overlooked. He was known as a running QB, but his 10 touchdown passes in 1966 were the most by a Spartans signal-caller since All-American Tom Yewcic in 1952. He only finished second-team All-Big Ten, but that should not be held against him. The first-team choice was Purdue All-American Bob Griese, who was second in the Heisman Trophy voting to Florida's Steve Spurrier. It should also be remembered his play in monsoon-like conditions was the difference in an 11-8 comeback win at Ohio State that preserved the 1966 unbeaten season on the march to the Game of the Century. Otherwise the 66 team would have been forgotten from national annals. He was plagued by injuries in 1967, but one of the Spartans' three wins was over Michigan; he had a 2-0 record as a starter and 3-0 overall against the Wolverines. He also carried Michigan State's banner into the NFL, breaking coaching barriers as one of its first black assistants and first black offensive coordinators with the Los Angeles Rams in 1983. His coaching career spanning five decades started under Daugherty. Pro Football Hall of Fame coach Tony Dungy considers Raye a mentor. He mentioned Raye in his 2016 induction speech.
--- Charlie Thornhill, middle linebacker, Roanoke, Va.: "Mad Dog" was the leading tackler and the inspiration of the 65 and 66 defenses. Offenses had to pick their poison: run at George Webster at rover on one side or at Bubba Smith at defensive end on the other. Avoiding them would have worked better if Thornhill wasn't such a sure tackler. He was unanimous first-team All-Big Ten in 1966. It should be noted Thornhill's legend includes a significant myth in college football lore off the field. Somehow a false narrative grew that Alabama coach Bear Bryant steered Thornhill to Daugherty. I believed the accepted myth until researching my book "Raye of Light" revealed otherwise. Thornhill committed to the Spartans before Bryant met him at a college/high school football awards banquet in segregated Roanoke. The real story, verified by Charlie's younger brother William, was Bryant merely endorsed Daugherty to Thornhill as a good man upon learning he was committed to the Spartans.
Can you write the history of Michigan State athletics without these additional names?
--- Jerry West, football: West was a 1966 All-American offensive lineman by the Newspaper Enterprises Association. He also was consensus first-team All-Big Ten choice in 1966 and second-team in 1965. The 65-66 Spartans had other honored linemen worthy of consideration, but West separates himself as a two-time All-Big Ten selection. Michigan State was feared for its physical linemen. West's selection would reflect that part of the team's identity.
--- Bob Steele, track and field: He's more than a two-time NCAA champion in the 400-intermediate hurdles. Steele is Michigan State's ONLY male or female track athlete with back-to-back outdoor national crowns. He won in 1966 in Bloomington, Ind., and repeated in 1967 in Provo, Utah. To fully appreciate this feat requires context and an emphasis on "back-to-back." For comparison, there are only two other Spartans with a pair of national titles, but Fred Alderman's two outdoor crowns were both in the 1927 meet in the 100- and 220-yard sprints and Herb Washington's two national indoor titles were in the 60-yard dash in 1970 and 1972. "Back-to-back" is arguably a tougher achievement than "two-time" champion. Among two other Michigan State Hall of Famers in track with one title, Marshall Dill won the 1973 national 220 outdoors and Judi Brown the 1983 NCAA women's 400 hurdles outdoors. Alderman also won a 1928 Olympic gold medal on the 400-meter relay team and Brown a 1984 Olympic silver medal in the 400 hurdles.
Follow Tom Shanahan on Twitter @shanny4055

-30-