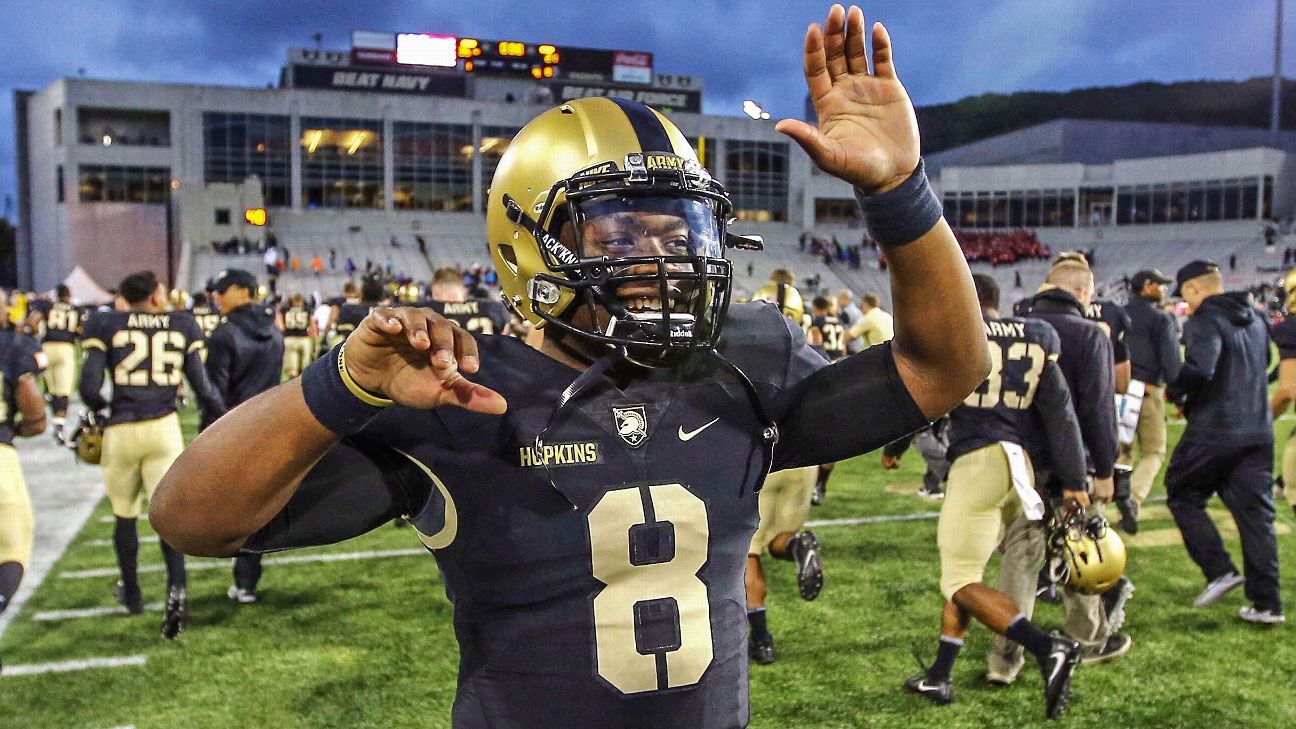 Hopkins soldiers on without accepting excuses
AFAN newsletter on quarterback playing Army-Navy Game in injury-plagued season
Photo: Kelvin Hopkins
#AFAN (Air Force/Army/Navy) stories: My series is about more than academy football players. These stories are about future officers selflessly committed to serving their country during a seemingly endless war on terrorism. There are only 0.5 percent Americans making up the military. Throughout our history Cadets and Midshipmen have answered the call to serve in times of war, but this is a generation of volunteers.
"I get to work daily with heroes that joined the military AFTER we were attacked on 9/11, AFTER the war started in Afghanistan and AFTER the war started in Iraq. I would like to think I'm that brave, but I'm not so sure."
-- Phil McConkey, 1979 Navy grad and New York Giants Super Bowl champion
By TOM SHANAHAN
Kelvin Hopkins Jr. opened the 2019 season as Army's record-breaking triple-option quarterback. He was named to validating watch lists such as the Manning, Unitas and O'Brien, awards that favor those throwing the ball.
Now, four months later, he's limping to finish line, the 120th Army-Navy Game. In the grandest rivalry in college sports, Army (5-7) faces Navy (9-2) at 3 p.m. ET Saturday at Lincoln Financial Field in Philadelphia.
Literally limping with the nagging injuries that started with pre-game warm-ups at Michigan the second week of the season. Figuratively, it's with a losing record ending the Black Knights' streak of three straight bowl victory seasons.
This is likely the last football game for the lightly recruited player out of Charlotte Independence who, through the platform West Point provided him, maximized his opportunity, his national profile and his future beyond football.
But he's not seeking sympathy. Cadets aren't trained that way at West Point, not even the high-profile quarterbacks.
"This is what happens with the triple-option," Hopkins said in a phone interview this week. "Some years you make it through lucky with one or two injuries. Other years you don't; you get a hit lot. I'm still positive about our season. Guys have stepped up; guys shown what they can do. It's been exciting and encouraging to see the young guys play and do well."
Excited to watch from the sidelines?
"It's not our job to be competitors with each other or prey on others downfalls," Hopkins said. "It's the coaches' job to get our best players on the field. It's our job to support each other and do what we can to help the team win. That's what it's always been about. No matter who is out there playing quarterback, we're all going to support each other and hope it brings the team success."
The selfless attitude is the brotherhood bond developed at West Point -- as well as the other two service academies, Navy and Air Force. The contrast with civilian colleges is especially poignant on Saturday. A couple hours after Army and Navy decide their game and leave field, the Heisman Trophy winner will be announced in New York and celebrated for his season on live television.
Three of the four finalists are quarterbacks that started their career at one elite school and transferred to another elite program in search of playing time: LSU's Joe Burrow from Ohio State, Oklahoma's Jalen Hurts from Alabama and Ohio State's Justin Fields from Georgia.
The NCAA portal isn't part of "The Brotherhood."
Duke coach Mike Krzyzewski, a West Point Class of 1969 graduate as a basketball player, tries to instill the brotherhood in his elite recruits to play as a team. But deep down, he has to know it can't equal what he learned at Beast Barracks (boot camp) the summer before a Cadet's plebe (freshman) year.
That was as true when Krzyzewski enrolled at the stone fortress on the scenic banks of the Hudson River in New York as it was for Hopkins and his teammates. It also was true for Rollie Stichweh, Class of 1965.
Stichweh was Army's quarterback and the rival of Navy Heisman Trophy-winning quarterback Roger Staubach in two epic Army-Navy Games in 1963 and 1964. In "Marching On: 1963 Army-Navy Remembered," a documentary made for the 50th anniversary of the game played in the wake President Kennedy's assassination, Stichweh tried to call a game-winning play at the goal line over the deafening crowd. His response in documentary at failing to get off the play was no excuses.
"Among the very first things a new plebe learns after reporting to West Point for Beast Barracks indoctrination and training is the only one acceptable answers allowed are, 'Yes, Sir! No, Sir! No Excuse, Sir!' When success occurs, a cadet is taught to be personally humble but salute the contributions of team members. And then at the same time, from the start, a cadet is taught to accept responsibility and accountability when the outcome is negative. These core principles are intended to guide an Army officer's behavior in serving the Country, but it also applies directly to what is expected from an Army football player.
"In Saturday's Army-Navy game, it is true that many key Army players have been injured and may not be able to play. How will the Army coaches and players react to that concern? 'Time to step up, men. No excuse, sir!' That is what we want to be the mind set of our players now, and the mind set they take forward as officers in our U.S. Army in service to their Country."
At the start of the year, Army hoped to build on its 11-2 season in 2018 when Hopkins was the first Army quarterback with 1,000 yards rushing (1,017) and 1,000 passing (1,026).
With a 1-0 start entering the second game, the Black Knights were on the verge of a monumental upset at Michigan, but they fell in overtime, 24-21. Hopkins threw a third-quarter interception when a scored would have lifted the Black Knights to a 21-7 lead.
I suggested he completed that pass and others he missed with healthy legs as a base under him.
He didn't bite, though.
"Nah, there is no story to it," Hopkins said. "In warm-ups I said something about how I didn't feel right. We all made the decision it wasn't too bad and I could play. I went out there to try and help the team. I don't think it was serious or the coaching staff wouldn't have put me out there or the training staff would have pulled me."
Hopkins played in 11 games, but that's misleading. His playing time was limited in four other games. Thanks to a 208-yard rushing performance in a win over VMI, he leads the team with 706 yards and seven touchdowns. But his passing is down to 32-of-75 for 570 yards with four touchdowns and five interceptions. In 2018, he was 51-of-93 with six touchdowns and three interceptions.
Without Hopkins in the lineup, the Black Knights' younger quarterbacks had their moments with sophomore Jabari Laws and junior Christian Anderson.
Hopkins was back in the starting lineup for the Army's last game, a 52-31 loss at Hawaii that was closer than final score suggests. But he was knocked out of the game late in the second quarter.
Laws had been injured the previous game and wasn't available, so Anderson took over. Anderson went down late in the fourth quarter and freshman Jemel Jones had to finish the contest. With a bye week, Hopkins had an extra week to recover and is listed the starter on the depth chart.
The loss to Hawaii ended Army's hopes for a bowl bid. Since two of the Black Knights wins are over Football Championship Subdivision schools, Morgan State and VMI, they have only four wins toward bowl eligibility necessity of six victories. Only one FCS victory can be counted.
But perhaps in no other game than Army-Navy is the cliché valid to throw out the records. Last year Navy was 3-9 entering their showdown, but the Midshipmen took the Black Knights deep into the fourth quarter before Army secured the win.
"That's what this game is about," Hopkins said. "It's never about the records or who is playing well at the time. It's about who goes out there and executes better . It's a rivalry game. It's one of the biggest in the country and it's going to be played that way. We know anything can happen. We're excited for the opportunity."
Maybe limping to the finish line isn't a fair way to describe Kevlin Hopkins' final game. He seems to be standing tall.
* * *
I invite you to follow me on Twitter @shanny4055
Tom Shanahan, Author: Raye of Light http://tinyurl.com/knsqtqu
-- Book on Michigan State's leading role in the integration of college football. It explains Duffy Daugherty's untold pioneering role and debunks myths that steered recognition away from him to Bear Bryant.
http://shanahan.report/a/the-case-for-duffy-and-medal-of-freedom
Don't believe the myths at Duffy Daugherty's expense about Bear Bryant's motivation to play the 1970 USC-Alabama game or myths about the Charlie Thornhill-for-Joe Namath trade. Bear Bryant knew nothing about black talent in the South while he dragged his feet on segregation.
http://www.shanahan.report/a/forty-four-underground-railroad-legacy-facts
http://shanahan.report/a/myths-that-grew-out-of-1970-alabama-game-with-usc
http://shanahan.report/a/mystery-solved-in-thornhill-and-namath-myth