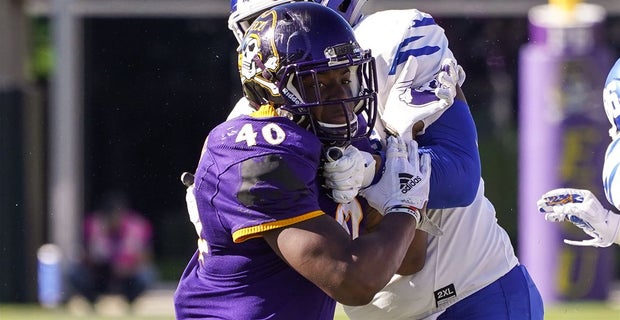 Harvey rises from obscurity to shot at NFL
Former walk-on fullback sets conference record as first-year defensive end
Photo: Nate Harvey
By Tom Shanahan, Correspondent
GREENVILLE -- East Carolina's Nate Harvey enjoys an unlikely homecoming this week that no one anticipated. Not even the Knightdale High graduate and his mother, Zelinka Harvey, dreamed of it in their wildest imaginations.
First of all, ECU (3-8) playing at N.C. State (8-3) wasn't on the schedule at the start of the season. The noon game on Saturday at Carter-Finley Stadium is a replacement for separate third-week contests canceled due to Hurricane Florence. ...
Click here for the remainder of my N&O story
* * *
I invite you to follow me on Twitter @shanny4055
Tom Shanahan, Author: Raye of Light http://tinyurl.com/knsqtqu
-- Book on Michigan State's leading role in the integration of college football. It explains Duffy Daugherty's untold pioneering role and debunks myths that steered recognition away from him to Bear Bryant.
http://shanahan.report/a/the-case-for-duffy-and-medal-of-freedom
David Maraniss, Pulitzer Prize winner and biographer; "History writes people out of the story. It's our job to write them back in."
Click here for the link to order from August Publications