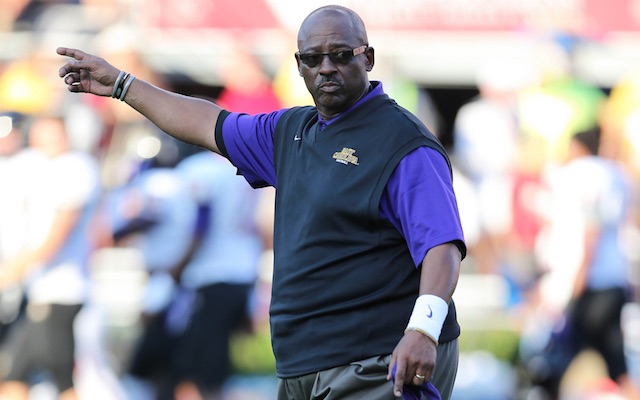 ECU reaches out to Ruffin McNeill to honor him
Photo: Ruffin McNeill
During the offseason, East Carolina offensive coordinator Donnie Kirkpatrick went to Oklahoma to pick the brain of Sooners' head coach and former Pirates' assistant Lincoln Riley.
But Kirkpatrick also had another assignment on the trip: Patch up the school's relationship with Ruffin McNeill, the former ECU football player and head coach who was fired following the 2015 season. McNeill has been Oklahoma's defensive line coach since Riley hired him in 2017.
"Coach (Mike) Houston asked me to go out there and visit with Ruff about the possibility of him coming back to a game or something to honor him for all his true love for the university," Kirkpatrick told The News & Observer Saturday at ECU football's media day. "Ruff was full speed ahead. He was on board for that." ...
Click here for the remainder of the N&O story
* * *
I invite you to follow me on Twitter @shanny4055
Tom Shanahan, Author: Raye of Light http://tinyurl.com/knsqtqu
-- Book on Michigan State's leading role in the integration of college football. It explains Duffy Daugherty's untold pioneering role and debunks myths that steered recognition away from him to Bear Bryant.
http://shanahan.report/a/the-case-for-duffy-and-medal-of-freedom
Don't believe the myths at Duffy Daugherty's expense about Bear Bryant's motivation to play the 1970 USC-Alabama game or myths about the Charlie Thornhill-for-Joe Namath trade. Bear Bryant knew nothing about black talent in the South while he dragged his feet on segregation.
http://www.shanahan.report/a/forty-four-underground-railroad-legacy-facts
http://shanahan.report/a/myths-that-grew-out-of-1970-alabama-game-with-usc
http://shanahan.report/a/mystery-solved-in-thornhill-and-namath-myth
David Maraniss, Pulitzer Prize winner and biographer; "History writes people out of the story. It's our job to write them back in."
https://www.augustpublications.com/products/raye-of-light-jimmy-raye-duffy-daugherty-the-integration-of-college-football-and-the-1965-66-michigan-state-spartans
https://www.augustpublications.com/