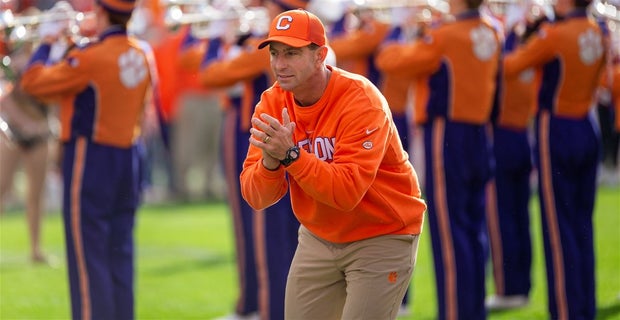 Dabo insults his team with Alabama history
Clemson's third-ranked team is far more talented than Alabama's 1966 roster
Photo: Dabo Swinney
"Notre Dame was 8-0 and ranked No. 1; the Spartans were 9-0 and ranked No. 2. Despite the fact that Alabama was also undefeated — and, in fact, would end the 1966 season as the only undefeated Division I team in the country — no one doubted that the winner of the Notre Dame-Michigan State game would end up as the unanimous national champion."
--- Time Magazine, Nov. 7, 2013, The 1966 Game of the Century
By TOM SHANAHAN
Dabo, Dabo, Dabo.
You've been reading too much Keith Dunnavant, a noted Bear Bryant apologist. I know you're an Alabama graduate, but you weren't even born in 1966, when Alabama football remained segregated while Bryant continued to drag his feet on the Civil Rights issue of the decade -- or is it century?
Don't fall for Alabama's false narrative created in 1966 that the Crimson Tide football team was a victim of biased voting in the final polls upon falling to No. 3 behind Notre Dame and Michigan State after opening the season No. 1. Bryant was a folk hero and folk legend tales allow for suspending the truth. The truth is, Alabama's 1966 roster didn't belong on the same conversation with Michigan State and Notre Dame.
Dabo, you're too much of a man of the New South to not know the facts about Alabama before it joined the union, in the words of Pulitzer Prize-winner Jim Murray..
We all saw your quote, griping that your Clemson Tigers are ranked No. 3 despite an unbeaten season after opening the year atop the preseason polls as the defending national champion.
"It's the first time since 1966 a team started the season No. 1, went undefeated through the regular season and finished third."
But Alabama in 1966 and Clemson in 2019 are apples and oranges, Dabo -- rotten 1966 apples, actually.
It's understandable, given the propaganda you've been fed growing up in Alabama, that you related Clemson's unfair slide in the College Football Playoff. But you're overlooking the 1966 Alabama fans claimed they were victims of reverse discrimination as an all-white team in the land of Birmingham top cop/fascist Bull Connor.
Not only is such a defense absurdly ironic, there is an easy hole to punch in the argument. Three years later Texas won the 1969 national title with the last all-white national championship team. Another hole: Steve Spurrier, playing at all-white Florida, was voted the 1966 Heisman Trophy winner.
Here are some facts: In 1966, Alabama played 10 all-white opponents with eight of the 10 regular-season games played within Alabama's borders at one of its three home stadiums. The Crimson Tide didn't play No. 4-ranked Georgia that season among its six SEC games. None of its 10 regular-season foes were ranked.
At Denny Stadium (now Bryant-Denny) in Tuscaloosa, Alabama beat Clemson (6-4), Mississippi State (2-8) and South Carolina (1-9); at Legion Field in Birmingham, Louisiana Tech (1-9), Vanderbilt (1-9), LSU (5-4-1) and Auburn (4-6); at Ladd-Peebles Stadiuim in Mobile, Southern Mississippi (6-4).
That's a combined 26-53-1 record. Not exactly murder's row.
One writer in the South that had no sympathy for Alabama's case was Dick Herbert of the Raleigh News and Observer. He wrote Alabama was fortunate to win the AP national title in 1965 with a 9-1-1 record that was inferior to UPI (now USA Today) national champion Michigan State's 10-1 mark . He also wrote Alabama was merely a victim of having a strong team in a year there were two stronger teams, Michigan State and Notre Dame.
Now let's look at the talent. Alabama had four players drafted: Leslie Kelly in the first round (26th overall); Louis Thompson and Wayne Trimble in the fourth round; and Cecil Dowdy in the ninth round.
The Notre Dame and Michigan State senior classes alone represented seven NFL first-round draft picks and 17 overall draft picks – nearly a starting lineup. Six have been enshrined in the College Football Hall of Fame.
Notre Dame senior linebacker Jim Lynch won the Maxwell Award as the nation's top collegiate player. In the Heisman Trophy voting, Notre Dame fullback Nick Eddy was third, Michigan State halfback Clinton Jones sixth and Notre Dame quarterback Terry Hanratty eighth. Lynch, though, says Webster should have won the Heisman.
Four of the first picks were Spartans – all College Football Hall of Famers: defensive end Bubba Smith (first), running back Clinton Jones (second), rover/linebacker George Webster (fifth) and wide receiver Gene Washington (eighth).
Notre Dame's first-rounders were offensive tackle Paul Seiler (12th); defensive tackle Alan Page (15th), who is a College and Pro Football Hall of Famer; and offensive guard Tom Regnar, 23rd.
That's seven players before Alabama's first player was chosen.
Add the juniors and sophomores to the seniors (freshmen were ineligible for the varsity until 1972) and playing that day were 10 first-round draft picks, 42 overall draft picks, 33 pro players and 25 with All-American honors.
"I still say they are the two best teams to ever play each other," Hanratty has said often. "You look at the amount of talent that was on both sides of the field."
Alabama's All-American offensive tackle was Cecil Dowdy, a 6-foot, 204-pounder. He was out of the NFL in two years.
Who was going to block Michigan State's Smith (6-7, 285) and Webster (6-4, 225)?
Who was going to block Notre Dame's Page (6-4, 245) and Lynch (6-1, 235)?
Dabo, I'm with you on Clemson being slighted in the CFP rankings. But I thought you should know the facts about the 1966 Alabama team, not the propaganda you grew up hearing.
Don't drink the Alabama kool-aid. You're insulting your talented roster.
* * *
I invite you to follow me on Twitter @shanny4055
Tom Shanahan, Author: Raye of Light http://tinyurl.com/knsqtqu
-- Book on Michigan State's leading role in the integration of college football. It explains Duffy Daugherty's untold pioneering role and debunks myths that steered recognition away from him to Bear Bryant.
http://shanahan.report/a/the-case-for-duffy-and-medal-of-freedom
Don't believe the myths at Duffy Daugherty's expense about Bear Bryant's motivation to play the 1970 USC-Alabama game or myths about the Charlie Thornhill-for-Joe Namath trade. Bear Bryant knew nothing about black talent in the South while he dragged his feet on segregation.
http://www.shanahan.report/a/forty-four-underground-railroad-legacy-facts
http://shanahan.report/a/myths-that-grew-out-of-1970-alabama-game-with-usc
http://shanahan.report/a/mystery-solved-in-thornhill-and-namath-myth
David Maraniss, Pulitzer Prize winner and biographer; "History writes people out of the story. It's our job to write them back in."
https://www.augustpublications.com/products/raye-of-light-jimmy-raye-duffy-daugherty-the-integration-of-college-football-and-the-1965-66-michigan-state-spartans
https://www.augustpublications.com/