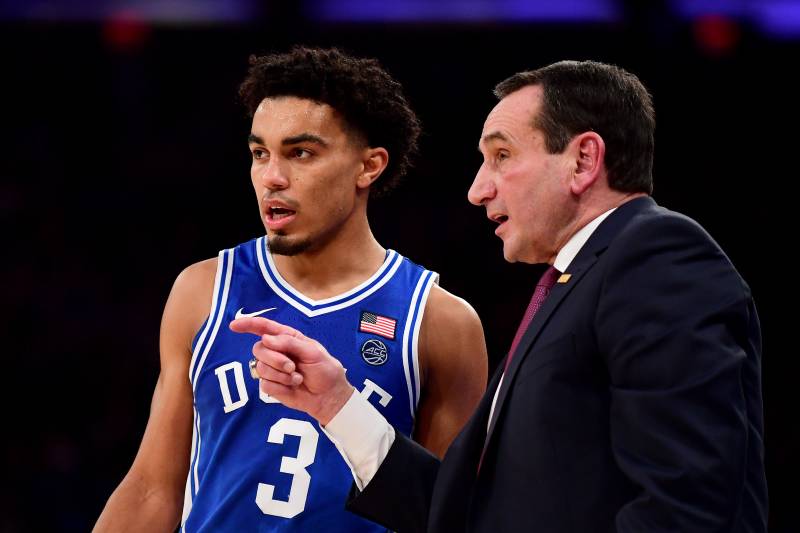 Coach K turning to his leadership lessons
Duke's young roster is taking crash course on Krzyzewksi's three books
Photo: Mike Krzyzewski
Duke coach Mike Krzyzewski learned leadership at a foremost institution for developing leaders — West Point. After all, before he was a basketball coach, he was a retired U.S. Army captain.
Coach K's success has led to writing three books on his sport and leadership. He holds seminars featuring Fortune 500 executives and military brass sharing ideas.
Well, two Duke losses this late in the season — 86-66 on Feb. 19 at N.C. State and Tuesday's 113-101 double-overtime defeat at Wake Forest — have him thumbing through copies. He's citing applicable chapters befitting his young roster that is otherwise successful with a 23-5 overall record, 13-4 in the ACC and a No. 7 national ranking. ...
My Duke Notebook in the The Wilson Times
* * *
I invite you to follow me on Twitter @shanny4055
Tom Shanahan, Author: Raye of Light http://tinyurl.com/knsqtqu
-- Book on Michigan State's leading role in the integration of college football. It explains Duffy Daugherty's untold pioneering role and debunks myths that steered recognition away from him to Bear Bryant.
http://shanahan.report/a/the-case-for-duffy-and-medal-of-freedom
Don't believe the myths at Duffy Daugherty's expense about Bear Bryant's motivation to play the 1970 USC-Alabama game or myths about the Charlie Thornhill-for-Joe Namath trade. Bear Bryant knew nothing about black talent in the South while he dragged his feet on segregation.
http://www.shanahan.report/a/forty-four-underground-railroad-legacy-facts
http://shanahan.report/a/myths-that-grew-out-of-1970-alabama-game-with-usc
http://shanahan.report/a/mystery-solved-in-thornhill-and-namath-myth
David Maraniss, Pulitzer Prize winner and biographer; "History writes people out of the story. It's our job to write them back in."
https://www.augustpublications.com/products/raye-of-light-jimmy-raye-duffy-daugherty-the-integration-of-college-football-and-the-1965-66-michigan-state-spartans
https://www.augustpublications.com/