Clemons leaving NCAA scoring footprints
Nation's leading scorer is getting last word on major conference coaches
Photo: 1) Chris Clemons (photo by Bennett Scarborough); 2) Kevin McGeehan; 3 Gore Arena; 4) Calvin Murphy as a sophomore; 5) Pope Convocation Center housing Gore Arena; 6) Pete Maravich at Broughton High; 7) video at bottom of Clemons' 45 points against Georgetown
BUIES CREEK, N.C. – Chris Clemons arrived at Campbell University in this Mayberry-like North Carolina town as a little-known recruit that major conference coaches overlooked, fearing his 5-foot-9 height didn't measure up.
Now, four prolific scoring seasons later at the Big South Conference member school, he continues to leave footprints on the NCAA career scoring list, passing the likes Oscar Robertson, Danny Manning and Larry Bird. He's sits in sixth place with more rungs up the ladder within range.
Clemons' 3,136 points has him just 15 from fifth place and 20 from fourth, with his next game in the Big South tournament quarterfinals. Top-seeded Campbell (19-11) faces No. 8 Hampton (15-15) on its home court at 6 p.m. Thursday at Gore Arena.
This seems as fair of a time as any for the determined senior guard from Raleigh's Millbrook High to speak up saying, "I told you so." But he's not the type, even though it would be tempting for so many of us in this college basketball era that is intoxicated with superficially hailing NBA one-and-dones as royalty sans winning titles. Bitterness is not Clemons' quiet style.
"Nope, nope," he said quickly. "I think my resume speaks for itself. I'm OK with what I've accomplished here. I don't have any regrets about anything."
Clemons offered his thoughts in a Gore Arena media room while wearing a net draped across his chest cut down minutes earlier. Campbell had beaten Radford University 64-62 on Saturday to clinch a Big South co-championship before a standing-room-only Gore record crowd of 3,151.
"I've had some help, obviously, but the experiences I've been able to have here have been amazing," Clemons said. "I've seen the growth all of our guys, seen growth of Andrew (Eudy, a fellow senior seated next to him) and I've even seen the growth in our coaches as well. "I've been able to grow as a man, as a leader of this team and to help bring something special to this community that it hasn't seen in a while. I'm just glad to be a part of it and to give these fans a something to cheer about."
30-POINT MAN
The chiseled 185-pounder scored 30 points – right on his national leading average of 30.1, a throwback number to an era for high scorers. From 1954 through 1980, the nation's scoring champion averaged 30 or more every season but one.
Clemons is within range of becoming only the 10th 30-point-a-game scorer in the past 39 seasons.
How many more rungs he climbs depends on how long the upstart Camels remain alive in the post-season, but a long tournament run leaves only Pete Maravich's 3,667 total safe from his reach.
An NIT berth might translate to a longer run than in the NCAA Tournament, but a Big Dance berth, which would be Campbell's first since 1992 and only the second ever, is the goal of Clemons and his teammates. Campbell's win over Radford earned the top seed to host the Big South, a crucial edge competing in a conference to send likely only its tournament champion with an automatic bid. That was Radford's path to the NCAA a year ago.
"Playing at home is going to be huge for us," Clemons said. "As you can see our crowd is something else. This is something that hasn't been done in a long time. It's definitely history that we're a part of and I'm excited."
One-and-dones that don't deliver a title will be forgotten for their pit-stop season on their campus as the years pass; Clemons will always be welcomed home.
One and dones are rich in contracts, but Clemons is rich in college legacy.
HOLIDAY BASH AT HOLLIDAY GYM
Clemons' experience with one-and-dones is more than abstract. He brushed against them in his high school years, which included the 43rd annual Holiday Invitational four years ago at Broughton High's storied Holliday Gym in Raleigh.
On opening night he stole the show from a cast of six NBA first-round draft picks – five of them one-and-dones:
--- Brandon Ingram (Kinston/Duke), second pick overall, 2016.
--- Jamal Murray (Canada's Orangeville Prep/Kentucky), seventh, 2016.
--- Dennis Smith (Fayetteville Trinity Christian/N.C. State), ninth, 2017.
--- Thon Maker (Canada's Orangeville Prep with an extra year after graduation), 10th, 2017.
--- Harry Giles (High Point Wesleyan Christian Academy/Duke), 20th, 2017.
--- Jerome Robinson (Broughton/three years at Boston College), 13th, 2018.
Clemons, mixing court savvy with spectacular athleticism that included dunks, finished with 36 points and six assists. His dunks were the stuff of startled looks worthy of impressing two past NBA dunk champions that were sub-6-footers, Nate Robinson (5-9) and Spud Webb (5-7).
Clemons was the headliner the next day in the Raleigh News & Observer.
His path doesn't include looking back and perhaps that explains overcoming his height in sport that favors length. He tested the NBA tryout waters the past two years, but the experience was about learning where to improve more than seeking an NBA shortcut. Now that his post-graduation is approaching, his foundation is steadier, with his increased ability to hit from NBA three-point range and drive the lane to finish with twisting layups in traffic or emphatic dunks. He is listed as a mid- to late-round pick in the second round in mock drafts.
DEFENSIVE PUZZLE
Opponents have tried double-teams and gimmick defenses, but they don't expect to shut Clemons down. In Campbell's first win over Radford, he went for 39. Thus, in the second game, "holding" him to 30 with two assists kept the Highlanders close to the final seconds.
"He can shoot the ball from a long, long way away and he's fast and explosive," said Radford coach Mike Jones. "Each team has to make their own decision on how they want to guard him. Each team guards him different. You certainly can't be married to one idea.
"We did a lot of things and he still made tough shots. We tell our guys that no matter what we do he's going to make tough shots. Each possession is its own individual entity. When he makes one, all you can do is try to stop him the next time."
The beauty of Clemons' scoring prowess is he has done it without requiring the ball constantly in his hands like the Houston Rockets' prolific scorer, James Harden.
The irony is Campbell sixth-year coach Kevin McGeehan has utilized a Princeton-style offense that shares the ball. It starts with Clemons, but he doesn't have to hold it.
"The whole thing is predicated on space and cutting, player movement and ball movement," McGeehan said. "And then we just play. There are multiple times when something designed was taken away and we are able to counter. We go back door or the other side of the court. It's all read-based basketball. Our guys have figured out how to work around and within it."
Radford actually held Clemons without a shot for the first five minutes on Saturday, but how he responded erased the significance of the rare drought.
"We tried to get him shots earlier, but they did a good job of preventing it," McGeehan said. "The good thing was he didn't panic and try to do too much. He knew the game was going to come back around to him. He maintained his composure and the other guys helped.
"He made one unbelievable play where he drove and threw to Cory (Gensler) for a wide open three. Those plays make it so later they can't sit on him. That was a big part of how the game evolved. He was able to come around get some good shots."
But that wasn't all.
CRUNCH TIME
Midway through the second half of a tight Radford game, Clemons found an opening to the lane when 6-5, 225 Ed Polite Jr. picked him up with a not-so-polite hard foul across the face. Clemons was sent sprawling in front of the backstop as play was stopped – he later said his nose was bleeding – and the crowd booed.
But Clemons calmly got up and buried both free throws trimming the deficit to 46-45. He was six of six from the line for the game.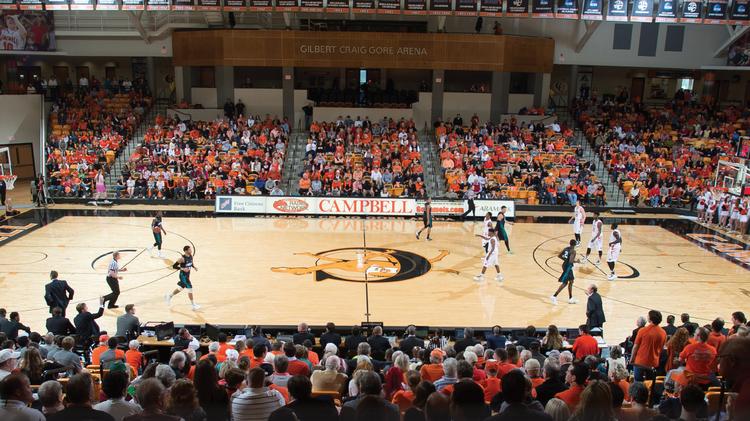 "I didn't think it was a dirty play at all," he said. "He was rotating and trying to make play on the ball. You expect fouls like that in games with so much on the line. I didn't have any hard feelings toward him. I gave him a handshake afterward, and he apologized to me."
On another drive down the lane, he showed his remarkable ability in a 1-2 sequence to throw his hips inside at the defender while his upper body leans outside for room to lay up the ball with a kiss off the glass.
"That's something I've always had to do try to finish against taller defenders," he said. "It's a unique thing to be able contort your body to different angles to finish."
He hit 5-9 early in high school, so maybe that explains his body control. At least the basketball gods granted him that benefit, a gift taller players are unable to enjoy until growing into their bodies their senior year and even early college seasons.
But Clemons' best in the Radford game was yet to come. Late in the game Gensler rebounded a missed shot and handed the ball to Clemons.
Radford's strategy once he reached the three-point arc was to have a defender jump out on a double-team. That took away his three-point shot, but he's too aware to be left flat-footed.
The strategy frequently left the lane open with Campbell's other players spread around the perimeter. Clemons' explosive first step split the double-team, he burst down the lane uncontested and finished with an emphatic two-handed dunk.
It was a bang-bang play for a 60-56 lead with 2:15 remaining, but Clemons was calmly reading the defense all the way up the court.
"They're so fundamental they don't expect to be split too often," he said. "I kind of depend on that (the open lane)."
NO SELLING HIM SHORT
Clemons is frequently compared to Nate Robinson for their identical height and springs in their legs for astonishing dunks, but Robinson, a 10-year NBA veteran through 2015, never averaged more than 16.4 points a game in college at Washington.
A better comparison may be Calvin Murphy, a 5-9 guard from a college basketball's high-scoring era that went on to play 13 NBA seasons. At Niagara University, the Basketball Hall of Famer averaged 33.1 for his career – 38.2, 1968; 32.4, 1969 and 29.4, 1970.
"I have never once thought about his height and I get asked about that all the time," McGheehan said. "It's a non-factor, a total non-factor. Did he get bullied under the basket? No. And we switch a lot."
In the Radford game, a defensive switch left Clemons on Polite Jr., who was positioned down low with an eight-inch, 40-pound advantage. Polite tried to post up, but Clemons stubbornly fronted him. Their arms were hooked, but Polite couldn't spin away. The Highlanders failed to get Polite the ball before the clock ran down and someone else shot.
What if Clemons was putting up these numbers as a 6-3 guard?
"If he were taller, I wouldn't be answering that question," McGheehan said. "You'd be talking to Roy (Williams, North Carolina's coach) or someone like that."
Clemons dismissed the height musing, quietly saying in the background as McGheehan pondered the question:
"If I was 6-3? …"
He's too nice a kid to say anything more or to shake his head.
Back to the question, though, asking to compare Clemons standing 6-3.
"Dywane Wade is a decent one," McGeehan said of the Miami Heat legend. "This is going to be taken out of context, but Chris is a better long-range shooter at a relative level. But the physicality and the aggression I think are similar."
No matter the comparison, by the end of the NCAA championship final on April 8, there will be 67 coaches, many of representing major conferences, wishing on the recruiting trail they had found a NBA-range three-point shooter that could drive the lane and twist and turn or dunk, especially in crunch time.
ON THE MAP
If not for the steady construction transforming Campbell's private college campus landscape, Buies Creek would still be a wooded hamlet. But Clemons has put Campbell on the hoop map with his appearances on ESPN's Top 10 plays for his three-point shooting and dunks and climb up the list of NCAA Division I career scoring.
He's been named national player of the week by the U.S. Basketball Writers Association and is on watch lists for the Naismith, Lute Olsen and Lou Henson Awards.
On November 24, he scored 45 points on Georgetown to nearly upset the Hoyas before falling 93-85 at the Capital One Center in Washington, D.C. Clemons was 16-of-28 from the field, 9-of-19 from 3-point range and added eight rebounds and three assists.
In a bigger spotlight these days, Clemons might hear calls to shut down his game rather than risk injury to preserve his NBA future, especially after he crashed to the floor against Radford.
We might also hear ESPN commentator Jay Bilas cite Campbell's record crowd and pontificate that Clemons deserves a portion of the profits Campbell is making off him.
Refreshingly, such thoughts apparently don't trickle down to mid-major basketball.
"Our crowd was huge for us," Clemons said appreciatively. "This is definitely history we're getting to be a part of. I'm excited to get back to it next week (in the Big South Tournament)."
That's a throwback.
PARALLEL FOOTPRINTS
As a high school player Clemons played several times at Broughton, Maravich's alma mater, but he never stopped to view Maravich's framed jersey showcased in the gym's lobby.
"I not a Broughton fan, at all," Clemons said. "I wouldn't look at something like that. I'm just focused on trying to win the game."
Clemons wasn't being disrespectful. He's too nice a kid to accuse him of that.
He just seems to be all business about following his own map. On game day that's straight to the locker room. In the bigger picture, the map has guided him from overlooked high school recruit to NCAA scoring footprints at mid-major college to keeping alive his NBA aspirations.
Maybe someday Millbrook or Campbell will frame Clemons' jersey and have it on display.
Maybe then he'd take a sentimental trip back to Broughton to admire Maravich's jersey. History appreciation comes with age. Then he could compare the parallel footsteps they've left behind. It might mean more to him with his own college legacy. No North Carolina high school legend has come as close to Maravich.
* * *
I invite you to follow me on Twitter @shanny4055
Tom Shanahan, Author: Raye of Light http://tinyurl.com/knsqtqu
-- Book on Michigan State's leading role in the integration of college football. It explains Duffy Daugherty's untold pioneering role and debunks myths that steered recognition away from him to Bear Bryant.
http://shanahan.report/a/the-case-for-duffy-and-medal-of-freedom
David Maraniss, Pulitzer Prize winner and biographer; "History writes people out of the story. It's our job to write them back in."
Don't believe the Bear Bryant myths about the 1970 USC-Alabama game or the Charlie Thornhill-for-Joe Namath trade.
http://shanahan.report/a/myths-that-grew-out-of-1970-alabama-game-with-usc
http://shanahan.report/a/mystery-solved-in-thornhill-and-namath-myth
Click here for the link to order from August Publications