Beating Blue Devils secret is outscoring them
Syracuse's Boeheim says their is no way to slow down Duke's prolific freshmen
Photo: 1) Zion Williamson; 2) Jim Boeheim
For people waiting to see if North Carolina and Basketball Hall-of-Fame coach Roy Williams has the secret formula to slow down Duke, college hoop's football version of the Alabama Death Star, forget digging into his game-plan history.
Syracuse Basketball Hall-of-Fame coach Jim Boeheim says it's simple: You have to keep up with them offensively, although admittedly that is easier said than done. Simply slowing the Blue Devils down with defense isn't enough. Syracuse won in overtime on Jan. 14 at Duke, 95-91. Duke's only other loss was to Gonzaga on Nov. 21 in the Maui Classic, 89-87.
"There is no way, I think, to slow them down," Boeheim said in his ACC teleconference call. "We had our best offensive game of the year against them and that was the difference, really. We didn't slow them down. We had a tremendous offensive game. That's why we won the game."
And don't forget Kentucky scored 84 points on the Blue Devils – in a 34-point loss! Duke's four fabulous freshmen opened with a splash in the season opener, beating the Wildcats 118-84 in the Champions Classic in Indianapolis. They combined for 89 points: R.J. Barrett, 33; Zion Williamson, 28; Cam Reddish, 22; and Tyus Jones, 6.
Top-ranked Duke (23-2, 11-1 ACC) plays host to No. 8 North Carolina (20-5, 10-2 ACC) at 9 p.m. Wednesday at Cameron Indoor Stadium. The Tar Heels are challenge considered more formidable than the Blue Devils' sweeping No. 3 Virginia (22-2, 10-2 ACC), although the Cavaliers were picked second to Duke in the ACC preseason media poll and have been ranked ahead of UNC throughout the season.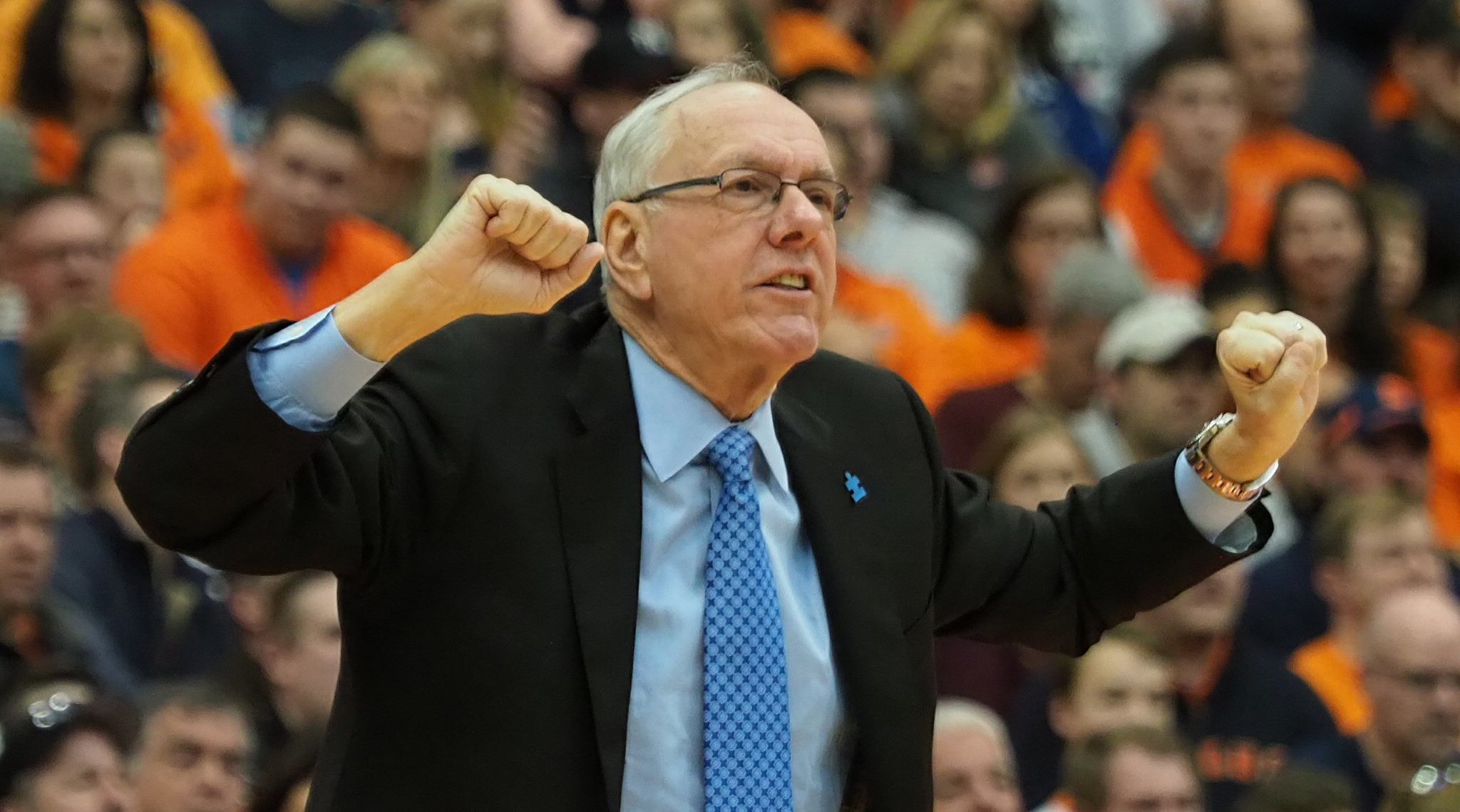 One reason to favor North Carolina's chances over Virginia to beat Duke is the history of their Tobacco Road rivalry. Another is the Tar Heels are second in the nation in scoring with 87.5 points a game. Gonzaga is first at 90.2 and Duke fourth at 86.4.
Syracuse averages only 70.0, ranking 258th, despite putting up 85 in regulation play and outscoring the Blue Devils in OT, 10-6.
Williams is fully aware that every offensive possession is magnified by Duke's ability to convert missed shots or turnovers into quick points at the other end.
"We have to figure out a way to play them a little better," Williams said. "Gonzaga figured out a way to play them a little better. Syracuse played them a little better. Both those games they scored a lot of points. You've got to continue to score against their defense. They're defense is as good as anybody out front and they lead the nation in blocked shots (7.2 per game). It's not just the Zion dunk show. They're unselfish players. They're pretty good."
Williams' players have picked up the message. No one is talking about shutting down Williamson, who averages 22.4 points and 9.2 rebounds. If you double-team him, it opens up Barrett, 22.7 points and 7.4 rebounds; Reddish, 13.8 but with five 20-point games despite a mid-season slump; and Jones, 8.7 points but 12 double-figures outings.
Cam Johnson, a 6-9 graduate student, averages 16.3 points a game to lead North Carolina's balanced offense with three players averaging double figures and six with eight points or more.
"A lot of it depends on our ability to execute our offense," said Johnson. "We have to screen for each other and move without the ball. That's a big thing. If you try to take away their 3s, you open up other things."
Freshman point guard Coby White is second at 15.7 and senior Luke Maye third at 14.5.
"When you say stop, it's hard to stop guys like that," Maye said of the Blue Devils' versatility. "They're prolific scorers. We've got to do our best on each play and limit our mistakes on offense. We've got four or five guys that can score double figures and can put the ball in the basket."
Virginia was able to slow down Duke with its deliberate style of play in the first game, a 72-70 loss at Cameron. But the Blue Devils were without Reddish (flu) and Jones for most of the game (shoulder injury). The next time they met 21 days later with Duke's full lineup, the Blue Devils won at Virginia, 81-71.
"It's the most gifted Duke team since I've been back," said Williams, a former North Carolina assistant that has won three NCAA titles since he returned as the Tar Heels head coach for the 2003-04 season.
* * *
I invite you to follow me on Twitter @shanny4055
Tom Shanahan, Author: Raye of Light http://tinyurl.com/knsqtqu
-- Book on Michigan State's leading role in the integration of college football. It explains Duffy Daugherty's untold pioneering role and debunks myths that steered recognition away from him to Bear Bryant.
http://shanahan.report/a/the-case-for-duffy-and-medal-of-freedom
David Maraniss, Pulitzer Prize winner and biographer; "History writes people out of the story. It's our job to write them back in."
Click here for the link to order from August Publications