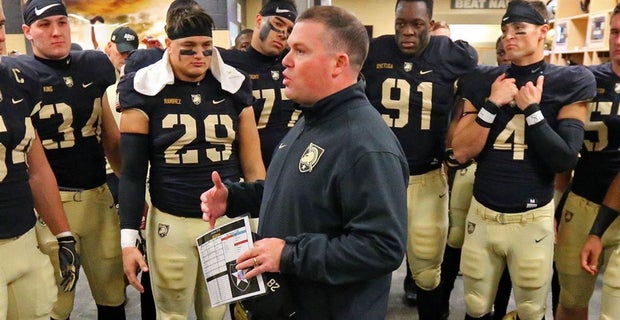 Bateman brings plenty from Army to Tar Heels
Mack Brown's new DC knows X's and O's, state's recruiting turf and mentoring
Photo: Jay Bateman
Numbers aplenty explain Mack Brown luring Jay Bateman to leave Army for his newly assembled staff at North Carolina staff. But in college football, statistics are only half of story to grading a coach's value.
What about developing talent? What about recruiting? Those are parts to the full package, too, that define Bateman's five seasons coaching the Black Knights at West Point.
Place a check mark for all of the above boxes, say a couple of Army football players from both sides of the ball, junior quarterback Kelvin Hopkins and senior linebacker Kenneth Brinson.
"He has been a big part of what we have going on here," Hopkins said. "He's one of the best coaches I've been around.
I asked Hopkins and Kenneth Brinson before the Black Knights routed Houston 70-14 on Dec. 22 in the Armed Forces Bowl. Army's 11-2 record has the Black Knights ranked for the first time since 1996 – No. 22 in the latest Associated Press poll and No. 25 in USA Today.
Brinson, obviously, is well-versed in the X's and O's playing defense for Bateman. He made the game-clinching play in Army's 17-10 win over Navy with a strip-sack he recovered at Navy's 22-yard line with 1:28 to play.
"Coach Bateman called the play," Brinson said, deflecting praise of how he beat the left tackle to the quarterback.
Hopkins, the MVP of the Army-Navy Game and the Armed Forces Bowl, offers another view as a player recruited by Bateman out of Independence High in Charlotte. Hopkins was one of 13 Army players from the Tar Heel state, including three starters and six on the two-deep depth chart.
Bateman's history knocking on high school doors in North Carolina and building relationships with coaches dates to his time as the defensive coordinator at Elon College, a Football Championship Subdivision School, from 2006-10.
"He recruited me, so I've known him before I got to Army," said Hopkins, who spent 2015 at the Army prep school before joining the West Point roster in 2016. I've had a close personal relation with coach Bateman. I'm happy for him."
The last sentence of that quote says more than four words. Players aren't always happy with assistants that view another job as greener pastures.
"It's hard that he is leaving us, but we know it's a business," Hopkins said. "We all understand that. We've got to move on. He did a lot for this team with his defense. He works hard at what he does."
Brinson, a 3-star recruit from The Marist School in Atlanta, broke into the starting lineup as a freshman. He finished his career in the Armed Forces Bowl with a team-high career 42 starts, including 39 in a row.
"At end of the day it came down how detail oriented he was," Brinson said. "How intense and almost fanatical he was about getting everything right with our players and coaches. As a position coach, he was always working on fundamentals. He isolated the things we needed to be successful and drilled it into us."
Bateman's ability to coach the coaches under him gave the players confidence entering the bowl game safeties coach John Loose, appointed interim defensive coordinator, could handle the role.
"The preparation hasn't changed," Brinson said during bowl practices. "We're going through all of our calls and practicing hard with tempo to prepare for the game."

Army limited Houston to 90 yards rushing and only 230 passing despite the Cougars trailing 14-0 after the first quarter. The Black Knights, sans 5-star and 4-star recruits, rely on teamwork to make the whole greater than the sum of its parts. Nine players accounted for 11 tackles for a loss, 10 of them sacks.
Houston finished the season on a downturn, losing three of its last four to share the American Athletic Conference West title with Memphis, but don't overlook the rout was against a program that had been ranked earlier in the season.
But Bateman's influence was about more than numbers to Brinson, who can unscramble numbers as well as anyone. As a 3.9 student in chemical engineering, he was a finalist for the Campbell Trophy that is the academic Heisman. He is headed for medical, so he is clearly a person of discipline with a squared-away life, but the still credits Bateman for a role guiding him.
"He's a life coach," said Brinson. "I think he made us all better because he constantly stayed on everyone."
Bateman, a finalist for the Broyles Award as the nation's top assistant, was officially named to the North Carolina staff a day after the Army-Navy victory. He takes over a Tar Heels unit that ranked 107th in the nation last fall, allowing 447.6 yards a game in a 2-9 season.
On paper, Army lined up as a 4-3 defensive scheme, but the Black Knights fluctuated to multiple formations. Army finished the regular season ranked ninth in total defense, allowing 293.5 yards a game.
The Black Knights lost to Duke in the season opener, 34-14, but the only defeat over the next 12 games was at Oklahoma, one of the four College Football Playoff semifinalists led by Heisman Trophy winner Kyler Murray, in a 28-21 overtime game.
Army's defensive role in nearly upsetting the Sooners was aided by the Black Knights' offense playing a game of keep-away, controlling the ball for 44 minutes and 41 seconds – 19 seconds shy of three full quarters.
So a more impressive defensive number from the 2016 season was the unit ranking fourth nationally despite an offense that struggled in a 2-10 season.

In 2017, Army ended Air Force's 306-game scoring streak in a 21-0 victory. That defense was third in the nation in red zone defense and 14th in passing defense.
There are numbers aplenty to justify Brown hiring Bateman. And additional quotes from Bateman's former players, too.
* * *
I invite you to follow me on Twitter @shanny4055
Tom Shanahan, Author: Raye of Light http://tinyurl.com/knsqtqu
-- Book on Michigan State's leading role in the integration of college football. It explains Duffy Daugherty's untold pioneering role and debunks myths that steered recognition away from him to Bear Bryant.
http://shanahan.report/a/the-case-for-duffy-and-medal-of-freedom
David Maraniss, Pulitzer Prize winner and biographer; "History writes people out of the story. It's our job to write them back in."
Click here for the link to order from August Publications
-30-