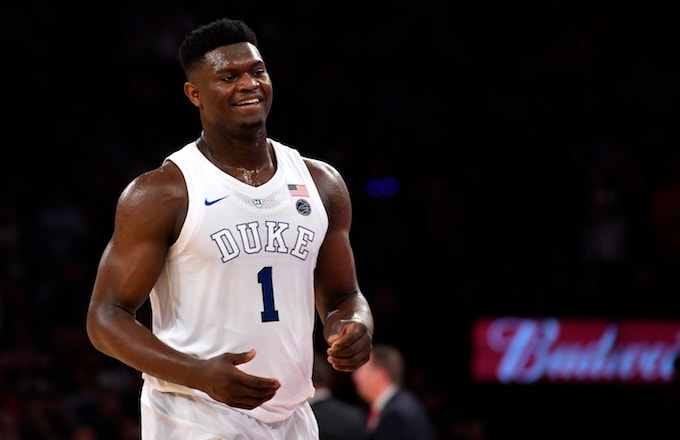 Barkley and Magic story as advice for Zion
Anyone urging Williamson to shut it down doesn't understand value of college career
Photo: Zion Williamson
"When did we get to the point all people care about is money? … When did we get to the point we've got clowns on television saying, 'Oh, don't play.' That's what you do. That's what we do. We play basketball. … I get so mad when people act like money is the only thing that matters in the world. 'Oh, dude. You're going into the NBA. Don't play.' That's ridiculous."
--- Charles Barkley while on "NBA on TNT"
By Tom Shanahan
Thank you, Sir Charles.
Barkley added sanity to the social-media fueled argument that Duke's Zion Williamson should toss his torn Nike shoe into the trash outside Cameron Indoor Stadium, limp past the tents in Krzyzewskiville and head home to wait for the NBA draft.
I've always said people contending college athletes should be paid overlook the value of a brand name uniform to a college player's career. (Not to mention that most schools are already losing money on athletics, and how are you going to pay women athletes to meet Title IX laws, but those are two other questions.)
My irrefutable point: Imagine Johnny Manziel throwing for all those yards and making all those spectacular plays as the quarterback at North Texas rather than while wearing Texas A&M's brand name uniform. At A&M, the schedule included heroics performed to beat Alabama. North Texas beating UTEP with a similar performance doesn't propel him to the Heisman Trophy.
If not for a Texas A&M jersey, here is what Manziel is today: A 5-foot-11 quarterback you never heard of that was an NFL bust (if he got a chance).
With that context, imagine Williamson jumping from high school to the NBA under the old rules rather than risking injury in college. How marketable is his name compared to what he has gained playing for Duke's brand name on the front of his jersey?
Or, imagine him playing for Clemson, the school close to home where he was expected to commit before he chose Duke. How much is his name worth in a Clemson uniform compared to wearing Duke on national telecasts twice a week as one of NCAA title favorites?
Before you answer those questions, listen to what North Carolina coach Roy Williams said before his Tar Heels met Duke. The Wednesday game was the most anticipated college match-up of the year despite the anti-climatic finish. Williamson's knee injury in the first minute forced him to the locker room for the rest of the night.
Williams was a North Carolina assistant for Dean Smith from 1978 through 1988, so he had experienced plenty of rivalry games before he left Chapel Hill as the new head coach at Kansas. He knew what Carolina-Duke's historic rivalry was like before Duke coach Mike Krzyzewski arrived in 1980 and elevated the program to its first NCAA title in 1991.
Now, Williams knows how much bigger the storied rivalry -- fueled by ESPN dollars -- is upon returning home in 2003.
"The first couple years as an assistant it wasn't like it is now," Williams said. "But after Mike got there they got really successful. My feeling is it's been the same the past 28, 30 years. It's a tremendous rivalry with great programs, great history and only 10 miles apart."
It's not all Duke exploiting Williamson's talent. He's gaining from what has been built over decades into an institution.
Williamson arrived at Duke the third-ranked recruit in the nation behind two other Duke prospects, R.J. Barrett and Cam Reddish. He was projected as the seventh pick of the NBA draft if he was eligible. Now he's considered the favorite for national player of the year and No. 1 overall pick in the draft. No, Scottie Pippen, you're wrong. Williamson has gained more value from college basketball than from sitting out, working with a training without game-experience or playing in the G-League.
Now, let me go back 40 years when Magic Johnson led Michigan State to the 1979 NCAA to further my point. What if, in 1979, today's undercurrent existed in college sports that suggests potential No. 1 picks of the draft -- which Johnson was in 1980 by the Los Angeles Lakers -- shut it down rather than risk injury?
Does Magic Johnson stay in the locker room with a severely sprained ankle while then-Big Ten leader Ohio State mounted a comeback during his 13-minute absence? This chapter is lost to history – except among Michigan State fans -- because the Spartans are remembered for having overwhelmed teams, including Larry Bird and Indiana State in the final, on their way to the national title.
But at mid-season the Spartans slumped badly. They had lost four of six, including an 18-point loss at Northwestern. The season was in jeopardy as they faced a third straight loss against then-Big Ten leader Ohio State that would have dropped them to 4-5 in Big Ten play. This was at a time when only a couple of teams from a conference earned an NCAA bid to the then-40-team tournament.
Johnson didn't return to the floor for the start of the second half and wasn't expected to play again. But as he sat in the locker room listening to the radio broadcast of Ohio State cutting into the Spartans' lead, he told the team trainer to tape him up. As he gingerly trotted toward the court, a buzz grew to a roar to a crescendo once everyone in the packed 10,004-seat arena saw him.
Johnson reversed the game's momentum and started a 10-game winning streak (until the regular-season conference finale). Michigan State and Iowa were the only Big Ten teams selected for the NCAA field that year.
Johnson, his teammates and Spartan Nation revel in those memories 40 years later, including a 40th anniversary reunion earlier this month for a win over Minnesota at the Breslin Center.
"Going on that run allowed a little kid from Lansing, Michigan, who had dreamed of being on that (NCAA) stage -- in the green and white -- to accomplish his goals and dreams," Johnson told the media during the reunion. "I didn't care about nothing but winning. I always cared about winning. The Magic, the this, the that, didn't matter to me. I just wanted to win, and to say I was able to accomplish that here at home at a university I loved before I even decided to come here ... I was already a Spartan."
Williamson came to Duke to win a national title. The smile he plays with tells us he loves the college experience. Pressure bounces off him like bodies trying to draw a charge from his 6-7, 285-pound frame.
Across from Williamson in Duke's locker room, there is an example of the value of staying in college while wearing a Duke uniform. Junior center Marques Bolden was considered a one-and-done when he arrived as a freshman in 2016, but he wasn't NBA ready. He'd probably be out of the league if he had turned pro after high school or one college season. He has to improve, but the Duke uniform still gives him value if he leaves college after this season or as a senior.
Williamson doesn't seem to be a guy that would listen to Scottie Pippen and other NBA players telling him through social media to shut it down for the NBA. But if someone or a greedy agent is getting in his ear, he needs to hear advice from Sir Charles and Magic's college story.
Some things are worth more than money.
* * *
I invite you to follow me on Twitter @shanny4055
Tom Shanahan, Author: Raye of Light http://tinyurl.com/knsqtqu
-- Book on Michigan State's leading role in the integration of college football. It explains Duffy Daugherty's untold pioneering role and debunks myths that steered recognition away from him to Bear Bryant.
http://shanahan.report/a/the-case-for-duffy-and-medal-of-freedom
David Maraniss, Pulitzer Prize winner and biographer; "History writes people out of the story. It's our job to write them back in."
Click here for the link to order from August Publications
-30-