A special Virginia recruit with special friends
Holly Springs High senior sets example for all students on campuses anywhere
Photo: 1) Kadin Shedrick dunks; 2) Shedrick with Spirit League Basketball players; 3) Garrett Phillips and Shedrick; 4) Shedrick with his Garner Road AAU team; 5) Shedrick with Virginia coach Tony Bennett on his recruiting trip; 6) Jay Huff; 7) Shedrick pitching for a summer league team
HOLLY SPRINGS, N.C. – Kadin Shedrick's 6-foot-11 height singles him out, but a portrait of him that is broader than his big-time college basketball recruit identity is found elsewhere on his public school campus. He could be 5-11 and stand tall.
Off the court, the larger picture is of him supporting a student body segment historically overlooked – special needs students.
On the court, the Holly Springs High senior is known at the suburban Raleigh school for a scholarship from national power Virginia. He averages a double-double of 17 points and 11 rebounds with four blocks a game. The Golden Hawks (19-4) begin N.C. High School Athletic Association 4A playoffs on Thursday after a first-round bye.
But pull back the basketball microscope at the school's 2,000-student campus. Watch Shedrick with a wider lens visiting the classroom of Holly Springs teacher Samantha Churchill and her students with autism.
"They have no idea how good he is," she said. "I tell them, but they just like him for who he is and for coming around to hang out with them."
American campuses – elementary, middle and high school – need kids like Shedrick to stand out.
"It's important for other students to see him around them," Churchill added. "He's this star athlete, well-known on campus. Other kids see him smiling, having fun with them. They see they're his friends. He makes it cool.
"A lot of times girls will work with our kids, but we very rarely get boys that want to spend time with them. Kadin genuinely enjoys it."
There is a "one-of-the-guys" symbiosis to Shedrick and special needs students – kids with disabilities ranging from autism to intellectual and physical disabilities. With them, he can step away from shouldering national recruit expectations and drawing stares for his height.
He's one of the guys – as if he was 5-11.
"I think it's important for everyone to see everybody as equals," Shedrick said. "That nobody is different. They each have their qualities that make them unique. Everyone is as important as the next person. I like to build relationships and see how they get attached. It's a pretty cool thing."
SHIFTING ATTITUDES

The past couple decades or more has seen a national philosophical shift in special education. Students with disabilities previously were isolated in "special education" classrooms. The separation policies attached a stigma to them.
The modern goal is to mix their day with the general student body when appropriate. Teachers, on-campus administrators and staff work tirelessly at the task, even though more resources are always needed from state legislatures that fund public school education.
Shedrick isn't alone on his campus and other schools have special students volunteering in special needs classrooms, but his prominence shines a brighter light that can reflect on all of them.
ENLIGHTENMENT
He began engaging special needs kids on his own initiative while attending Holly Ridge Middle School. His parents, Dominic and Cindy, were unaware until visiting the school for their daughter Kari's activities.

"We had teachers coming up to us and saying, 'Do you know all the great things your son is doing here?' " Cindy said. "He was working with them on playing kickball. He still sees those kids and talks with them. Half the time we don't know all the things he's doing."
Last spring, Shedrick worked with Churchill's students on a recycling project through a student leadership class led by Holly Springs basketball coach L.J. Hepp. On Tuesdays and Thursdays, he joined Churchill's students while collecting recycling materials from hallways and classrooms.
That was a classroom activity, but he seeks other outlets, too. This school year teammates Garrett Phillips, Matt Willadsen and Ben Goetsch have joined him on classroom visits. Shedrick and Phillips participated on Feb. 16 in a North Carolina Special Olympics fund-raiser, the Polar Plunge, into frigid Jordan Lake. Project Unify and Club Unify are other Special Olympics school related events.
"Initially it was because if I'm going to do something I want to do it well and want to do it right," Shedrick said. "I don't like being bad at things. If I do something, I'm going to put tie into it."
He plans to participate in a Club Unify/Special Olympics community awareness event on March 20 in downtown Raleigh. The end the "R" word national campaign is known as "Spread the Word to End the Word."
Another off-campus activity is Spirit League Basketball, a budding North Carolina non-profit based at the Apex Community Center. Shedrick runs kids through drills and games in the adapted special needs league that is similar to Miracle League Baseball.
During Holly Springs' basketball season, the Golden Hawks hosted a Spirit League game at halftime of a contest. Hepp had his team remain courtside to encourage the players rather than taking them into the locker room for chalk talk.
"It is obvious to me Kadin is from a great family," said Michael Schoor, the Spirit League founder. "They sincerely value him using his basketball ability and stature to reach back to the special needs community. It comes from a heartfelt place."
AUTISM SPEAKS
Basketball, though, does come up as a topic in Churchill's classroom.
"One of the kids really likes basketball," Shedrick said. "I ask him what teams he likes, who are his favorite players. We don't talk about me. That's not important."
Another student has memorized the CBS television schedule.
"He's one of our most verbal kids and knows all the shows," Churchill said. "Kadin and Garrett will ask him, 'What's on CBS right now?' He'll tell them and about the show."
To connect with non-verbal autism kids requires more patience, but that hasn't limited Shedrick and Phillips from bonding. Churchill cites one of her non-verbal students using a "talker," a communication tablet with buttons to express recorded words.
"He wasn't saying anything, just pressing buttons," Churchill said. "I was telling Kadin and Garrett what he was trying to tell them. They said, 'It's OK. We know. We know.' It was really sweet."
Autism students are on different levels of the spectrum, so some have unexplained outbursts of anger verbally or physically. Shedrick and Phillips haven't backed off.
"When someone acts up they can handle it." she said. "They're ok with it. They really picked up things fast."
HOOP DEVELOPMENT
Shedrick's attitude to excel is at the core of his personal basketball strides. He has gone from awkward middle school backup player still growing into his body to an elite college recruit.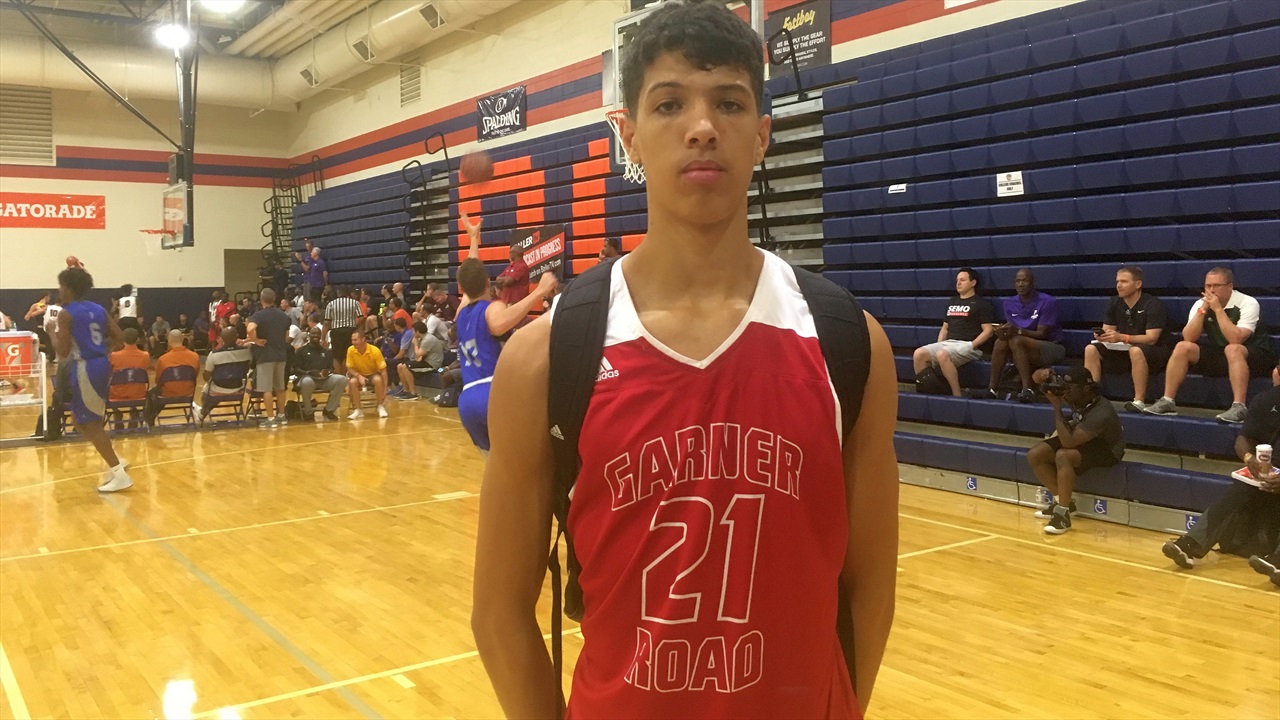 He grew to 6-2 as a freshman, 6-8 as a sophomore, 6-10 as a junior and now 6-11. His coordination began catching up as a junior, but he might have emerged earlier if he wasn't so young for his class. He doesn't turn 18 until July 27, more than a month after graduation.
That helps explain his breakout not arriving not until he senior year. However, it also projects his college ceiling as higher, topped by his doctor believing he might have another growth spurt to 7-1.
Hepp, who is in his first year as Holly Springs' coach after being hired in the spring of 2018, was aware of Shedrick when he took the job. He was the athletic director at nearby Panther Creek, but he wasn't the only one surprised by Shedrick's leaps and bounds last summer.
"I was blown away by his potential," he said. "He has great length, hands and he moves well. He gets quickly off the ground and he can run up and down the floor."
Entering the summer Shedrick's recruiting offers were largely limited to smaller schools until midway. At a California summer AAU tournament, while playing for retired NBA player David West's Garner Road team, Shedrick triggered a national trip wire. Recruiting spotlights lit up.
"Arizona State, Xaiver and Creighton had never heard of him, but they saw him and offered on the spot," Hepp said. "From mid-July on recruiting was a circus."
He was up to 25 offers, with Virginia atop a final eight that included Wake Forest, Louisville, Florida, Wisconsin, Indiana, Xavier and Providence. Other academically elite schools to offer were Georgia Tech, Northwestern and Georgetown before Shedrick ended the process. He gave the Cavaliers his verbal commitment in late August and signed in the early November period.
VIRGINIA IS FOR LATE BLOOMERS
Virginia coach Tony Bennett's reputation for developing late bloomers into NBA prospects attracted Shedrick. So did the demanding academics at Thomas Jefferson's Charlottesville campus. He is in the top 10 percent of his class and considering a major in a math field.
"He could have had more offers, but Virginia was always in the back of his mind," Hepp said. "He and his family went on a visit it and loved it. Virginia checked all the boxes for them."
There are plenty of Virginia names that have developed under Bennett, but the one Shedrick related to was Jay Huff from Durham Voyager Academy, a charter school close to home.
Huff, the Cavaliers' 7-foot-1, 232-pound redshirt sophomore, was a 6-11, 190-pound senior in the recruiting Class of 2016. In high school, he held his own in a 2015 state playoff game against Bam Adebayo, a 2017 NBA draft one-and-done out of Kentucky.
The long view is paying off for Huff after he redshirted his first year at Virginia. He is contributing important minutes off the bench, with season highs in a game against Marshall of 14 points, eight rebounds and two assists. He also had a season-high of three blocked shots against Morgan State. He had 12 points and seven rebounds and two blocks in a 64-52 win on Saturday at Louisville.
In a January homecoming game against Duke's NBA lottery picks, he put down an impressive dunk on a break from the 3-point arc at Cameron Indoor Stadium.
Blue blood Schools like Duke and North Carolina can sign 4-star recruits that already have the weight of an NBA prospect, but a program like Virginia relies on coaching up 4-star talent that needs time to mature. The football comparison is a school like Duke signs linemen that can grow into a 300-pounder, while Clemson signs 300-pounders coming out of high school.
Huff and Shedrick hailing from the Raleigh-Durham area is coincidental, but Virginia's coaching staff was quick to pick up on both.
"Kadin was a little bit of a hidden gem, and we look for those guys," said Jason Williford, Virginia's associate head coach with Bennett the past 10 years. "We knew what he had done in David West's Garner program, and we knew about his growth spurt and his work ethic."
Shedrick, listed at 200 pounds, says he is comfortable redshirting if that's Bennett's recommendation.
"The comparisons between them are similar that they both had to gain weight and get stronger," Williford said. "Jay is still a work in progress in that regard. Kadin will have to come in and attack the weight room to work on his body filling out and then getting more physical.
"Their games are different in that Jay is more a stretch-the-floor 3-point shooter. Kadin can make the 15-to-17-footer, but he has to work on his 3-point range. But they both run the floor and both block shots."
TWIN TOWERS
Shedrick met Huff on his recruiting visit and discussed Bennett's development coaching skills. He also returned home learning two inches separating 6-11 and 7-1 can be imposing.
"Jay is every bit of 7-1," Shedrick said. "I stood next to him."
Might Virginia be able to play 7-foot Twin Towers?
"I don't see why we can't get Kadin and Jay in there together," Williford said. "Teams present challenges when they play small ball, but at the same they have to adjust to two bigs on the floor. We can play two bigs if they can slide their feet and move with quicker players.
"Kadin will be a big man that can be huge for us. He can finish down low and use his length and athleticism around the basket. He's got good timing. He's a shot-blocker that can chase down rebounds. He's got to add weight to bang against bigger bodies, but we're excited about his potential."
DIAMOND BREAKUP
"Potential" is an albatross for an athlete lacking worth ethic, but Shedrick has demonstrated both desire and an adaptability. Baseball was his first love; the diamond sport runs in the family. His sister Kari is demonstrating college softball potential as a Holly Springs sophomore.
She stands 6-0, but so far growth spurts aren't pushing her off the diamond to the hardcourt as they did Kadin. He was a 6-2 freshman first baseman on the Holly Springs JV team while playing in veteran baseball coach Rod Whitesell's talented state-power program. Chicago White Sox pitcher Carlos Rodon led Holly Springs to North Carolina's large-school state title as recently as 2011. Whitesell saw "Division I college baseball potential" in Shedrick's lone season.
"He was still growing into his body, but I always felt he had excellent baseball potential," Whitesell said. "He had tools. He was very good. He could hvae been on the mound, too. He had a live arm."
Long-time area baseball instructor Tom Hayes, who has helped develop future Division I and Major League Baseball players at Hit and Run, Inc., his Fuquay-Varina facility, also saw potential. But with each growth spurt, he told his parents he saw baseball losing its grip on their son.
The height and baseball/basketball connection brings to mind Tony Clark, the MLB Players Association executive director. Although Clark played 15 MLB seasons as a 6-8 first baseman and designated-hitter, he was better known in high school as a highly recruited college basketball prospect until the Detroit Tigers made him the second pick of the 1990 MLB draft.
"I don't know that there is a limit to how tall you can be while still being effective, but the taller you are, the more challenges you have as a hitter," Clark, who is now executive director of the MLB Players Association, wrote in an email. "We all strive to establish and maintain a high level of consistency in our mechanics and approach, but the larger are your moving pieces, the more difficult and elusive that consistency becomes. Having said that, when everything is working together, your ceiling as to the amount of damage you can do is extremely high."
Clark added his basketball/baseball double growing up was good for developing his overall athleticism, a contrast to this age of specialization at younger and younger ages.
"I think playing any combination of sports, unless or until you choose one that you want to focus on, is going to help you improve at whatever the other sport is that you're competing in. Playing multiple sports is the ultimate in cross training and affords you the opportunity to develop skills and functional muscle groups that may get overlooked when you only function on one sport at an early age."
Shedrick's ability to refocus his potential from the diamond to the hardwood required time, but leaving home for a basketball academy wasn't a path. He has contributed to his school and community, even though in the process he has inadvertently provided a scouting report for Holly Springs' opponents.
One day after running the Spirit League special needs kids through drills and games, he and his Holly Springs teammates squared off for a contest.
"We played our starting five against their best five," Shedrick said. "They beat us."
The Big Man on Campus sees and paints the bigger picture.
* * *
I invite you to follow me on Twitter @shanny4055
Tom Shanahan, Author: Raye of Light http://tinyurl.com/knsqtqu
-- Book on Michigan State's leading role in the integration of college football. It explains Duffy Daugherty's untold pioneering role and debunks myths that steered recognition away from him to Bear Bryant.
http://shanahan.report/a/the-case-for-duffy-and-medal-of-freedom
David Maraniss, Pulitzer Prize winner and biographer; "History writes people out of the story. It's our job to write them back in."
Click here for the link to order from August Publications