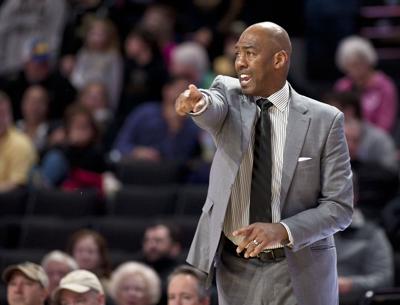 Williams supporting Manning but not this week
Wake Forest struggling as North Carolina faces Demon Deacons in Winston-Salem
Photo: Danny Manning
CHAPEL HILL – Wake Forest coach Danny Manning is struggling. He guided the Demon Deacons to the NCAA tournament two years ago, but otherwise he's mired in a fourth losing season out of five in Winston-Salam.
The temperature is turning up on the hot seat.
Manning never played or coached under Roy Williams at Kansas (1988-2003) or UNC (2003 to present), but they're almost as close as a former player and mentor coach.
When Williams underwent knee replacement surgery in 2016, he said, "Danny and (his wife) Julie sent me ice cream."
Another emotional Wake Forest connection for Williams is Manning's top assistant, Steve Woodbury. He played at Kansas for Williams on two Final Four teams. Williams succeeded Larry Brown at Kansas after Manning was the national player of the year in the Jayhawks' 1988 NCAA title season.
Williams has provided Manning and Woodbury some support when he can, but there is not time for that now. The No. 8-ranked Tar Heels (19-5, 9-2 ACC) play at noon Saturday at Wake Forest (9-14, 2-9 ACC) in Winston-Salem.
North Carolina is trying to bounce back from Monday's home loss to No. 4 Virginia (21-2, 9-2 ACC) to stay within in a game of No. 2 Duke (22-2, 10-1 ACC).
"I talked to coaches a lot during the season, but in the ACC it's hard," Williams said on Friday at the Dean Dome before practice. "You may like a guy, but you've got to get to work.
"I'll call coaches in the season – I've called five, six, seven coaches during the season. I'll say something about how it's going or whatever. I see Danny on the road and I'll talk to him and Woodbury. We've had conversations. I try to provide support. But playing in the ACC is grind. You care about people and they know it. I think Danny knows it."
The Demon Deacons managed a 71-67 win over then No. 17-ranked N.C. State a month ago and a 78-76 overtime win against Pitt 10 days ago, but otherwise eight of their nine ACC losses have been by double figures. Five have been by 20 points or more.
Not that Williams is keeping score.
"Wake usually gets fired up to play us," Williams said. "The crowd gets fired up. They have played well against us."
Manning, who played 16 NBA seasons, began coaching at Kansas from 2006 to 2012 under Bill Self. He showed his head coaching material in two seasons of turning around Tulsa's program. Tulsa shared the 2013-14 Conference-USA title and advanced to the NCAA Tournament.
The success earned him the Wake Forest job. But despite a 19-14 overall record and 9-9 ACC mark and NCAA First Four trip in 2016-17, his third season, the Demon Deacons haven' finished higher than 10th in the conference standings.
The recent win over Pitt (12-13, 2-10 ACC) is the only thing that keeps them out of 15th place so far.
"When you're having a difficult year you look for one game to make it your turnaround," Williams said. "Then you look at the next game that this might get you turned around. If that doesn't do it you look at the next game. I think the way they're looking at this game is they have a tremendous opportunity to make people forget some of the tough thing. There is still time for them to get on a run."
* * *
I invite you to follow me on Twitter @shanny4055
Tom Shanahan, Author: Raye of Light http://tinyurl.com/knsqtqu
-- Book on Michigan State's leading role in the integration of college football. It explains Duffy Daugherty's untold pioneering role and debunks myths that steered recognition away from him to Bear Bryant.
http://shanahan.report/a/the-case-for-duffy-and-medal-of-freedom
David Maraniss, Pulitzer Prize winner and biographer; "History writes people out of the story. It's our job to write them back in."