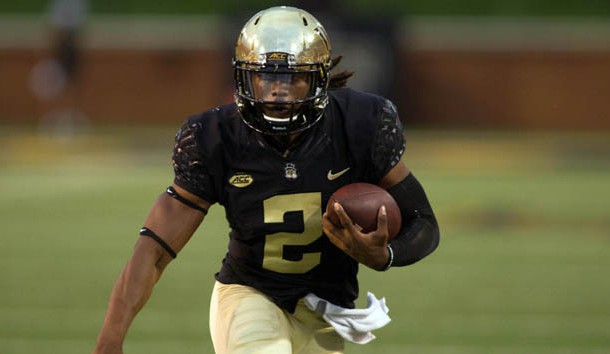 This may be year we see best of Kendall Hinton
Wake Forest quarterback's breakout in 2016 ended with season-ending injury
Photo: Kendall Hinton
Wake Forest should be welcoming back one of the most dynamic quarterbacks in the nation in 2018. Kendall Hinton has Lamar Jackson-like electricity with his feet and possesses a stronger arm than opponents understand.
In one of Wake Forest's spring scrimmages, Wake Forest coach Dave Clawson profusely praised his defense, yet on that day Hinton still managed to run for 109 yards on 13 carries.
Click here for the AllSportsDiscussion link
The 6-foot, 195-pound redshirt junior from Southern Durham High came out of the spring listed as the No. 1 quarterback to replace John Wolford, who threw for 3,192 yards as a senior last fall. Redshirt sophomore Jamie Newman is No. 2 and true freshman Sam Hartman, who enrolled in January after graduating early, is No. 3.
But instead of Wake Forest and Clawson feeling secure, they're still hoping Hinton can reach his potential in 2018. The problem hasn't been effort or commitment. It was a season-ending injury in the third game of the 2016 season.
Hinton had shown plenty of flashes once he arrived in Winston-Salem. He started two games as a true freshman in 2015 while mostly backing up John Wolford.
In 2016, Wolford was the returning starter while splitting time with Hinton in season-opening wins over Tulane and Duke. But in the Duke victory, Hinton played the final two-and-a-half quarters to lead the 24-14 upset in his hometown. He ran for 63 yards on 11 carries and completed 6-of-11 passes for 133 yards.
Clawson named Hinton his starter for the third week against Delaware at home. Wake Forest improved to 3-0, but without Hinton. He suffered a knee injury that ended his season. He was later granted a medical redshirt, which makes him a redshirt junior instead of down to his final season.
Wolford took advantage of the open door. He finished 2016 leading Wake Forest to its first bowl game since 2011 and a 7-6 record. The maturity he gained led to him holding the starting job in 2017. He threw for 3,192 yards as Wake Forest finished 8-5.
Now Hinton faces holding off two younger quarterbacks rather than unseating a returning starter. Wake Forest's rebuilding success under Clawson has improved to higher-ranked quarterbacks.
Newman was the No. 16-ranked dual-threat quarterback in the nation in the Class of 2017. Hartman was the No. 12 pro-style quarterback in 2018. The only reason Hinton wasn't ranked higher than the No. 26 dual-threat QB in 2015 was his lack of height, which is actually shorter than 6-0 despite how he is listed.
Clawson at least has more depth at quarterback than he's ever had in Winston-Salem if Hinton hasn't yet locked down the starting job.
"I think the gap between all of those guys probably got tight through the spring," Clawson said. "Kendall had a really good spring. Just the spring game was erratic. The scrimmage the week before, he was 12 of 18, and the practice we had on Tuesday after the spring game, he was really sharp. I mean, he probably hit 9 percent of his passes there."
In the spring game on April 7, Newman (6-4, 235) led the Gold team to a 26-6 victory. He threw for 128 yards.
Hinton ran for 118 yards, but in the 40-degree temperature with misty rain he completed only 5-of-17 passes for 21 yards. But the running yards might have been more if it wasn't hands off the quarterback.
"Kendall was erratic (passing)," Clawson said. "He can make plays with his feet. If it was live today, he may have scored two or three touchdowns."
Hinton has the feet to slice up a field in the manner of Lamar Jackson, Louisville's 2016 Heisman Trophy winner and 2018 first-round NFL draft pick of the Baltimore Ravens.
What remains to be seen is if he can hit enough passes and can stay healthy.
I invite you to follow my stories on Twitter @shanny4055
-30-