The education of a Tar Heels point guard
Coby White learning to harness his play day by day in practices and games
Photo: Coby White
Watch Coby White now that the ACC basketball logjam at the top has been halved to three one-loss teams, Virginia, Duke and North Carolina.
In the past week, North Carolina's maturing freshman has moved ahead a couple chapters in the education of a point guard. You can hear it in his deeper comments and see it in his steadier play.
On Friday, White met with the media at the Smith Center before the team departed for Saturday's game at Louisville. Revenge was driving him all week based on his poor play in the Tar Heels' 21-point loss (81-69) loss last month to the Cardinals at home, but he hinted he understood the need to steady himself without letting his emotions force plays.
"I know Louisville is at the top and has lost only one (ACC) game and we've lost one," White said. "That's all I know – we lost one. Everybody has lost one, right? I don't know the other team's records and standings. There is so much going in in life – especially as a freshman – I'm just trying to take it day-by-day, game-by-game and go out there and get better."
Then the team's second-leading scorer at 14.8 points per game went out showed he doesn't have to score to influence a game. He controlled the tempo while leading a 79-69 victory on the Cardinals' floor.
He reversed his assists to turnovers ratio from 2/4 in the loss to 4/2. He only hit 3-of-14 shots for eight points, but one basket sustained momentum when he beat the shot-clock buzzer. In the Louisville loss, he struggled to a shot off with a 0-of-4 performance resulting in four points.

It's hard to influence results when poor play limits you to the 19 minutes White played in the Louisville loss. In the revenge victory, he was on the floor 31 minutes while executing other aspects despite missed shots.
"I'm trying to make the play instead of the home run play," White said. "Rather than right play or the wrong play, I don't try to do too much with the ball try. I just try to hit the open guy."
White, a 6-foot-5, 180-pounder from Greenfield School in Wilson, arrived at North Carolina as a McDonald's All-American pick and projected as an NBA one-and-done. Then reality hit in that he had to adjust his past confidence from dominating high school opponents with his superior physical ability to using his head moe to match opponents also playing on scholarship
"It was very difficult or me at the beginning," he said. "I had a lot of stuff to adjust to through time, great coaching and my family's help to get me through it. I was struggling, but I try to get better every day in practice and practice hard. You play how you practice. I'm starting to practice better and play better.
White's improved play since failing to make a field goal in the Louisville loss was one reason he was the player selected to meet with the media. In the four games between the Louisville results, he was 28 of 52 (.538) from the field and 15 of 31 (.484) from three-point range while averaging 19.5 points and 5.8 assists.
"I'm cutting down on the turnovers," he said. "Hopefully I can keep cutting down down. I'm playing solid, good basketball right now."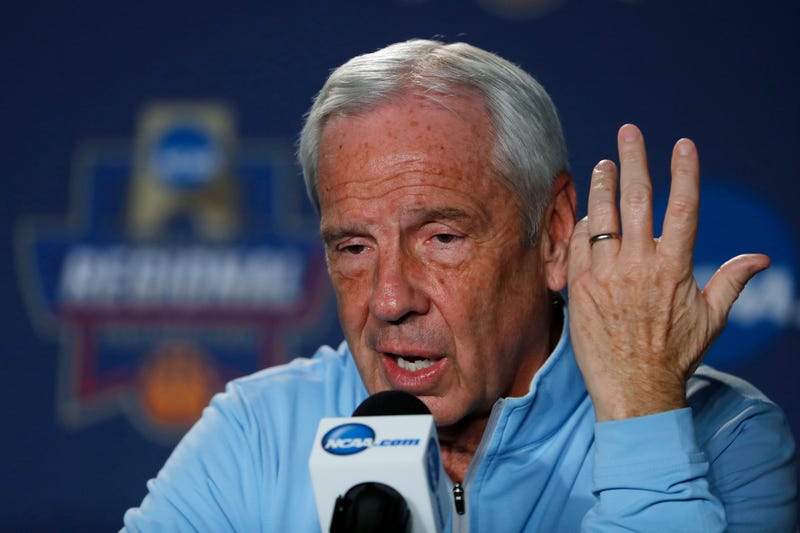 His points and assists to turnovers in the past four wins prior to Louisville: Notre Dame, 17 points, 1 assist/two turnovers; Miami, 15, 8/3; Virginia Tech, 27, 6/3; and Georgia Tech, 19, 8/2.
When it comes to highly touted point guards with one-and-done talent in the Triangle, White and Duke's Tre Jones are the antithesis of Dennis Smith's one-and-done selfish play two seasons ago at N.C. State.
Listen to what White is saying these days compared to UNC coach Roy Williams' comments following the Louisville victory and it's apparent the student is soaking up the teacher's lesson
"I just think about getting better every single day," Williams said." Sometimes the schedule helps you. If you play a lot of games at home, or if you play some of the great teams early on, like Clemson had Virginia and Duke. Those games on the road, that's a hard schedule to play. So, I've never really thought too much about that. Just play your butt off and do it every day and see how you end up."

Coby White has turned a few more pages in his education of a point guard.
* * *
I invite you to follow me on Twitter @shanny4055
Tom Shanahan, Author: Raye of Light http://tinyurl.com/knsqtqu
-- Book on Michigan State's leading role in the integration of college football. It explains Duffy Daugherty's untold pioneering role and debunks myths that steered recognition away from him to Bear Bryant.
http://shanahan.report/a/the-case-for-duffy-and-medal-of-freedom
David Maraniss, Pulitzer Prize winner and biographer; "History writes people out of the story. It's our job to write them back in."