The decline and the deeper fall of the Lakers
Jerry Buss chose Rodman over Jerry West, Jeannie Buss others over Magic Johnson
Photo: 1) Magic Johnson; 2) Jeanie Buss
Jerry West, more than any other Los Angeles Lakers player, defined the NBA franchise's greatness on the court in the 1960s and 1970s and then as an executive in the 1980s and 1990s.
Magic Johnson, more than Kareem Abdul-Jabbar, James Worthy, Jamaal Wilkes and Coach Pat Riley, defined the "Showtime Lakers" of the 1980s.
Now, they're both gone. They're former Lakers.
And, thanks to Jeanie Buss, Rob Pelinka Tim Harris and Linda Rambis are Lakers. Enough said.
The Lakers have become the most dysfunctional storied franchise since the New York Yankees decline in the 1980s under George Steinbrenner until he stepped back and let cooler heads – Gene Michael, Bob Watson – rebuild the franchise.
As for the Lakers, don't underestimate Jerry Buss signing Dennis Rodman as a turning point that gained momentum and turned into an avalanche of current dysfunction. The late owner signed Rodman over over the vociferous objections of West. Those were the first signs of Buss losing a grasp on reality.
As expected, Rodman blew up on the Lakers, taking side trips to Las Vegas instead of practicing.
The Lakers still rebounded to win three straight NBA titles from 2000 to 2002, but they had in place Jerry West all-time great players Shaquille O'Neal and Kobe Bryant, with Phil Jackson taking over as the coach in 2000.
In the 2000 season, before the Lakers came together for their title run, Jackson asked West and assistant general manager Mitch Kupchak to leave the locker room before he spoke with his then-struggling team.
West must have realized then he was no longer calling the shots. A Microsoft manager didn't ask Bill Gates to leave the room, but Jackson, who was dating owner heir apparent Jeannie Buss at the time, asked Jerry West -- The Logo -- to leave the room.
West remained for the title run, but he was soon gone only to reappear as general manager with the Memphis Grizzlies from 2002 through 2007. Who leaves the Los Angeles Lakers for the Memphis Grizzlies?
Yes, the Lakers won two more titles with Bryant, but he was the franchise's last Jerry West vestige before Father TIme caught up with Bryant.
Later, West was a consultant with the Golden State Warriors from 2011 through 2017, helping build the current dynasty.
When he was interested in returning to the Lakers in 2017, he was rebuffed by Jeannie. Instead, West joined the Clippers as a special consultant in 2017. He just signed an extension last week. The Clippers are now a playoff team and the adult among L.A.'s NBA franchises since Steve Ballmer took over as owner from Donald Sterling.
In today's NBA, the Warriors are still solid from West's foundation and Ballmer is listening to West.
Meanwhile, Jeanie Buss is said to be listening to Linda Rambis, the wife of former Lakers player Kurt Rambis; ex-boyfriend Phil Jackson, who left the New York Knicks in shambles from his 2014-to-2017; Rob Pelinka, a former agent turned general manager; and Tim Harris, a president of basketball operations with no roster role.
Magic said Thursday on ESPN's First Take he learned through the grapevine Pelinka was undermining him, although Pelinka later denied it. Johnson added he had understood his stature in the franchise was answering only to Jeannie Buss.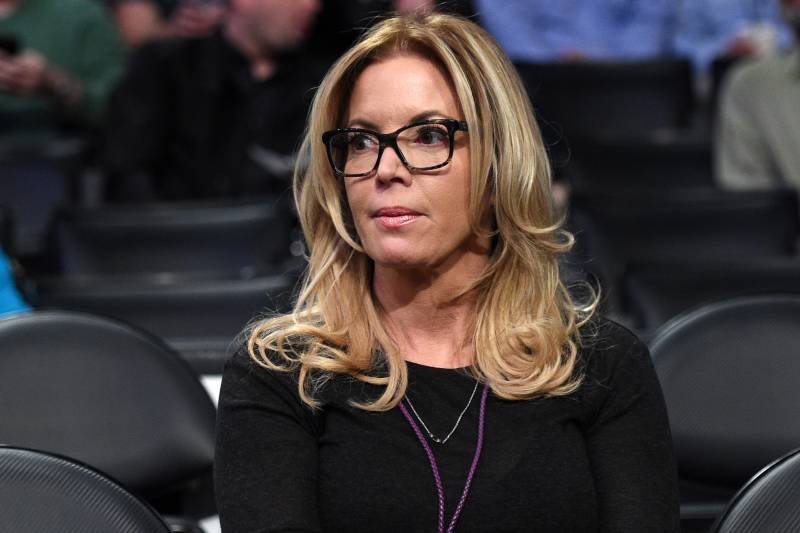 But when he tried to fire Luke Walton as coach, he says he was blocked by Harris.
"I said, when I looked up, I only really answer to Jeanie Buss," he said on ESPN. "Now I got Tim involved. It's time for me to go. I got things happening that were being said behind my back. I don't have the power I thought I had to make decisions. And I told them, when it is not fun for me, when I think I don't have the decision-making power I thought I had, I got to step aside."
Jeanie Buss' indecisiveness including denying reputable media reports at midseason that Johnson had attempted to fire Walton but was stopped, using the term "Fake News." Crying "Fake News" is well known obfuscating ploy from a certain con man in the White House when he is unable to give a straight answer to media reports.
Jerry Buss chose Dennis Rodman over Jerry West.
Jeanie Buss chose Linda Rambis, Phil Jackson, Rob Pelinka and Tim Harris over Magic Johnson.
Did she ever really know what she was doing when she received so much credit before Kobe faded? Those days are increasingly an illusion.
Jeanie Buss, Linda Rambis, Rob Pelinka and Tim Harris are the Lakers.
And Jerry West and Magic Johnson are former Lakers.
Go figure.
* * *
I invite you to follow me on Twitter @shanny4055
Tom Shanahan, Author: Raye of Light http://tinyurl.com/knsqtqu
-- Book on Michigan State's leading role in the integration of college football. It explains Duffy Daugherty's untold pioneering role and debunks myths that steered recognition away from him to Bear Bryant.
http://shanahan.report/a/the-case-for-duffy-and-medal-of-freedom
Don't believe the myths at Duffy Daugherty's expense about Bear Bryant's motivation to play the 1970 USC-Alabama game or myths about the Charlie Thornhill-for-Joe Namath trade. Bear Bryant knew nothing about black talent in the South while he dragged his feet on segregation.
http://shanahan.report/a/myths-that-grew-out-of-1970-alabama-game-with-usc
http://shanahan.report/a/mystery-solved-in-thornhill-and-namath-myth
David Maraniss, Pulitzer Prize winner and biographer; "History writes people out of the story. It's our job to write them back in."
Click here for the link to order from August Publications
-30-