Sports crumbled prejudice before 1957 Final Four
1957 Final Four, Part IV: Kansas City welcomed three integrated basketball teams previously banned
Photo: Wilt Chamberlain surrounded by North Carolina's defense at the 1957 Final Four. Below, John Wooden at UCLA and Johnny Green in a Big Ten game.
It remains to be seen how forcefully the NCAA responds to the Indiana state legislature's religious freedom law that critics say was designed with legalese to allow discrimination against gays and others in the name of religion.
But as the late Pulitzer Prize-winning Los Angeles Times sports columnist Jim Murray elegantly wrote in 1961, we already know this about sports:
"Citadels of prejudice have been crumbled by athletics. It's it the proudest chapter of its history. The prowess of the Alabama football team threatens to turn the pages back."
At the time, Murray wrote to challenge the Rose Bowl committee that was rumored to be abandoning its contract with the Big Ten to invite segregated Alabama, No. 1 ranked and en route to the national title, to face integrated UCLA in the Rose Bowl. Murray's stories and portrayal of Alabama and head coach Paul "Bear" Bryant forced the Rose Bowl to back down.
But Murray's words also are apropos for progress made in college basketball between the 1947 NAIA Tournament and the 1957 Final Four both hosted at the Kansas City Municipal Auditorium. It was a popular edifice of the era and frequent host of major events similar to the city of Indianapolis now.
In 1947, Kansas City officials told then-Indiana State coach John Wooden to leave behind his black players. Wooden defied the Kansas City racists, keeping his entire team home.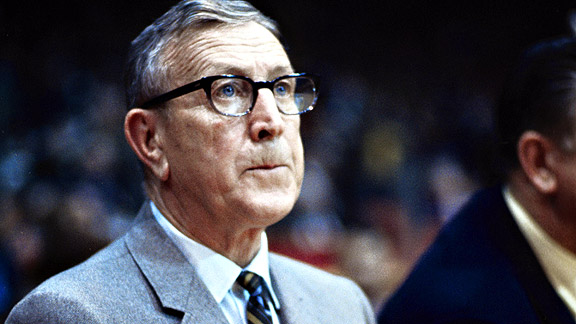 The 1957 Final Four hosted three integrated teams – Kansas, Michigan State and San Francisco – and only one all-white team, North Carolina. The teams, featuring African-American stars Wilt Chamberlain of Kansas and Johnny Green of Michigan State, were welcomed.
When Michigan State's 1957 roster arrived for its turn among the Final Four participants to practice at the arena, Kansas was wrapping up its workout. Everyone recognized one Kansas player taking a break.
Chamberlain, the Jayhawks' 7-foot-1, 214-pound All-American sophomore, was literally and figuratively the biggest story the college game had known.
"That's when I first met Wilt," said Michigan State's Johnny Green, a 6-5 sophomore All-Big Ten pick and future two-time All-American choice. "When we got to the arena, Wilt was on the floor sitting around. We talked a little – basically just, 'How ya, doin?' "
Wilt, a complicated figure throughout his life, may have acted aloof, but this was trailblazing moment. Ten years earlier the future NBA stars would not have been welcome to casually chat on the arena floor.
As Final Four participants, Michigan State and Kansas were both about to become North Carolina victims of epic triple-overtime battles. North Carolina beat the Spartans 74-70 in the Friday semifinal and Kansas 54-53 in the Saturday final before capacity crowds of 10,000 both nights.
Racial progress, though, was moving forward more rapidly in basketball than college athletics' other high-profile sport, football, although it should be noted Michigan State also was a leader in the integration of college football.
North Carolina of the ACC in 1957 and Kentucky of the SEC in 1958 were the last segregated basketball schools to win a national title. The ACC's next national title was integrated N.C. State in 1974 and the SEC's was integrated Kentucky in 1996.
The face of the game was changing leading into the 1957 Final Four. San Francisco, an integrated basketball team led by the great Bill Russell and K.C. Jones, had won the 1955 and 1956 NCAA titles in Kansas City and Evanston, Ill., respectively.
Loyola of Chicago's four black starters beat all-white Mississippi State in the NCAA Regionals, but the Ramblers faced integrated Cincinnati in the final. Texas Western (now UTEP) won the 1966 national title with five black starters against Kentucky's all-white roster, but the Miners faced integrated teams along the way.
Additionally, UCLA's integrated roster defeated all-white Duke in the 1964 NCAA final and repeated as national champs against integrated Michigan in 1965's final.
Football, though, held out much longer. Segregated Alabama won national titles in 1961, 1964 and 1965 and Texas was the last all-white national football champion in 1969. Bryant and Texas coach Darrell Royal didn't integrate their varsity rosters until the 1971.
The same lack of progress in the South impacted how Michigan State and Kansas were treated during the 1957 NCAA Tournament regionals when Michigan State won its Mideast Region at Lexington, Ken., and Kansas the South Region in Dallas. The teams were denied access to local hotels due to segregation; the Spartans roomed in a dormitory on the Kentucky campus, while Jayhawks stayed together at a hotel 30 miles outside of Dallas in Grand Prairie.

The games in Dallas, with Kansas defeating Oklahoma City and SMU, were particularly ugly. Fans threw pennies, other objects and racial slurs at Chamberlain and the Jayhawks' other black player, Maurice King.
The regional events were downplayed during the Final Four weekend, but at least Green and Chamberlain were welcome. They even stayed with their teammates in local hotels.
"We all stayed together at the hotel in Kansas City," Green said. "The Midwest was different and Kansas City also was by then."
It may not happen as rapidly as many want, but Jim Murray's words are worth repeating: "Citadels of prejudice have been crumbled by athletics. It is the proudest chapter of its history."
---
1957 Final Four, Part IV: Sports crumbled prejudice before 1957 Final Four
* * *
I invite you to follow me on Twitter @shanny4055
Tom Shanahan, Author: Raye of Light http://tinyurl.com/knsqtqu
-- Book on Michigan State's leading role in the integration of college football. It explains Duffy Daugherty's untold pioneering role and debunks myths that steered recognition away from him to Bear Bryant.
http://shanahan.report/a/the-case-for-duffy-and-medal-of-freedom
Don't believe the myths at Duffy Daugherty's expense about Bear Bryant's motivation to play the 1970 USC-Alabama game or myths about the Charlie Thornhill-for-Joe Namath trade. Bear Bryant knew nothing about black talent in the South while he dragged his feet on segregation.
http://shanahan.report/a/myths-that-grew-out-of-1970-alabama-game-with-usc
http://shanahan.report/a/mystery-solved-in-thornhill-and-namath-myth
David Maraniss, Pulitzer Prize winner and biographer; "History writes people out of the story. It's our job to write them back in."

Click here to purchase Raye of Light from August Publications