Raye on how NFL teams read Michigan State
First-rounder Trae Waynes among four NFL draft picks and five undrafted free agents
Photo: Tony Lippett's 25-yard Rose Bowl TD. Below in order, Trae Waynes, Jeremy Langford, Lippett, Keith Mumphery.
They call it "The Reading."
When NFL teams are in the final stages of preparing for the draft, they set aside a day or two when the general manager, player personnel executives, the coaching staff and scouts gather in a conference room. They read through the reports they've compiled on players eligible for the draft. They are fixated on athletes they expect to be available to fill a need as well as those to turn to if their target is not available.
Jimmy Raye has been in many such rooms throughout his career as an assistant coach and offensive coordinator. Michigan State's pioneer black quarterback and ground-breaking college and NFL coach is now an NFL Senior Advisor entering his 39th season in the league.
With Michigan State cornerback Trae Waynes among four overall Spartans draft picks, I asked him to provide a look at how teams viewed Michigan State's prospects during "The Reading" and on draft day. Raye comments on Waynes being on every team's draft board, Jeremy Langford and Keith Mumphery as good fits for their respective teams and Tony Lippett as a steal for the Dolphins as a candidate to play both ways. He expected New England to take him for his versatility.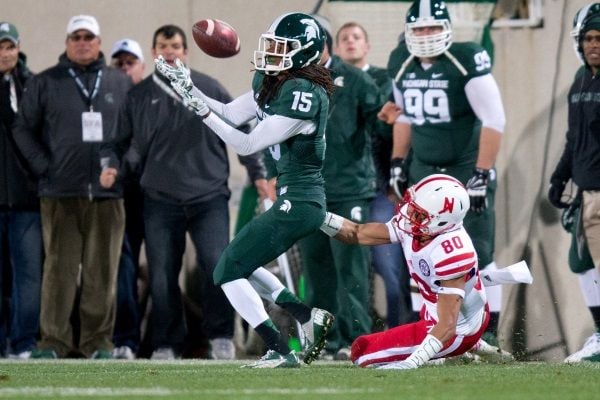 Trae Waynes, CB, 6-0, 186, first round, 11th pick overall, Minnesota Vikings.
Raye's take: "I had heard about him the year before when Darqueze Dennard was drafted in the first round by Cincinnati, and people in the league said Michigan State had another good corner. I also saw him last season at the Lansing Downtown Coaches Luncheon the week of the Wyoming game.
"I think what Michigan State has going for it in secondary play is they do a great job of teaching press coverage and bump and run. He's a top player with size, skills, strength and he can run. With the system Michigan State played, he had to be a top priority on everybody's draft board. Minnesota head coach Mike Zimmer is a defensive-minded coach, and if you have to defend Chicago, Green Bay and Detroit in your division, a cornerback is a top priority.
"Since he played in a system with press coverage and bump and run, that was all the more reason to pick him. They could see him doing at Michigan State what they are going to ask him to do in the NFL. That helps with the transition. They can see other players are a good athlete, but they have to project how they will play in an NFL system. They already saw he has size, the skill set, can press and play bump and run and can tackle. They had to be happy when he was still there with the 11th pick. There was no way he would have lasted past No. 15."
Jeremy Langford, RB, 6-0, 208, fourth round, 106th overall, Chicago Bears.
Raye's take: "I know running back is a position that has become a secondary thought in the NFL, but I like him. I don't like him as much as Le'Veon Bell (2013 second-rounder taken by Pittsburgh), but he has a similar skill set. Michigan State is a physical running team and he is an excellent addition for a team like Chicago. They have a similar back in Matt Forte.
"He's displayed toughness as an inside runner between the tackles and he has finishing ability. He also has good receiving skills for a running back. The thing we didn't see is if he can block in pass protection. He'll have to learn that, but considering the toughness he displayed running the ball, that leads you to believe he won't have trouble adapting to pass protection. In that division, I see him as very serviceable for the Chicago Bears."
Tony Lippett, WR/CB, 6-2, 192, fifth round, 156th overall, Miami Dolphins.
Raye's take: "I think he was the steal of their draft in the fifth round. He is one of the few guys that could play both ways in the NFL. It wouldn't surprise me if they used him in nickel packages on defense early in the year and then use him on offense when they go to three- and four-wide receivers. He was a great pick in the fifth round.
"I think he would have been an ideal player for Bill Belichick to have taken earlier at New England with the success he has had with two-way players. He might have dropped to the fifth round because people weren't sure where to project his future, but I don't see a difficult transition to defense for him.
"He has excellent size at plus-6 (feet); that's a plus as a defensive back. He will tackle and he has the speed to catch up to people. He obviously has ball skills from playing offense. He made that big slant catch for a touchdown in the Rose Bowl. I wouldn't be surprised if he contributed early."
Keith Mumphery, WR, 6-0, 215, fifth round, 175th overall, Houston Texans.
Raye's take: "He has the measurables that will help him. He's 6-foot, a good receiver, he has good running ability after the catch and he has toughness. He has the versatility and ball skills to fit what Houston coach Bill O'Brien is trying to do. They have to replace Andre Johnson. He's similar to Johnson, but doesn't have Johnson's top-end speed. But he played at Michigan State where he had to beat press coverage defense every day in practice. He'll be a candidate to get some early playing time."
Five undrafted free agents
In addition to four draft picks, five Spartans signed with teams as undrafted free agents:
Safety Kurtis Drummond, Houston;
Tight end Andrew Gleichert, Philadelphia;
Linebacker Taiwan Jones, New York Jets;
Defensive end Marcus Rush, San Francisco;
"Over the past three years, Michigan State has won 31 games, so it's a program with guys that are capable of being drafted or signed as free agents. With the quality of play at Michigan State and the level of competition, their free agents have an excellent chance of making a team. The program fosters the fact an NFL team is getting a good, quality player.
"If you're not drafted in the first five rounds, you're better off signing as free agent. You can do a better job of picking a team where you can apply your skills more readily because of the numbers at your position on their roster. With the volume of wins the last three, four years, NFL teams know when they take an athlete from Michigan State -- where they play a defensive and physical brand of football -- they're getting a tough and competitive player."
-30-