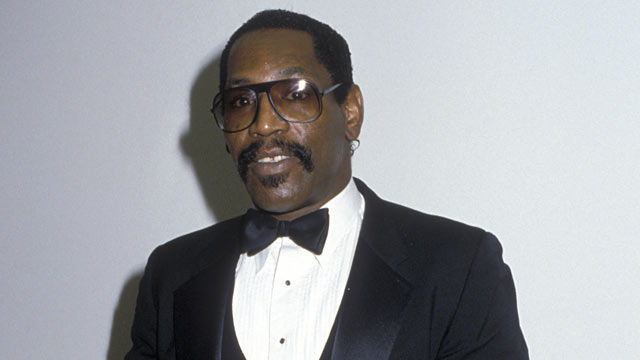 NFL staged modern draft too late for Bubba
The No. 1 overall pick in 1967 would have enjoyed the draft as a TV show
Photo: Bubba Smith moved on to Hollywood. Below (top to bottom), Clinton Jones, Pete Rozelle with his chalkboard, George Webster and Gene Washington.
Bubba Smith loved a stage, but the 1967 NFL Draft was a shadow of its modern-day TV show with Oscar-like glitter it is now. Imagine if the Michigan State legend turned Miller Lite pitchman and Hollywood actor was taken No. 1 overall in the modern draft.
So I asked one of Smith's Spartans teammates to imagine the 6-foot-8, 285-pound defensive end standing out on stage with NFL commissioner Roger Goodell in the 2015 draft that opens Thursday live on ESPN and the NFL Network.
"Oh, that would have been something else," said Clinton Jones, Michigan State's All-American halfback that followed Smith as the No. 2 choice. "Bubba would have loved the media festival. Bubba was a character, and he would have loved coming out on that stage."
Instead, Bubba's big day was uneventful in an era long before the 24/7 cable news cycle. The 1967 draft, the first following the NFL-AFL merger, quietly took place with then-commissioner Pete Rozelle hand-writing the names on chalkboards propped up on easels in a hotel ballroom.
Smith went No. 1 to the Baltimore Colts and Jones No. 2 to the Minnesota Vikings. Two more Michigan State first-round picks, linebacker George Webster and wide receiver Gene Washington, went No. 5 to the Houston Oilers and No. 8 to the Vikings, respectively.
No school has come close to matching Michigan State's record of four of the first eight picks. And the foursome is still making history with Jones' election to the College Football Hall of Fame in 2015.
He joins Webster (1987), Smith (1988) and Washington (2011) in the College Football Hall of Fame when he is inducted Dec. 8 in New York. They are college football's first foursome from a school's same class since 1940 and the first foursome of black athletes.
That milestone was produced by their progressive head coach, Duffy Daugherty, a 1987 College Football Hall of Famer. Jones is from Cleveland, but Webster (South Carolina), Smith (Texas) and Washington (Texas) arrived in East Lansing aboard Daugherty's Underground Railroad.
But in the moment of 1967, their day was so uneventful they weren't asked to gather for a group interview or photos to celebrate the draft bonanza. It wasn't done that way back then, even though the late Fred Stabley and the retired Nick Vista, who are both in the College Sports Information Directors Hall of Fame, were recognized as ahead of their time at promoting their school's players and coaches.
Washington learned he was a first-rounder from a Minneapolis sportswriter rather than the Vikings. The Star-Tribune's renowned Sid Hartman called the Michigan State football office at a time that Washington was coincidentally present.
"The guy says, 'Congratulations, Gene,' " Washington once told me in an interview. " 'You've been drafted by the Minnesota Vikings in the first round. And Gene, you will be playing for Bud Grant. Bud is coming down from Winnipeg in the Canadian Football League to coach the Vikings.' "
And that was the extent of the recognition Washington received. Jones admits he doesn't remember how he learned he was taken No. 2, adding he doesn't recall the reaction of Smith, who passed away in 2011, and Webster, who died in 2007. That's how much times have changed.
"I do remember (NFL executive) Buddy Young telling me later the Vikings drafted me and what kind of money I would get," Jones said. "My mother and I went to Minnesota. We stayed at a Holiday Inn and (Vikings defensive lineman) Jim Marshall met us to give us a welcome."
When Young, a Pro Football Hall of Famer with the Baltimore Colts that died in 1983, was hired by the NFL in 1964, he was the first black executive appointed by a major sports league. Jones said one of his roles prior to the 1967 NFL-AFL merger was to steer talented black players to the NFL. They feared losing players such as Jones to the upstart AFL.
Jones explained he first met Young after the 1965 season. He had been named an All-American halfback for the first of two straight years as the Spartans won the first of their back-to-back unbeaten Big Ten titles and the back-to-back national crowns (1965 UPI, 1966 National Football Foundation/MacArthur Bowl co-champs with Notre Dame).
"Basically, he was recruiting me for the NFL," Jones said. "He took me to New York, and I met many of the owners. I met George Halas (Chicago Bears) and Wellington Mara (New York Giants). I remember Norm Van Brocklin (the Vikings' head coach from 1961 to 1966) was there."
The most nefarious story from those NFL-AFL war days involved Al Davis, who was then a San Diego Chargers assistant coach. Davis was in his element as he signed Arkansas wide receiver Lance Alworth after his final college game. As the story goes, Davis signed the AFL's first Pro Football Hall of Famer before he left the field while they stood under the goalposts. The NFL was outmaneuvered as San Francisco 49ers head coach Red Hickey, an Arkansas native, sat in the stands.
Jones, though, grew up following the NFL's Browns and thus said he had no desire to play in the AFL.
"I was indoctrinated as an NFL fan," Jones said.
He added Young didn't offer money or other benefits. But Smith, as was the case with just about everything involving Bubba, was another story that added to his lore.
Before Smith's senior year in 1966, he arrived on campus in a new Oldsmobile purchased for him by the Houston Oilers. Daugherty made Smith return the car when he learned about it, although Smith's father, a high school teacher and coach, later bought him a Buick Riveria that he financed in the family's hometown of Beaumont, Tx. That became the famous "Bubbacar." He collected parking tickets across campus and East Lansing with "Bubba" spelled out on the doors.
Jones said Webster, Washington and himself would have stepped back and let the 1967 draft be Bubba's show.
"George was a very even-tempered guy," Jones said. "He never got too high or too low, but he had a great smile and regal stature about him. People would have noticed him. But George, Gene and myself would have been humble; we were grateful for the opportunities that we had. The whole show would have been about Bubba."
* * *

I invite you to follow me on Twitter @shanny4055
Tom Shanahan, Author: Raye of Light http://tinyurl.com/knsqtqu
-- Book on Michigan State's leading role in the integration of college football. It explains Duffy Daugherty's untold pioneering role and debunks myths that steered recognition away from him to Bear Bryant.
http://shanahan.report/a/the-case-for-duffy-and-medal-of-freedom
David Maraniss, Pulitzer Prize winner and biographer; "History writes people out of the story. It's our job to write them back in."
Click here for the link to order from August Publications
-30-