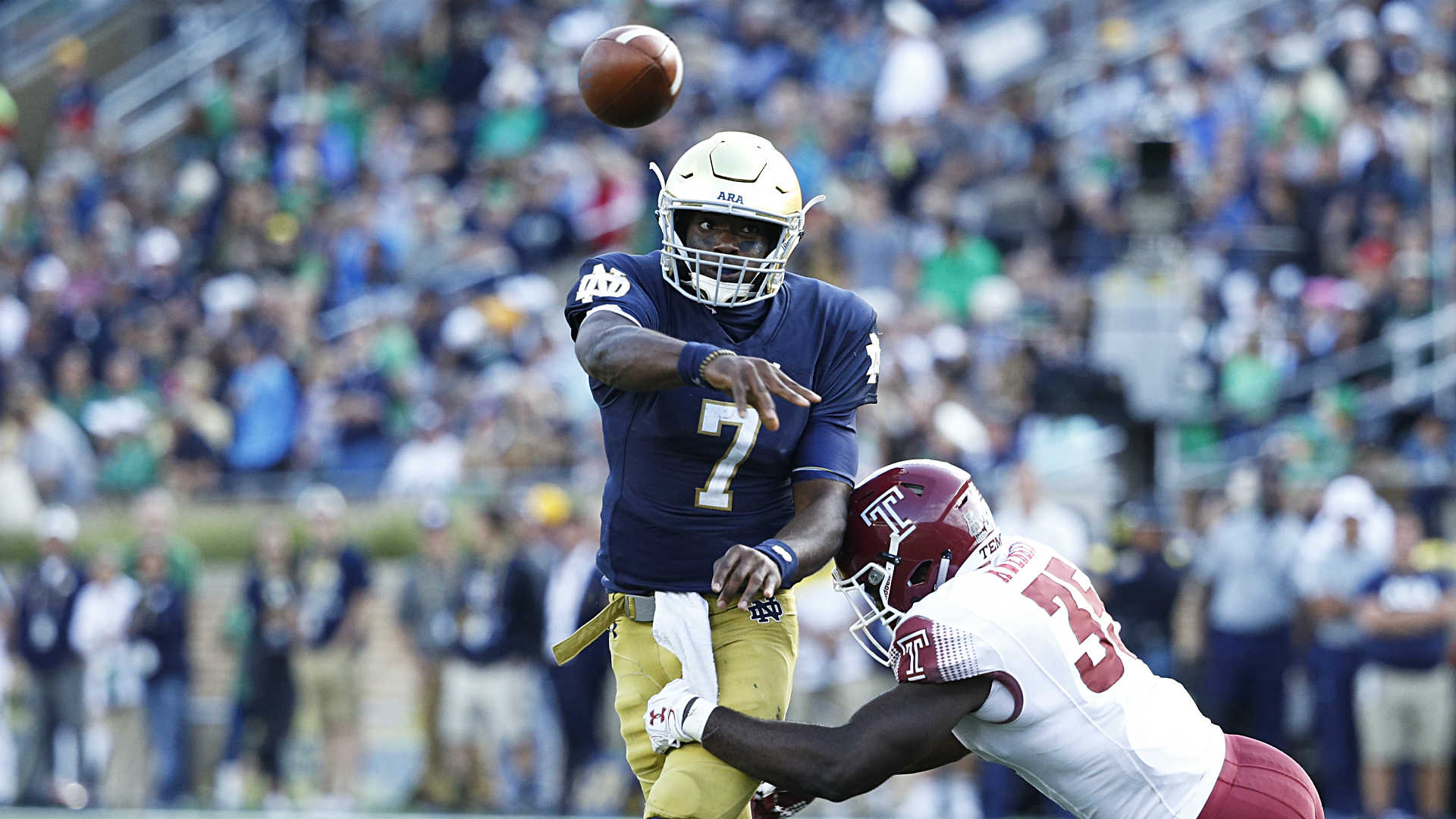 New look to old quarterback competition
Kelly labels Wimbush 1A and Book 1B as Notre Dame wraps up spring drills
Photo: Brandon Wimbush's discipline in the pocket is an aspect for improvement.
This time a year ago Notre Dame wrapped up spring football with head coach Brian Kelly asserting Brandon Wimbush was his starting quarterback. He wanted to tamp down any conversation of competition with backup Ian Book.
Kelly still says Wimbush is his starter following Saturday's 2018 Blue-and-Gold spring on April 21, but now he labels his returning quarterback as 1A and Book as 1B.
The doubt between now and a year ago could be interpreted as a step backward, but Kelly says no.
He sees a more mature Wimbush as a redshirt junior. And if for whatever reason Notre Dame has to turn to Book, the rising redshirt sophomore no longer has uncertainly surrounding him. He has proven he can produce.
"We're not (naming a starter)," Kelly told the media after the spring game. "I think it's pretty clear that Brandon went out and got a chance to go with the first group and Ian played with the second group. You know, that's not etched in stone, but that's the way they've been trending. I don't think there was anything today that changed that, but we know Ian Book can win for us. So it's 1A and 1B."
Both were impressive throwing the ball in the spring game that the offense won over the defense in modified scoring, 47-44.
Wimbush finished 19-of-33 for 341 yards with two touchdowns and one interception. He threw a 64-yard TD to Miles Boykin and a 6-yard TD to Chase Claypool. He was sacked only once.
Book was 17-of-30 for 292 yards with one TD. His score was an 85-yard touchdown pass to Claypool. He wasn't intercepted, but he was sacked seven times.
For the 10-3 2017 season, Wimbush started 12 of 13 games. He finished 136-of-275 (49.5 percent) for 1,870 yards with 16 touchdowns and six interceptions. With his mobility, he also was second in rushing with 803 net yards (940 gained minus losses and sacks) for 14 touchdowns.
But mobility was sometimes a drawback for the 6-foot-1, 225-pounder. In the spring game, he was so intent on Wimbush not leaving the pocket to read his options, he whistled a play dead if he tried to run. Kelly thinks experience under second-year offensive coordinator Chip Long will help, too.
"Consistency in his mechanics was the biggest thing," Kelly said of improvement he saw this spring. "His drop (last year) put him in a lot of compromising situations in terms of throwing the football. That was cleaned up. It started with his attention to things, and he has been very coachable. And then there is his repetition with his play. We're not there yet, but he made a huge jump."
Book started one game when Wimbush was hurt and led the Irish to a win 33-10 at North Carolina. In the Citrus Bowl, he relieved a struggling Wimbush in the second quarter and led a 21-17 comeback victory over LSU.
The 6-1, 200-pounder from El Dorado Hills, Calif., finished the year 46-of-75 for 456 yards with four touchdowns and four interceptions. Book ran well enough to gain 207 net yards (31 in losses). His other appearances in 10 total games were limited to mop-up duty.
He played well enough to deserve a chance in fall camp to earn the job.
"Oh, I think there's great competition there," Kelly said in an ACC conference call. "I think Ian Book is 2-0, he's a guy that's come in and he started one game and finished another against North Carolina and LSU. So we know he's very capable. So that competition is there.
"But on the other hand, I think Brandon has made great progress. He needed to certainly solidify and develop his consistency fundamentally, and I think he's done that. When you see that repeating delivery, a confidence starts to build. So I think a lot of confidence in what he's been able to do from a mechanics standpoint because it's helped him mentally. But at the same time, Ian Book's had a good spring, so there is natural competition with that group."
NOTRE DAME AND ACC GAMES
Notre Dame, which opens the season at home Sept. 1 against Michigan, has five ACC games this year. The Irish play Sept. 22 at Wake Forest, Oct. 6 at Virginia Tech, Oct. 13 at home against Pitt, Nov. 10 at home against Florida State and Nov. 17 at home against Syracuse.
Last year Notre Dame was 4-1 against ACC schools. The Irish defeated Boston College, North Caroline, N.C. State and Wake Forest but lost to Miami.
Notre Dame's agreement to play five ACC games allows the Irish to remain an independent in football with other sports holding ACC membership.
Follow my stories on Twitter @shanny4055
-30-