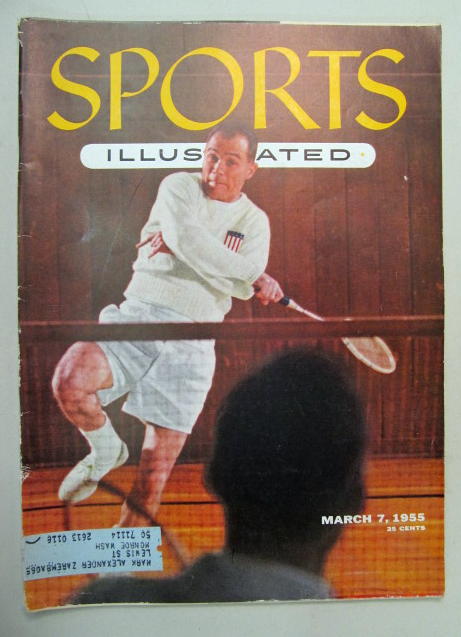 My 2008 story on San Diego sports legend and DB Cooper
Sports Illustrated cover boy Joe Alston pursued Cooper in his FBI career
Photo: Joe Alston
Watching the recent History Channel documentary on D.B. Cooper reminded me of a story I wrote in 2008 about the passing of San Diego sports legend Joe Alston. In his other career, 30 years with the FBI, he had pursued Cooper and Patty Hearst.
On Thanksgiving eve in 1971, a man known as D.B. Cooper skyjacked a plane, demanded a $200,000 ransom and jumped out of a plane over the Pacific Northwest with the money strapped to his body. He was never caught, making him somewhat of a folk hero. But from time to time speculation arose about the unsolved case.
Alston, who made the cover of Sports Illustrated in 1955 as a world champion badminton player, was in failing health in 2008 about the time a parachute was discovered in what was considered Cooper's jump area. In the story below, Joe's son Tony Alston tells a story of reading the news report to him, but Tony said his father quickly dismissed it from his hospital bed. The parachute was later determined to be from the World War II era.
As you'll read below, the case never left Alston's mind, even in retirement.
The History Channel documentary makes a strong circumstantial evidence case that Cooper is now, ironically, living in San Diego. It identifies and confronts 72-year-old Robert W. Rackstraw, who was an Army paratrooper in Vietnam with explosives knowledge that matched the bomb material he used to hijack a Northwest Airlines flight out of Portland. However, the case remains closed and unsolved.
My hunch is Rackstraw waited until after Alsop's death to risk living in the champion FBI veteran's back yard.
I once suggested to Fred Dryer that a TV show depicting Alston's career as an FBI or CIA agent posing as champion badminton player while solving cases throughout the world. I thought it was perfect for Dryer after the end of his Hunter series, but he didn't go for it.
By Tom Shanahan, April 18, 2008, Voice of San Diego
Joe Alston landed on the cover of Sports Illustrated in 1955, a distinction that places him in the company of Ted Williams, Bill Walton, Marcus Allen and other San Diego sports legends.
He may not have hit a home run, scored a basket or run for a touchdown, but can Williams, Walton and Allen say they chased down Patty Hearst or searched for D.B. Cooper?
Alston, a two-time world champion and 12-time national champion in badminton singles, doubles and mixed doubles, did so in his 30-year career as an FBI agent. He specialized in kidnapping and extortion cases for the bureau.
"My dad led a really interesting life other than his badminton career," said Nick, one of his two sons
Alston passed away Wednesday (April 16) at his home in Solana Beach. He was 81.
The San Diego High and San Diego State alumnus earned his Sports Illustrated cover for a badminton career that also earned him a place in the Breitbard Hall of Fame at the Hall of Champions (my day job).
He was ranked No. 1 in the U.S. 28 times: eight singles, 14 doubles, six mixed doubles. He played on eight U.S. Thomas Cup teams and coached the 1978-79 team.
But his sons said you could talk to him about his FBI career and hear as many fascinating stories as from his athletic career. His son Tony was inspired to join the FBI and is in his 17th year with the bureau.
Tony said he was reading a recent newspaper story to his father about a parachute found in Washington state that had generated speculation it might have belonged to D.B. Cooper, who was never found after he hi-jacked a plane and jumped out over rugged territory in the Pacific Northwest.
"I read him the story, and he said, 'Naw, I don't think so,' " Tony said.
Joe, apparently, never stopped working the case in his mind.
"One night in the hospital he fell asleep and he starting shouting, 'D.B. Cooper! D.B. Cooper! D.B. Cooper!" Tony said.
Alston passed away from heart failure and medical complications. The family is planning a "Celebration of Life" in May at a date to be announced.
Alston is survived by his wife, Lois; son Tony, daughter-in-law Sharon, three grandchildren of Mission Viejo; and son Nick of San Diego.

Click here for the Voice of San Diego link
-30-