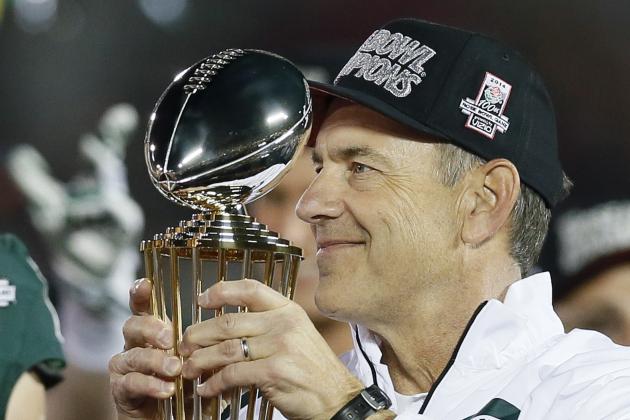 Michigan State history still helps with knocking on the door
Circling from Legend of Ted Bell to confrontations with Woody Hayes to Michigan State's national games under Mark Dantonio
Photo: Mark Dantonio with the Rose Bowl trophy two years ago.
Michigan State began the season knocking on the door to the national title with a ranking as high as No. 2 five weeks into the season. The injury-riddled Spartans slipped to No. 9, but they are still in position if they manage an upset Saturday at No. 3 Ohio State.
For the he Spartans to be still hanging around is a statement to the sustainability of the Michigan State program Dantonio has built in his nine seasons. He followed four decades of predecessors failing to produce anything more than flirtations exposed as a paper tiger. They failed to develop Dantonio's combination of talent and depth.
With that in mind, I'm thinking back to names such as Ted Bell with validation from Bo Pelini and of Darryl Rogers.
If those names sound unrelated, please bear with me as I take you back to the mid-1970s and circle back to Dantonio. I'll start with the rising expectations Ted Bell brought to Michigan State. The Youngstown (Ohio) Cardinal Mooney running back was one of -- if not THE -- top running back recruits in the nation when he signed with the Spartans in coach Denny Stolz's Class of 1974. This was before websites ranked players.
Who is Ted Bell? You're wondering if you weren't around Michigan State football in the mid-1970s. His senior year of high school, he ran for 2,145 yards and 31 touchdowns. He led the Cardinals to their first state title in 1973 that was played before a record crowd of 29,000 fans at the Akron Bowl.
Bell was recruiting coup, but knee injuries prematurely ended his career. The Ohio high school legend was the best that never was in college, to borrow from the ESPN 30-for-30 documentary title on Marcus Dupree.
Bell's first injury was in the final game of his high school career. He had staked Cardinal Mooney to a 7-3 lead on a 33-yard TD run, but in the final with two minutes remaining of what turned out to be a 14-3 victory in the state final, he hurt his knee.
Sports medicine for knee injuries was primitive by today's standards. He suffered another knee injury the summer just before Michigan State's 1974 fall camp opened.
He was sidelined in that 1974 season that unranked Michigan State pulled off one of college football's great upsets. The Spartans defeated No. 1-ranked Ohio State at Spartan Stadium, 16-13, on Levi Jackson's dramatic 88-yard touchdown run.
That monumental upset was the ninth contest of an 11-game season; the Spartans finished 7-3-1 and ranked No. 12 in the nation. Ohio State was upset in the Rose Bowl to finish 10-2 and ranked No. 4. That makes this a good time to remind those with romantic memories of the "Ten Year War" that Ohio State coach Woody Hayes and Michigan coach Bo Schembechler combined for a 1-9 record in 1970s Rose Bowls.
For the 1975 season, there was a Big Ten scheduling quirk that returned Ohio State to Spartan Stadium for the season opener. Ohio State was No. 3 in the preseason AP poll and Michigan State No. 12. The Spartans weren't yet legitimate national title contenders, but for the first time since Duffy Daugherty's 1965 and 1966 national championship teams they were knocking on the door. Another Ohio State upset would have jumped Michigan State high into the Top 10.
That 1975 opener was Bell's long awaited debut. That's why this week -- with Ohio State on deck for the Spartans -- is a good time to remember the legend of Ted Bell. He was a halfback with Jackson a fullback and Charlie Baggett the quarterback. There was one play – but only one -- in that game when Bell appeared to have regained his form.
On Michigan State's first series Bell ran for one yard off left guard before a punt. On the second series, he ran for 4 yards wide right, 5 yards on a pitch right and lost three yards on a drive that ended with an interception.
On the third series, the first of the second quarter, we saw what might have been. Bell broke off a 29-yard gain around left end from the 9 to the 38. But as he was tackled, his body was propelled to shoulder height. In a metaphor for his career, Bell disappeared behind the Spartans backups standing on the sideline. His knee was hurt; he never returned. The Spartans, trailing only 7-0 at halftime, lost 21-0.
Bell didn't play again until midseason. He finished that year with 19 carries for 63 yards with two touchdowns. By 1976 spring drills, Darryl Rogers had replaced Stolz, who was fired over NCAA penalties. Rogers tried switching Bell to defensive back, but it didn't work. Bell's damaged knees left him a shadow of himself. He never played again.
Just what was the legend of Ted Bell?
He is still considered his high school's greatest football player. Cardinal Mooney alum Bo Pelini, the former Nebraska coach and current Youngstown State coach, knew Bell's legend. At the 2014 Big Ten Football Kickoff Luncheon in Chicago, I crossed paths with him coincidentally in a ball room. He was on the move, but I hurriedly asked him, "How good was Ted Bell?"
He kept walking but turned his head back with an earnest look, saying: "He could have been the best ever." Pelini kept walking and out of range before I could get in a follow-up question.
Bell recently retired from Wholert Corporation in Lansing and now lives in Las Vegas. A few years ago he had a knee replacement. I called him for this story, but I didn't hear back from him. I wasn't surprised. Athletes often don't want to discuss the old days of unfulfilled promise, even if the story includes their legendary feats.
Ohio State coach Woody Hayes certainly feared the legend of Ted Bell and what he might mean to Michigan State against his Buckeyes. Hayes noticed the number of highly touted recruits Michigan State was landing. His attitude was any Ohio kid he wanted for the Buckeyes should never turn him down. He was upset with Bell.
When I wrote for the Michigan State college paper, The State News, Bell told me during 1976 spring football drills that Hayes had told him if he went to Michigan State the Spartans would be on probation.
"He said it to me just like I'm talking to you now," Bell said as we sat in his dorm room at Wonders Hall.
For those of us who were around for the probation years, the legend was Hayes turned the Spartans into the NCAA for recruiting violations. There was more to the story as time revealed, but the NCAA did investigate. It found what would be minor violations by today's standards and Michigan State was slapped with three years of probation. A lack of cooperation from Stolz and Michigan State contributed to the severity.
Hayes, a bully by nature, enjoyed the rumor he had played Big Ten policeman. At the 1977 Big Ten Kickoff Luncheon in Chicago, Hayes took his turn at the podium and pontificated. He began by describing Big Ten members as a family.
"When one of our members gets out of line, we have to p-u-l-l-l them back in," said Hayes, with an exaggerated voice and arm motion that might have been Al Pacino's acting inspiration in Godfather III. Hayes then excused himself from the luncheon and any follow-up questions, saying he had to meet with an ill friend.
"When the legend becomes fact, print the legend," is the line from "The Man who shot Liberty Valance." The memorable quote fits Hayes.
Hayes losing his temper with a kid that turned him down for Michigan State was nothing new by 1974. Cleveland Cathedral Latin coach Dick Marabito coached Michigan State two-time All-American running back Clinton Jones, who joins the College Football Hall of Fame on Dec. 8 in New York. Marabito told a story that is in Raye of Light, my book with Jimmy Raye on Michigan State's leading role in the integration of college football, about Hayes' reaction to Jones telling him in a phone conversation he had picked the Spartans.
"Woody cussed him out," Marabito said. "Can you imagine that? He was cussing out an 18-year-old kid on the phone. That was Woody."
We know why Hayes feared losing Jones to Michigan State. The Spartans swept the Buckeyes in their unbeaten 1965 and 1966 national championship seasons. Jones ran for 132 yards his junior year in the 1965 Spartans' 32-7 victory. But to understand Hayes' fear of losing Bell to the Spartans, we can only go by the legend.
With probation ending Stolz's tenure after three seasons, Darry Rogers arrived at from San Jose State in 1976 to inherit a talented roster. That's how big the Michigan State name was to him. He was still optimistic about Michigan State's future despite a 4-6-1 record his first year in 1976 and two more years of probation. In spring drills 1977, I met with him in his Jenison Fieldhouse office for a story.
I wondered it Michigan State could be a national title contender again. From my then- young-20s perspective, I thought the 11 years separating 1966's national title to 1977 was ancient history. So I asked Rogers if Michigan State could win a national title again..
"Yes," he said quickly, "because it's been done here before."
Rogers won a Big Ten title in 1978 with Stolz's players and finished the season ranked No. 12. The Spartans climbed to No. 7 with a 3-0 start to 1979 – and 10-game winning streak – before the roof fell in. The Spartans finished 5-6.
Rogers saw the hand-writing on the wall and bailed for Arizona State. One of his complaints was a lack of funding, something that Daugherty began to complain about in the early 1970s.
The Muddy Waters debacle was from 1980 to 1983. George Perles raised the Spartans to a Rose Bowl victory and No. 8 ranking in 1987, but he couldn't sustain the success. He was his own worst enemy, locking into a power struggle with the administration of a dual role as athletic director and head coach. Recruiting fell off and he was fired following the 1994 season.
Nick Saban had his moments from 1995 to 1999 before Saban ran out on the program for LSU. The Spartans were No. 7 in the final 1999 poll but never national title contenders. Michigan State again fell off the map in 2000 under Bobby Williams. John L. Smith. Williams and Smith were dismal failures with five losing seasons in seven years.
Dantonio took over the program in 2007. Bowl games were his initial success, but he had the Spartans climbing toward No. 3 in 2013 and No. 5 in 2014. Dantonio has brought back to Michigan State the integrity and recruiting eyes of Duffy Daugherty and his predecessor with national titles, Biggie Munn. Dantonio has the Spartans knocking on the door of a national title louder than any time since 1966.
Michigan State is No. 9, but the path to one of four berths in the College Football Playoff berth is realistic. The Spartans must upset Ohio State, beat Penn State in the regular-season finale and win the Big Ten Championship game.
Dantonio also uses Rogers' 1977 message that in 2015 that Michigan State can win a national title again because it has won in the past. The Spartans' 1965 and 1966 national championship teams locked in the school's history on the college landscape. Dantonio and athletic director Mark Hollis told them at 1965-66 teams reunion over homecoming weekend their footsteps still help them get in high school doors on the recruiting trail.
Ted Bell's hard-luck career and the program's up-and-down history the past-half century haven't erased the message that I first heard from Darryl Rogers 38 years ago.
-30-