Looking back at Coach K and an early lesson
Bobby Knight taught Krzyzewski X's and O's and to support the coaching fraternity
Photo: (Top) Mike Krzyzewski and Bobby Knight after Coach K broke Knight's career record. (Below) Michigan State's three coaches the past 45 years (l-r): Gus Ganakas, Jud Heathcote and Tom Izzo.
NOTE: I updated my 2015 story upon having a chance to coach Mike Krzyzewski about his time with Bobby Knight during Indiana's.1974-75 season as a graduate assistant.
By TOM SHANAHAN
The first time Mike Krzyzewski crossed into my basketball circle was decades ago, although I was unaware who he was. No one knew the future Coach K was on a course to fame that started as an Indiana graduate assistant coach under his mentor, Bobby Knight.
Krzyzewski, by then a retired Army captain upon fulfilling his West Point military commitment, had played for Knight at Army, graduating in 1969. Knight later helped Coach K land the Army job when it opened after Krzyzewski's Indiana apprenticeship.
But I long wondered what Krzyzewski, then a 27-year-old, learned from Knight's better side from events engulfing a fateful Jan. 4, 1975 afternoon at Michigan State's Jenison Fieldhouse. Indiana's No. 2-ranked team played the Spartans, a team coached by the classy Gus Ganakas.
I was a Michigan State freshman, not yet a writer for the "State News" campus paper, watching from a center court seat. The sellout crowd was stunned as it watched Michigan State's black players walked out on their coach.

Knight, already a lightning rod for his temper, had learned of the walkout when his team arrived at Jenison for the afternoon game. He asked Ganakas how he could help, including offering to have Quinn Buckner, the Hoosiers' team leader and an African-American point guard, to speak to the Spartans..
"I recall that very well," Ganakas told me five years ago before his death in 2019 at age 93. "When I came to Jenison, Indiana was already there and Bobby knew there was a problem. He volunteered Quinn, and I appreciated it. But at that time I hadn't decided what to do with my team. The walkout was in the morning (team meeting) at the Kellogg Center. I hadn't met with them yet when they arrived at the locker room."
Although Krzyzewski didn't travel with the team that day, I've always thought he gained an early lesson from Knight on coaches supporting each other. I was able to ask him years later as Duke's Hall-of-Fame coach.
"During that time -- Coach Knight especially -- everybody coached for the same reason," Krzyzewski said. "It was for the love of the game and love of the kids. That's not why everyone is in coaching now.

"You showed empathy for everyone in the game. If someone was having a problem, you reached out. It wasn't about money or fame or whatever. It was about the game. People had passion and love for the game and they took care of each other."
Ganakas also later learned about the future Coach K with time. I had asked him about it five years ago.
"I didn't know Mike much that year he was with Knight," said Ganakas, who at the time was still serving as the Spartans' spry radio analyst at age 88. "But I have followed his career as a fan. I've always thought of him as a milder Bobby Knight. He was under more control emotionally, but he was very thorough with everything just like Bobby."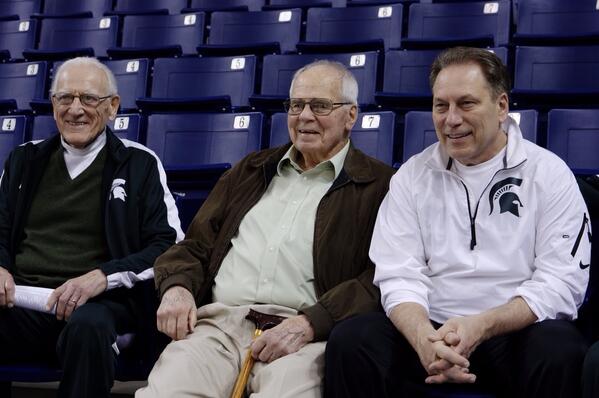 Ganakas and Knight were friends as disciples of the legendary Pete Newell. Ganakas coached down the street at East Lansing High when Newell was at Michigan State (1950-54). Ganakas was later hired as an assistant under John Bennington, previously a Spartans assistant under Newell.
"Bobby was always good to me from the time I met him," Ganakas said. "I emulated what I learned from Pete and Bobby used Pete's stuff, too. Underneath Bobby's roughness, he was very helpful to people."
Ganakas suspended his players for the Indiana game, resulting in a 107-55 mismatch loss. They would be reinstated before the next contest in what finished as a 17-9 season.

At the time it appeared to be a black-white issue, but the players later explained grievances over what was perceived as the basketball program's second-class status to football. Understand that Michigan State's athletic department was in disarray in the early 1970s under relatively new president, Clifton Wharton, and his administration.
"We were practicing in a second-class facility," said Benny White, a player who is now a coach at Birmingham Groves. "We used to practice in our sweats because the doors in Jenison were open. People were running on the track. What I regret is the hurt and embarrassment we brought to Coach Ganakas. But back then we lived in times when making a stand was taken more importantly and treated with more than respect than these days."

College Football Hall of Fame coach Duffy Daugherty had retired after the 1972 football season, just two years earlier. He had complained about a lack of financial support under Wharton. He felt Michigan State was handcuffed at the bottom of the Big Ten in funding alongside Northwestern at a time when bitter rival Michigan enjoyed a rebirth under a young Bo Schembechler.

If Duffy felt that way about football, where did that leave the basketball program and its perceived second-class status?
For that fateful game I had arrived early for seats at the half-court line that were available on a first-come, first-serve basis. This was pre-Twitter and ESPN and thus before anyone in Jenison understood what happened with the walkout. I had saved a seat on what were benches for my friend Jim Watts, who arrived with his friend Dan Riewald. We were Wonders Hall residents and managed to squeeze in Dan, but he watched the loss in added anguish.

Dan was a member of the JV team, but since school hadn't resumed for the winter quarter, he was home in Bloomfield Hills and didn't receive the call soon enough to get back to East Lansing. Dan informed us why none of Michigan State's black players were on the court warming up. (Riewald, a Bloomfield Hills Lahser alum, later played on the varsity under Jud Heathcote, including with Magic Johnson on the Spartans' 1977-78 Big Ten championship team.)
I've seen Knight's good side when he feted Newell at a San Diego Hall of Fame dinner, and it's indelible. He can win you over if he gives you a chance, but unfortunately he didn't with many people. Bobby's black Knight side is unpredictable. The honorable West Point Black Knight side of Coach K is among the reasons he is more respected than his mentor.

Coach K learned lessons beyond X's and O's from Knight.
* * *
I invite you to follow me on Twitter @shanny4055
Tom Shanahan, Author: Raye of Light http://tinyurl.com/knsqtqu
-- Book on Michigan State's leading role in the integration of college football. It explains Duffy Daugherty's untold pioneering role and debunks myths that steered recognition away from him to Bear Bryant.
http://shanahan.report/a/the-case-for-duffy-and-medal-of-freedom
Don't believe the myths at Duffy Daugherty's expense about Bear Bryant's motivation to play the 1970 USC-Alabama game or myths about the Charlie Thornhill-for-Joe Namath trade. Bear Bryant knew nothing about black talent in the South while he dragged his feet on segregation.
http://shanahan.report/a/myths-that-grew-out-of-1970-alabama-game-with-usc
http://shanahan.report/a/mystery-solved-in-thornhill-and-namath-myth
David Maraniss, Pulitzer Prize winner and biographer; "History writes people out of the story. It's our job to write them back in."
Click here for the link to order from August Publications
-30-