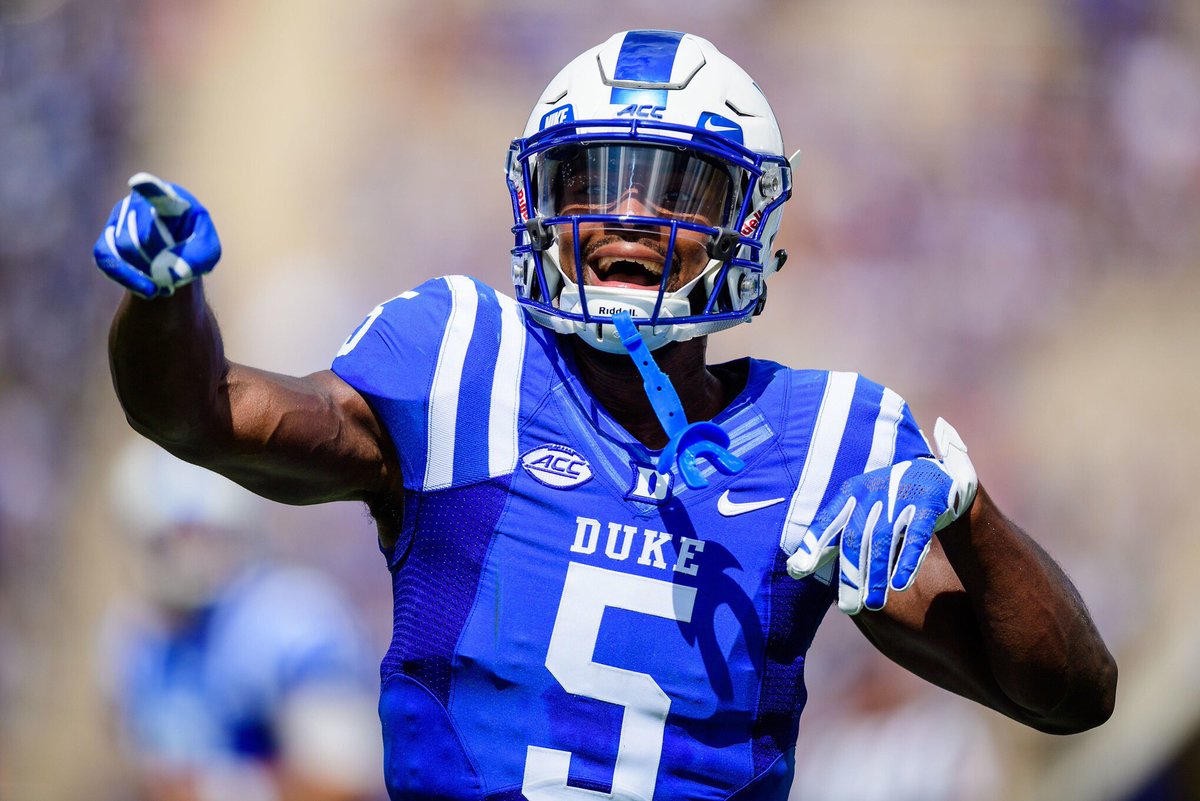 Lloyd hopes a trick to new season is holding
Duke's veteran wide receiver adds new role that brings to mind trick plays
Photo: Johnathan Lloyd
Duke coach David Cutcliffe shares many traits with his successful brethren. They have kept him in the college game four decades, including resuscitating the Blue Devils' long moribund program.
But he has demonstrated once again that depth chart paranoia isn't one of those idiosyncrasies. Many coaches these days wait until fall camp. Michigan's Jim Harbaugh has taken to not releasing one week to week during the regular season.
Duke's 2018 lineup updated Thursday doesn't have much mystery surrounding it with an NFL prospect at quarterback, Daniel Jones, among 16 returning starters and 48 lettermen. But skip down to special teams to "holder" and notice Johnathan Lloyd is listed. He might have something up his sleeve.
"We've got to put in some trick plays," Lloyd said with a mischievous grin following the Spring Showcase. "I'm ready for whatever happens."
Lloyd was listed as a backup holder last year to replace Parker Boehme, who has graduated. He only held for one snap during the season, so Cutcliffe's confidence to elevate him is significant considering expectations already placed on him for his primary role.
"Coach trusts me with my hands and to make the right decisions," Lloyd said. "I'm doing whatever the team needs."
Versatility is nothing new for Lloyd. He was a high school dual-threat quarterback at Southern Alamance in Graham that committed to Duke for football and baseball. He played for Duke's baseball team in 2015 and 2016 before he devoted his future to football.
Lloyd, a 6-foot, 190-pounder, wasn't a high school holder, so the role was something Duke's coaches observed he could handle. Each year in Durham they've seen progress, including this spring. Cutcliffe said he was one of the most impressive players on a roster that overall encouraged him.
He redshirted his first year on a campus in 2014 after suffering an ankle injury over the summer before fall camp opened. But he was ready to go for spring drills in 2015; he was one of three recipients of the Sonny Falcone Award for his commitment to strength training. In the fall of 2015 as a redshirt freshman, he played 11 games as a backup at cornerback.
But he was switched to offense in 2016. He has responded with back-to-back seasons of 34 catches for 301 yards and three touchdowns as a redshirt sophomore in 2016 and 39 for 367 and one TD last season.
Those are respectable numbers, but Duke is expecting more from Lloyd and its overall passing game. In 2017, the offense was hindered by Jones' nagging injuries and the receivers failing to win enough 50-50 balls.
The receivers' challenge to play the ball more aggressively was evident in the Spring Showcase. Duke's defensive backs and receivers physicals were bumping and locking up, but flags weren't thrown by the officials hired to work the game.
"I think it was intentional not to throw the flags," Lloyd said. "Some of the calls were pretty blatant either way; coach wanted to see people compete. We'd get those calls in the fall, but we have to show we can make those plays."
Another dimension that can open up the passing game is the Blue Devils depth at tight end. There are four lettermen returning, with redshirt seniors Daniel Helm and Davis Koppenhaver, sophomore Noah Gray and redshirt sophomore Mark Birmingham.
"It gives us so many different looks to give the defense," Lloyd said. "They can't focus on one scheme. We've got so many bodies we can rotate in and out. We can go with four wide receivers or two tight ends and two wide receivers. We're so versatile."
In addition to Lloyd, the other two starting wide receivers are T.J. Rahming (65 catches, 795 yards and two TDs), the team's leading receiver, and either Chris Taylor (25-332-1) or Aaron Young (16-219-1) at the third slot.
"I think overall we had a good spring," Lloyd said. "We had a lot of reps. A lot of guys are making plays and developing in the right direction."
That includes looking all the way down the depth chart to notice Lloyd's role on special teams.
I invite you to follow me on Twitter @shanny4055
-30-