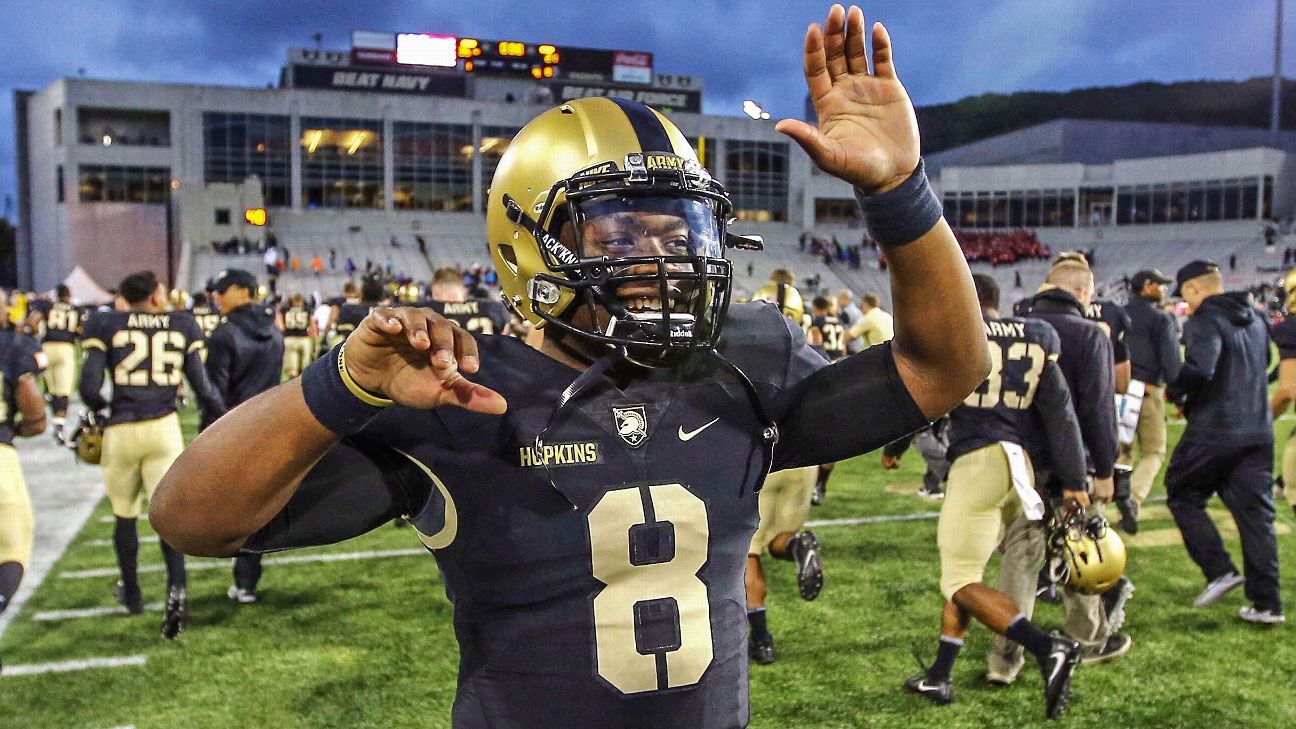 Kelvin Hopkins standing tall at West Point
AFAN newsletter Army quarterback measuring up his way with Daniel Jones
Photo: Kelvin Hopkins
By Tom Shanahan
Kelvin Hopkins and Daniel Jones stood out as an odd couple at clinics five summers ago. That observation, though, applied only if viewing the NFL as the end-all-to-be-all for two college-bound high school kids from Charlotte, N.C.
Jones has developed into a 6-foot-5 prototype drop-back passer at Duke. He has been projected as high as an NFL first-round draft pick.

But Hopkins is a 5-10 quarterback suited to run Army's triple-option offense at West Point. The scheme calls for him to hand off to the fullback, keep the ball or pitch to the halfback, but this year, with his an arm fit for a prototype drop-back QB, Army expanded the playbook to throw the ball.

Hopkins' stature is plenty big for a path to success at West Point, if not the NFL. He has exchanged a five-year military commitment as an officer for a chance to play Division I college football at an elite academic institution.

"I didn't know much about West Point when I got recruited, but I talked to my (high school) coaches and they made me aware it was a great opportunity," Hopkins said. "It's a great education and the job security with no college loan debt that people talk about is exactly why I'm here."

Many Army recruits see the advantages to a West Point education on its picturesque campus, but they don't all sign up for the military lifestyle.

"My dad served in the Army, so it didn't intimidate me," Hopkins said. "I understood what I was getting into."
A year ago Ahmad Bradshaw, who lost friends and family to gun violence on Chicago's South Side, led Army to its first Commander-in-Chief's Trophy for a sweep of Air Force and Navy since 1996.

Hopkins' emergence as first-year starter after backing up Bradshaw means a tandem of African-American quarterbacks can account for a second straight outright Commander-in-Chief's Trophy in the 119th Army-Navy Game. That would be a first for Army in the academy service series with Navy and Air Force that was established in 1972.

Army (9-2), which earlier beat Air Force, and Navy (3-8) command college football's stage when they meet at 3 p.m. Saturday at Lincoln Financial Field in Philadelphia.

Hopkins and Jones may have started out differently at that long ago clinic – Hopkins at a public school, Independence, and Jones at a private school, Latin – but what matters most is they've arrived positioned for success.

They are in small club -- starting quarterbacks for bowl-bound teams while balancing football with academics at schools with challenging standards. And no one noticed Hopkins shared such passing skills with Jones sooner than Jones.

"I threw with him twice when we were in high school, and I had read about him in the newspaper playing for Independence," Jones said. "I knew he was a really good player and was impressed with what I saw from him on the field. I'm not surprised they're having success throwing the ball. He's a really gifted passer."

In a twist only the football gods could arrange, Hopkins and Jones threw for 197 yards with and one touchdown and without an interception when they met in their 2018 season openers in their home state, although the Blue Devils pulled away to win in the fourth quarter in the game at Wallace Wade Stadium in Durham, N.C.

"That was a definitely a special night for me, being able to go back to my home state for my first start with all my family there," Hopkins said. "I was playing against Daniel and a lot of guys at Duke whose names I knew from the (Charlotte) area."

The only other quarterback to beat Hopkins this season is a Heisman Trophy finalist that has his team ranked No. 4 in the College Football Playoff, Oklahoma's Kyler Murray. And Murray needed an overtime touchdown pass, his third of the game along with a fourth TD running the ball, to beat Army, 28-21.

A former Army player watching that near-upset with special pride was Pittsburgh Steelers offensive lineman Alejandro Villanueva. After five years of service, including three tours in Afghanistan, he is in his fifth year of NFL fame and wealth. But he says the Oklahoma game stirred pride in him for more than the of-field performance.

"I looked at the Army side in that game and saw players that are willing to serve their country and take on the toughest challenges society has to offer," he said. "On the other side I saw guys trying to get to the NFL as a test of their manhood in a society that looks up to NFL players. They are working toward the easiest path, leaving college as semester early to train for the NFL.
"At West Point, they're still in the middle of the woods and they're studying and preparing themselves right up to the last day to be leaders of character. West Point is something I appreciate a lot more. Army football is the most special football team that the entire country has to offer."
One reason Army's overachievers nearly shocked Oklahoma's 4-star recruits was Hopkins ran the triple-option offense to the tune of 44 minutes, 41 seconds of ball possession.

Since then, the Black Knights have won seven straight games. An eighth victory in a row has Hopkins mapping unchartered territory than covers more ground than the aforementioned second straight Commander-in-Chief's Trophy.

Another milestone is Army posting its first 11-win season in program history with a win over Navy followed by beating Houston in the Armed Forces Bowl in Fort Worth, Tx.

A third signpost is to become first Black Knights quarterback to rush for 1,000 yards and pass for 1,000 in the same season. His 783 yards rushing with 10 touchdowns and 895 passing with six touchdowns and three interceptions have him within range despite missing the Miami of Ohio game with an injury.

Hopkins' arm is what separates Hopkins as a triple-option quarterback. A 1,000 double rushing and passing may not sound like much in the modern wide open game, but the triple-option not only limits the number of passes, it reduces the number of snaps in a game and spreads the ball around the backfield.

"I think the biggest thing with Kelvin this year is he made the decision, 'This is my team and I'm stepping up; I'm the quarterback,' " said senior center Bryce Holland, who is a team captain, third-year starter and a Rimington Trophy candidate. "Once he did there was no turning back. He was going to fill Ahmad's shoes and lead us."

Hopkins' ascent has been rapid but not dizzying.
"I've always taken pride in practicing to be ready and performing when the time came," he said. "When they made me the quarterback, they were counting on me. I've been in that moment a lot of times since high school. One time when I was a freshman and things didn't go my way, I felt bad that I had let my team down. I've always told myself I'd never be unprepared for a situation like that again."

His total offense of 1,678 yards averages to 167.8 per game, with 78.3 rushing and 89.5 passing. He is within range of topping the impressive numbers posted last year by Bradshaw, who led the Black Knights to a 10-3 season. Bradshaw ran for a West Point single-season record of 1,746 yards, but since he only threw for 285, his total offense average was 156.2 (134.3 rushing, 21.9 passing).

Even while a backup last year, Hopkins' value throwing the ball was the difference in a comeback win against Temple. The Black Knights trailed by a touchdown late in the fourth quarter when head coach Jeff Monken inserted Hopkins.

He completed five passes covering 67 yards with the tying touchdown a 16-yarder with one second left on the clock. Army won in overtime on a field goal, 31-28.
"He has been in our program for three years and has taken a lot of snaps in practice," Monken said. "He took some key snaps a year ago, especially in the Temple game. Leading us down the field helped his process of maturing and his confidence as far as being the leader of the team. He is a talented guy and has done a good job taking care of the ball, giving it to the right people and leading our team. Our guys believe in him."

Another guy believing in him was that tall kid he threw passes with five years ago at a high school clinic, Daniel Jones.