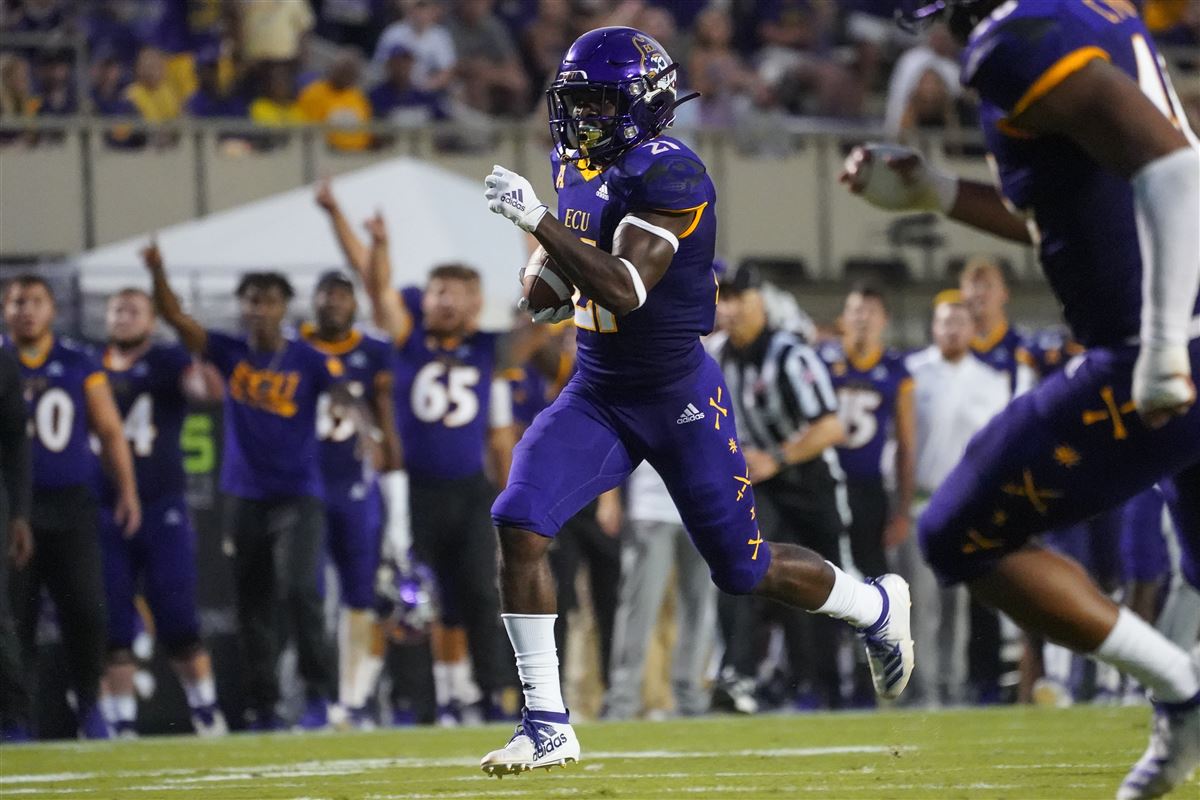 Houston banks on young talent paying off soon
The Pirates are relying heavily on true freshmen as starters and on their depth chart
Photo: 1) Ja'Quan MacMillian returning an interception; 2) Ja'Quan MacMillian
At the midway point of Mike Houston's first 12-game regular season at East Carolina, the Pirates are relying increasingly on young players, including true freshmen.
True freshman cornerback Ja'Quan McMillian has started every game, true freshman wide receiver C.J. Johnson has started twice, true freshman running back Demetrius Mauney has been in the rotation since the season opener and redshirt freshman running back Tay Williams has seen increased snaps since the third game.

ECU has been without junior starter Darius Pinnix, a power back Houston was high in spring ball preseason camp, suffered a neck injury in the second game. Pinnix has missed the past four and isn't listed on the latest depth chart following last week's bye, although Houston said he will be evaluated during the week to update his status.

The Pirates (3-3, 0-2 AAC East) return to play against conference defending champion UCF (4-2, 1-1 AAC East) at 7 p.m. Saturday at Spectrum Stadium in Orlando.
The handicap relying on so many younger players is obvious – they're inexperienced and they're 18-year-old kids that are facing foes as old as 22-year-old men. The ECU youngsters may be better than older players Houston inherited – or else they wouldn't be on the field – but that doesn't necessarily ready to tip the balance to win games at this level.

Their experience gained will be highly valued next year. They'll be closer to possessing junior-like experience than other sophomores opening the season.

McMillian has been not only spectacular at times, he's been steady. Or else he wouldn't have six career starts. McMillian played well in his most recent outing with two pass breakups against Temple (5-1), which shares the ACC East lead with Cincinnati (5-1, 2-0).
"Jaquan MacMillian has started every game at corner true freshman played as a solid level. He has played the second or third most snaps on the team. He's guy that I've said repeatedly has a lot of fight in him -- a lot of 'dawg 'in him. He's talented player but almost as great and important is he has mental makes up. That's the most impressive thing about him when you take into account he's a freshman."

Johnson caught eight balls for 100 yards, including two touchdown receptions.

"It's something we expect from him," Houston said. "He's got a chance to be a good player for us. My big stresser to him is to continue to push for consistency, to always be consistent catching the football and to be consistent when he doesn't have the ball in his hands. Players coming out of high school have to develop positive habits. He wants to be good. His is working very hard to do that. I think hopefully we'll continue to see improvement each week."
Mooney, who was a Purdue commit until Houston was hired and tapped in western North Carolina high school coaching and recruiting links for time to flip him to the Pirates.

"It's been about the same for (Mooney and Williams)," he said. "They are guys doing positive things. Demetrius has continued to develop. His first couple of snaps he got in there he was like any college player; they have to be accustomed to the speed everyone is playing with. But you see him improve each week. I'm excited about their future in our program."

UCF is the two-time defending AAC champion that has spent most of the past two seasons in the Top 25. The Knights were an undefeated 13-0 in 2017 and went 12-1 in 2018, finishing the year with an 18-game AAC winning streak.

They were ranked No. 17 to start the season before suffering losses to Pitt and Cincinnati.How much is a win over UCF valued in poll voters' eyes? Cincinnati moved from No. 25 to No. 21 this week.

"I thought we saw some guys that maybe were inexperienced during preseason camp, but they have some experience now and maybe have come forward a little bit more this past week," Houston said. "Now, we have to see how that translates to a game field.

"But I think, just as we've seen in the past couple of games, you're seeing more and more guys put themselves in a position to contribute on the field and that's good for everybody. We're going to need that depth on Saturday night. We talked about their pace so we're obviously going to have to play a lot of guys on defense."

But working with the younger players has been about more than those four true freshmen.

Houston had the younger players on the scout team scrimmage against each other on the Thursday afternoon of the 8 p.m. kickoff against Temple.

The two-deep depth chart lists 14 true freshmen or redshirt freshmen.
"It was a very spirited," Houston said. That's what the takeaway was on the that. The travel team guys were into it. The younger guys went at it for about 35, 36 snaps -- so about of half of scrimmage situation. It was competitive. It was good to see the guys cheering for each other and for our younger guys to play within in our system and compete instead of in another team's system."

Houston is doing what he must to build for the future. The final six games will determine if there is an early foundation strong enough to translate into one more to top the thee-win total the past three seasons, three more wins for a .500 record or four more wins for bowl eligibility (ECU can only count one of its two wins over Football Championship Subdivision members Gardner Webb and William & Mary toward six).

"I think we would only be wise if we can get more (young) guys playing," Houston said. "Some of the guys that we are making an effort to redshirt, we are starting to try to work them in. We're not going to play anybody unless they're ready to play.

"But if you can play some guys on special teams or spot play them on offense or defense and give yourself more depth, I think that's something you need to try to do for your program and for your players that are playing."

* * *