Harris smooth at putting words into action
Redshirt senior quarterback preparing to take over role on and off the field
Photo: Quentin Harris
If Duke quarterback Quentin Harris can command a huddle the way he wins a media session, add that to the head starts on 2019 he gained with playing time last year when third-year starter Daniel Jones was injured for two-and-a-half games.
It's not just what Harris, a 6-foot-1, 195-pound redshirt senior from Taft School in Wilton, Conn., says answering questions, it's how he says it. He speaks with the polished delivery of a veteran and thoughtful politician. He might have said "uh" once when he met with the media Tuesday the first time this spring – uh, that's maybe once.
I think he made it through cleanly on the type of scorecard used in Toastmasters International, a public speaking club that helps people polish their speech patterns. The group tracks "uhs" and "ahs." The winner has the fewest; the loser goes home unofficially titled the "Wizard of Ahs."
There were more "uhs" and "ahs" from the veterans in the sports media peppering Harris with questions than in his responses. The sports media members went home the "Wizard of Ahs." When you read quotes in stories from interviews, know that "uhs" and "ahs" from athletes and coaches are edited out as a nuisance to a story's flow. That's not necessary with Harris.
The first question was about the experience he gained last season aiding his transition to full-time starter. Harris finished off a 21-7 win at Northwestern after Jones went down late in the second quarter and followed by winning the next two games as the starter at Baylor (40-27) and at home against N.C. Central (55-13).
This is a new role for Harris to meet routinely with the media that comes with the job as the No. 1 quarterback, but he didn't ponder his thoughts while handling his new task.
"It feels good," he said. "I feel like I had a little experience last season with the two games I started and preparing for the Virginia Tech (the next week) like I was going to be starter because we were a little unsure. I feel you have to take little more ownership and be more direct with guys, but hopefully I've earned their respect over my four years here so far. It's been pretty much a seamless transition."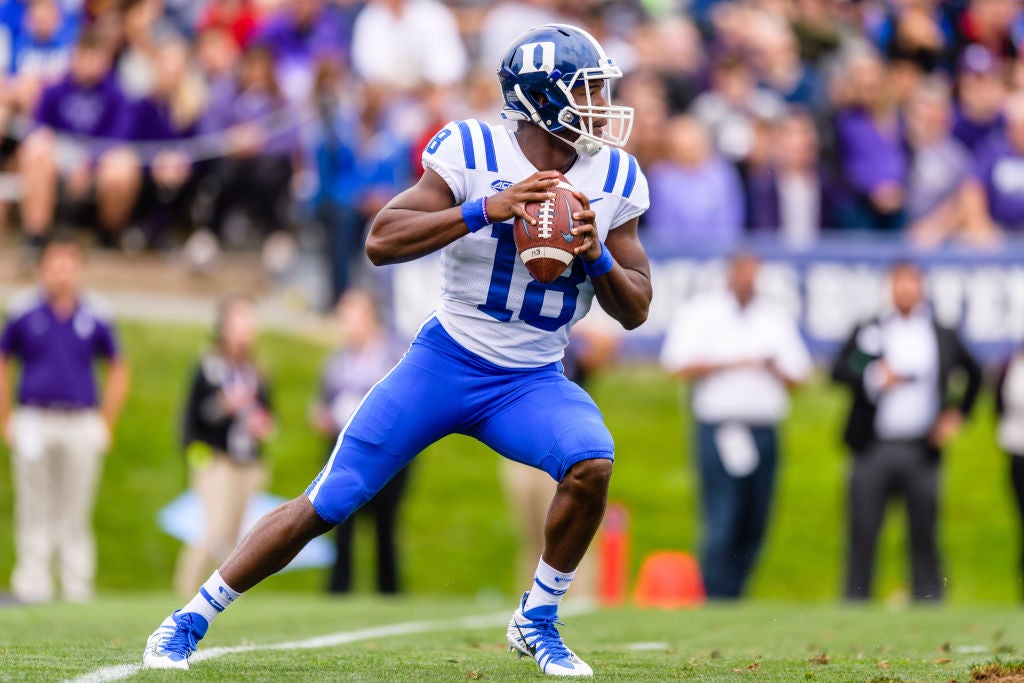 Mental and physical confidence always helps performance, and Harris has a head start on Jones in both areas. Jones was thrust into the starting role as a redshirt freshman in 2016 when returning starter Thomas Sirk suffered a season-ending injury just a couple weeks before the first game.

Jones was a like a deer in the headlights the first time he met with the media before he gradually grew comfortable with the role. That doesn't mean he lacked command of the huddle, but every advantage helps in sports. Harris is ahead on that particular learning curve.
"I think toughest part about the transition is taking more initiative," Harris said. "You're the guy organizing throwing on the weekends or extra workouts or film sessions or something like that as opposed to instead being just an attendee. So that's the biggest adjustment to that role, but it still feels like a natural transition for me."
Harris finished the year completing 34-of-68 passes for 437 yards seven touchdowns and one interception while taking snaps in 12 of 13 games. His QB rating was actually higher than Jones, 135.01 to 131.69, although admittedly it was smaller sample size.
In the Northwestern game, Harris' job was the preserve the 21-7 halftime lead. His finals stats were only 2-of-2 passing for 12 yards and five rushes for a net 14 yards (he had a long of 25), but what mattered most was no turnovers. He took care of the ball.
At Baylor, he had to make plays, and he came through in his first career start. He was only 12-of-30 passing, but he connected for 174 yards and three touchdowns without an interception.
Returning home against N.C. Central, he not only was 15-of-27 for 202 yards with three touchdowns and no interceptions, the 48-13 lead after three quarters. The rout allowed playing time for Chris Katrenick, last year's No. 3. He was 5-of-12 for 54 yards without an interception.
Jones returned sooner than expected for the Virginia Tech game, but Harris is solidly cast in the No. 1 role as long as he continues to progress.
"I think from a mental standpoint you try to focus on understanding the schemes that go into everything," he said. "It's one thing to know how a play operates and know where to go with the ball. It's another to understand why you're doing it as well. I think that's the next mental step I've taken to understand schemes behind plays, the reason we're doing things or why were going to a certain receiver on certain coverage."
Not even the thought of opening the season against the Alabama Death Star on Aug. 31 in the Chick-fil-A Kickoff Bowl at Atlanta's Mercedes-Benz Stadium gives him pause.
"It's a lot of motivation," he said. "Everybody is counting us out, not giving us a chance. So I think we're excited to put in the work in off-season. That's one thing motivating us each and every day, even in the spring. We know we have them opening up and we know they're disappointed how things ended for them last year. We know they're motivated. We're excited to be in an NFL environment. We're going to embrace it and we're looking forward to showcasing ourselves and showing what Duke football is all about and proving doubters wrong."
Well said.
For him, speaking and explaining is the easy part. The next step is translating thoughts to plays on the field, but at least we know he has a head start on his predecessor.
* * *
I invite you to follow me on Twitter @shanny4055
Tom Shanahan, Author: Raye of Light http://tinyurl.com/knsqtqu
-- Book on Michigan State's leading role in the integration of college football. It explains Duffy Daugherty's untold pioneering role and debunks myths that steered recognition away from him to Bear Bryant.
--- http://shanahan.report/a/the-case-for-duffy-and-medal-of-freedom
--- Don't believe the myths about the 1970 USC-Alabama game and Bear Bryant's motives

--- Don't believe the myths about the Charlie Thornhill-for-Joe Namath trade between Bear Bryant and Duffy Daugherty
David Maraniss, Pulitzer Prize winner and biographer; "History writes people out of the story. It's our job to write them back in."
Click here for the link to order from August Publications