Giants were listening by picking Jones sixth
Duke's long under-rated quarterback moved to head of the class in NFL Draft
Photo: Daniel Jones
Duke Coach David Cutcliffe said this firmly two days before the NFL draft about Blue Devils quarterback Daniel Jones as a possible first-round pick:
"If he doesn't go the first day, I'll go strongly enough out there and say somebody made a big mistake."
Well, the New York Giants not only took Jones in the first round, the 6-foot-5, 220-pounder was the second quarterback selected as the sixth pick overall. Heisman Trophy winner Kyler Murray of Oklahoma was the first overall pick by the Arizona Cardinals.
Actually, it wasn't considered a surprise Jones landed with the Giants, but New York was expected to take a defensive player with the No. 6 pick and hope Jones was still available for their second first-rounder at No. 17. The Giants flip-flopped their finger-crossing, finding Clemson defensive tackle Dexter Lawrence at No. 17.
Finally, somebody listened to the talk that days to Jones' high school days he was under-rated. He was ranked without stars by various recruiting services.
The Giants were listening, but they were far from the first. Former NFL safety Eugene Robinson, a radio analyst for the Charlotte Panthers, was one of the first single out Jones out as overlooked. He saw Jones in a high school playoff game and told Jones' Charlotte Latin coach, Larry McNulty, he thought Jones had a Division I arm.
McNulty placed a call to Cutcliffe, asking him to take a look. At the time Jones was committed to Princeton and Duke didn't have a scholarship available, but Jones accepted preferred walk-on status his first year on campus in 2015.
The next ones to speak up were Duke's veteran secondary in 2016. Jones redshirted in 2015, which meant he was leading the scout team against the starters. Duke's veteran secondary – including Breon Borders, DeVon Edwards and Bryon Fields – when asked about their new starter in 2016 said Jones had an NFL arm.
Jones was supposed to sit another year in 2016, but returning starter Thomas Sirk suffered a season-ending Achilles' injury shortly before the season opener. Jones was thrust into a starting role, one he held for three seasons until declaring early for the NFL draft following his redshirt junior year in 2018.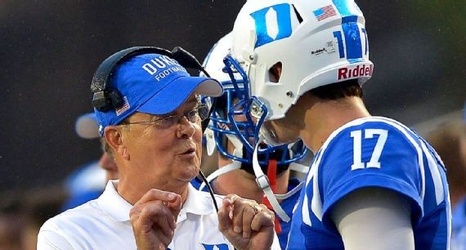 In the ACC, Jones was always considered the "other" quarterback in a league with two first-round draft picks in 2017 (North Carolina's Mitchell Trubisky and Clemson's Deshaun Watson) and one in 2018 (Louisville's Lamar Jackson) as well as the 2016 Heisman Trophy winner (Jackson) and a 2016 finalist (Watson).
Even in 2018, the first-team All-ACC quarterback was N.C. State's Ryan Finley; second-teamer, Clemson true freshman Trevor Lawrence; and third-teamer, Syracuse's Eric Dungey.
But the ACC selections had more to do with numbers than Jones' lacking talent. He didn't have a strong offensive line to give him time and was the victim of too many dropped balls, particularly in 2017.
One NFL pre-draft analysis of Jones was he threw too many short balls. That was by design in 2018 when Cutcliffe recognized Duke's offensive line was unable to protect him long enough for deep routes to unfold.
Jones' evaluations changed once he practiced before scouts with other NFL prospects at the Senior Bowl. That's when anonymous and general managers scouts spoke up.
"All week long my phone was blowing up about him in (the Senior Bowl) practices," Cutcliffe said. "People were saying, 'Wow!" They were seeing him for the first time. There was no hype, really, because Daniel embraces something we believe here and that is, 'Real swag is no swag.' You don't have to let people know you're good."
In the game, Jones threw for one touchdown and ran for another. He was 8-of-11 for 115 yards.
At Duke, Jones started 36 career games, completing 764-of-1,275 passes (.599) for 8,201 yards with 52 touchdowns and 29 interceptions. He also he is elusive, rushing 406 times for 1,323 yards and 17 TDs.
In 2018, he completed 237-of-392 passes (.65) for 22 touchdowns with nine interceptions. He ran 104 times for 319 and three TDs. He missed two full games with the second half of the Northwestern game when he suffered a broken collarbone. He returned in one month to finish the season wearing a brace.
In a late-season home game against North Carolina, Jones finished with 547 total yards. He was so impressive -- completing 31-of-54 passes for 361 yards and rushing 15 times for 186 -- the scouts representing nine NFL teams had left by the fourth quarter. They had seen enough.
Another reason the Giants liked Jones was the Cutcliffe connection. Cutcliffe was Giants quarterback Eli Manning's head coach at Mississippi and Peyton Manning's offensive coordinator at Tennessee.
"He's comparable to the Mannings, period," Cutcliffe said. "He's big, he's intelligent, he's got a terrific arm and his accuracy is extremely high. His commitment to excellence is along the same lines. The things everyone doesn't see is him asking questions and digging deeper in film sessions. All of those things remind me of Peyton and Eli. When I walked out of film sessions with him I was always smiling."
* * *
I invite you to follow me on Twitter @shanny4055
Tom Shanahan, Author: Raye of Light http://tinyurl.com/knsqtqu
-- Book on Michigan State's leading role in the integration of college football. It explains Duffy Daugherty's untold pioneering role and debunks myths that steered recognition away from him to Bear Bryant.
http://shanahan.report/a/the-case-for-duffy-and-medal-of-freedom
Don't believe the myths at Duffy Daugherty's expense about Bear Bryant's motivation to play the 1970 USC-Alabama game or myths about the Charlie Thornhill-for-Joe Namath trade. Bear Bryant knew nothing about black talent in the South while he dragged his feet on segregation.
http://shanahan.report/a/myths-that-grew-out-of-1970-alabama-game-with-usc
http://shanahan.report/a/mystery-solved-in-thornhill-and-namath-myth
David Maraniss, Pulitzer Prize winner and biographer; "History writes people out of the story. It's our job to write them back in."
Click here for the link to order from August Publications
-30-