Elijah and Army seniors living The Life of Riley
Black Knights begin another spring with winning culture throughout their careers
Photo: 1) Elijah Riley; 2) Army with its second straight Commander-in-Chief's Trophy; 3) Kyler Murray against Army
A mere three years ago Army cornerback Elijah Riley graduated from high school and arrived at West Point, but the consecutive winning seasons his senior class has put together feels like a a three-decade accomplishment.
That much time has passed since Army last strung together a winning streak spanning three seasons.
Jim Young arrived from Purdue in 1983, installed a triple-option offense and pulled the program up from having been sucked into the Vietnam quagmire that damaged recruiting along with rapidly rising pro salaries. After an initial 2-9 record, Young's Black Knights posted winning records in six of his eight seasons.
His teams from 1984 to 1986 went 8-3-1, 9-3 and 6-5. From 1988 to 1990 the Black Knights finished 9-3, 6-5 and 6-5.
But what about that 1987 season and a 5-6 record?
Injuries and the funny bounces an oblong ball takes can contribute to a losing season. That's football. Another reason can be a drop off in team focus that is human nature, although not necessarily excusable.
Riley, a 6-foot, 205-pounder from Port Jefferson (N.Y.) Newfield, says the players, led by the seniors, are aware of a such a pratfall as spring football opened last week. The specter of feeling satisfied motivates them to extend their streak to four winning seasons.
"It's been fun to be a part of the turnaround, but eventually the satisfaction factor dwindles going into next season," he said. "We can't keep celebrating what we did in the past. We've got keep improving and growing our energy to continue to be a better team."

That attitude, Riley says, is needed for the winning culture to remain fresh as head coach Jeff Monken enters his sixth year.

Monken was planting the culture his first two years despite records of 4-8 and 2-10 and his future players sensed it during the recruiting process. Riley and the direct admits seniors committed in 2015 despite the 2-10 record. This year's seniors that spent 2015 at the prep school before their 2016 West Point admission had committed after the 4-8 record in 2014.
"We've been part of the winning culture since my freshman year," Riley said. "The (2016 team's) seniors started the foundation and we've continued to build off it. It's been a lot of fun being here with my teammates. I've made some of the best friends I've ever had and been able to play the sport I love."
The seniors, who've never known a losing season or suffered a loss to Navy, are living the Life of Riley.
--- The 11-2 record last season followed marks of 10-3 and 8-5 and set a school record for most wins in a season.
--- Last season's No. 19 national ranking was Army's first Top 25 appearance since 1996 (10-2) at No. 22.
--- Army has beaten Navy three straight years, won three straight bowl games and brought home the Commander-in-Chief's Trophy with sweeps of Air Force and Navy the past two seasons. Army had never won three straight bowl games or claimed back-to-back CiCs until now.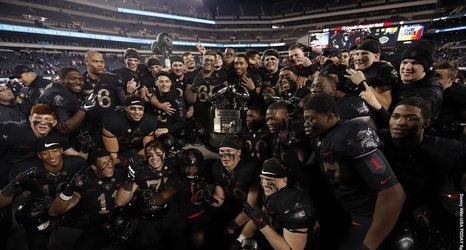 Riley is among the seniors that made an immediate contribution to the turnaround, starting 10 games his freshman season. An academic issue sidelined him the first eight games of his sophomore season, but he finished strongly in the final five. In the bowl win over San Diego State, he had three tackles and returned a fumble 29 yards for a touchdown.
His junior year he put together his talent that includes NFL potential. He was a run-stopper with 55 tackles, third on the team; an attacker with 7.5 tackles for a loss, third on team; and a pass defender, leading the team with 10 pass breakups despite the lack of an interception.
Highlights included a season-high nine tackles in a near-upset of Oklahoma and an 80-yard touchdown return of a blocked field in a win over Buffalo. Now he wants to take the next step, including showing NFL scouts he can play at the next level.
"I've always been a powerful player," Riley said. "I want more finesse to my game, getting in and out of breaks a little faster, working on angles and stuff like that."
Improving his game includes leadership as one of three returning starters in the secondary along with returning senior free safety Jaylon McClinton and returning junior cornerback Javhari Bourdeau.
"I'm trying to improve on the field and be the best leader I can be for my teammates," he said. "As a senior leader I'm maintaining the swag with have in the corners' room."
For three decades, Jim Young's teams were the gold standard for Army football in the era of post-Vietnam and NFL millionaires. Monken's Black Knights are positioned for a new golden era.
His teams' 29-10 record for a .744 winning percentage tops Young's 23-11 for .676. So does three bowl wins and three Navy wins. Young's teams won the CiC twice but not back-to-back. For separation, Army still needs this year's seniors to create more separation with a fourth straight winning season. That would be the program's first in more than a half-century dating to Army's glory days.
Beginning with the World War II-bolstered rosters, Army had winning seasons of four or more from 1941 through 1950, 10; 1953 to 1958, six; and 1960 to 1963, four. The 1945 and 1946 teams won national titles with Heisman Trophy winners Doc Blanchard and Glenn Davis and the 1958 team was ranked as high as No. 1 with Heisman Trophy winner Pete Dawkins.
But the 2019 seniors have a chance to go out with a unique identity of having rebuilt the program and then helping maintain it throughout their class and set up for beyond.
"It's been more fulfilling to be part of a culture change," Riley said. "Coming here in general is a hard decision. West Point as an academy is not an easy place to be. It's requires a different kind of grit. That means if you're a good team you're building on top of that. That adds to the challenge my peers and I wanted to place on ourselves coming here."
* * *

I was prompted to ask Riley about Oklahoma quarterback Kyler Murray following recent dubious comments from former NFL general manager Charley Casserly. Based on second-hand information, Casserly questioned Murray's lack of leadership and work ethic. In the fourth game of the year, Army the eventual Heisman Trophy winner and possible first pick of the NFL draft at his best under pressure. Army took Oklahoma into overtime until Murray threw his third touchdown of the game for a 28-21 victory.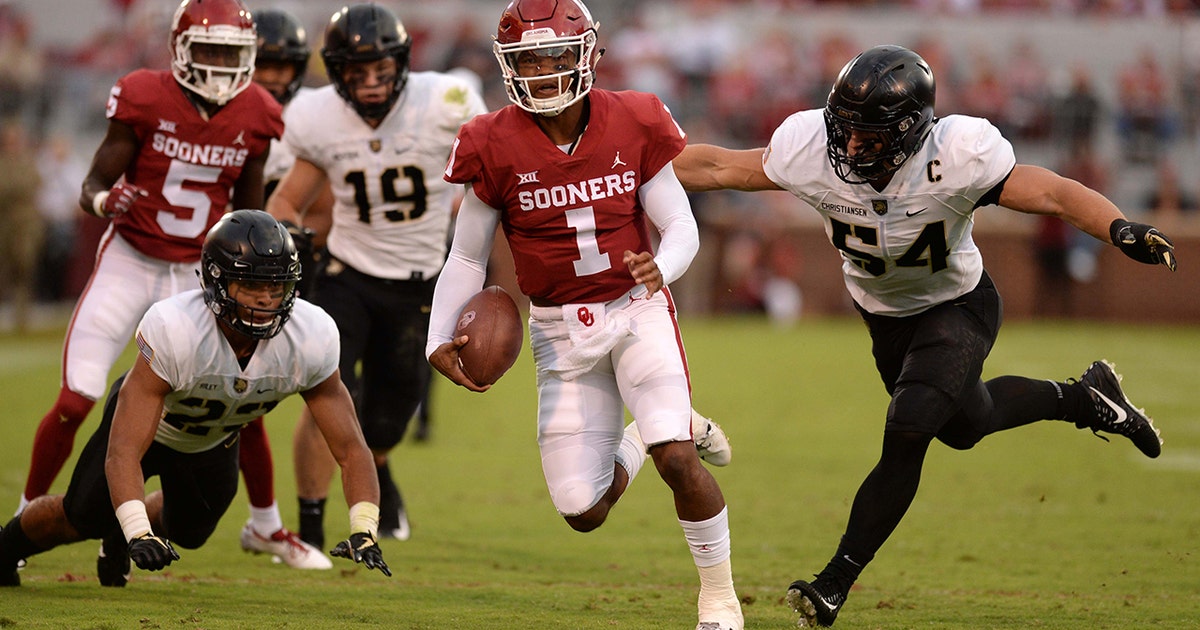 "He's fastest player I've ever played against," Riley said. "He's an exceptional athlete. There is no questioning that whatsoever."
I wondered what Riley saw facing him across the line of scrimmage in a tense game that came down to Murray's big plays under heavy pressure of an upset loss. As a West Point cadet, Riley attends a premier leadership academy. He is learning how to exert leadership and identify it in others. West Point cadets also learn to base their opinions on empirical evidence.
"I couldn't speak on their locker room since I'm not in their meeting room," Riley added. "From what I saw on the field he had a command presence."
I'll take a West Point leadership student's opinion over Charley Casserly's second-hand information.
The last time I heard something from Casserly he erroneously gave credit on an NFL.com video to Spanos for San Diego's first Super Bowl over proper credit belonging to former Chargers owner Gene Klein.
Spanos had bought the San Diego Chargers by the time Super Bowl XXII on Jan. 31, 1988 was played in San Diego, but Klein still owned the team when he secured it with heavy lobbying of his fellow owners.
* * *
I invite you to follow me on Twitter @shanny4055

Tom Shanahan, Author: Raye of Light http://tinyurl.com/knsqtqu
-- Book on Michigan State's leading role in the integration of college football. It explains Duffy Daugherty's untold pioneering role and debunks myths that steered recognition away from him to Bear Bryant.
http://shanahan.report/a/the-case-for-duffy-and-medal-of-freedom
Don't believe the myths at Duffy Daugherty's expense about Bear Bryant's motivation to play the 1970 USC-Alabama game or myths about the Charlie Thornhill-for-Joe Namath trade. Bear Bryant knew nothing about black talent in the South while he dragged his feet on segregation.
http://shanahan.report/a/myths-that-grew-out-of-1970-alabama-game-with-usc
http://shanahan.report/a/mystery-solved-in-thornhill-and-namath-myth
David Maraniss, Pulitzer Prize winner and biographer; "History writes people out of the story. It's our job to write them back in."
Click here for the link to order from August Publications