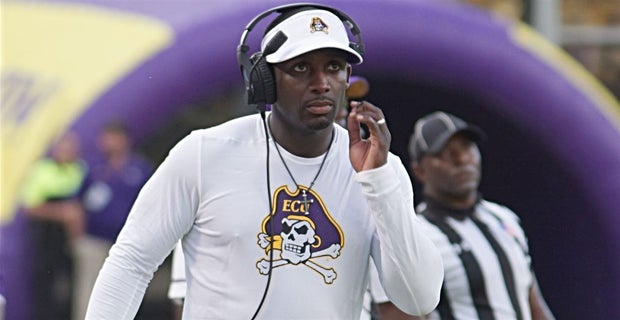 ECU chancellor waiting until season complete
Cecil Staton issues statement amid speculation on Scottie Montgomery's future
Photo: Scottie Montgomery
By Tom Shanahan, Correspondent
East Carolina Chancellor Cecil Staton issued a statement late Wednesday afternoon clarifying that football coach Scottie Montgomery's future won't be decided until the final three games are played.
Montgomery's three-year record is 8-25 overall and 3-19 in American Athletic Conference play following last week's loss at Tulane that dropped the Pirates' 2018 marks to 2-7 and 0-6 in the AAC East

Click here for the remainder of my N&O story
* * *
I invite you to follow me on Twitter @shanny4055
Tom Shanahan, Author: Raye of Light http://tinyurl.com/knsqtqu
-- Book on Michigan State's leading role in the integration of college football. It explains Duffy Daugherty's untold pioneering role and debunks myths that steered recognition away from him to Bear Bryant.
http://shanahan.report/a/the-case-for-duffy-and-medal-of-freedom
David Maraniss, Pulitzer Prize winner and biographer; "History writes people out of the story. It's our job to write them back in."
Click here for the link to order from August Publications
-30-