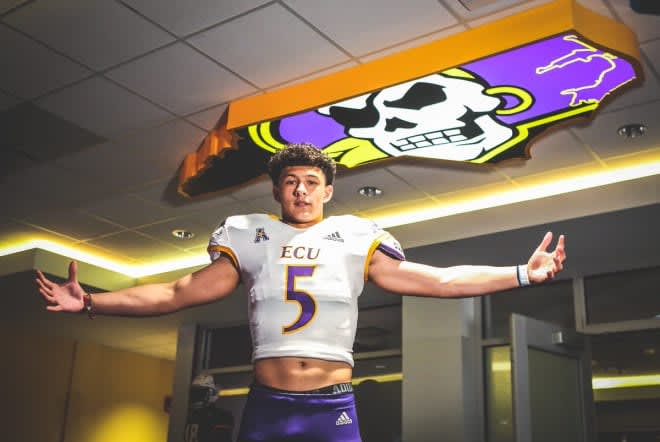 ECU break is time to build through recruiting
Pirates are 3-3, but their holes are apparent to be competitive in AAC play
Photo: Mason Garcia on his recruiting trip
East Carolina's 16-day break from the Temple loss on ESPN last Thursday night to its Oct. 19 game at UCF has new coach Mike Houston emphasizing recruiting. He has many holes to fill.
Trouble is that talent won't arrive until next year as freshmen, although Houston did learn on Tuesday that senior starting offensive guard Cortez Herrin was granted an NCAA medical waiver to return as a fifth-year senior in 2020.
"We had our entire staff out on the road recruiting this past Friday," Houston said. "Between this past Friday and this coming week we'll see all of our committed kids and many more that are high on our list. You'll see us all over the East Coast. We plan to spend a good bit of the week recruiting."
Houston has a better idea of the holes to fill now that the Pirates are halfway through the season. The overall record is encouraging at 3-3, but the AAC losses to Navy and Temple have shown the new coach that his inherited 2019 roster lacks talent and depth to compete with the top AAC programs.
Although the Pirates have three wins, they have to find four victories out of their final six for bowl eligibility. Two of the three wins are over Football Championship Subdivision teams, Gardner-Webb and William & Mary, and the NCAA only permits teams to count one FCS victory. ECU added William & Mary to the schedule as a late addition after Virginia Tech canceled its game 2019 game with the Pirates.
Of the six, three are against defending champion and formerly ranked UCF (4-2, 1-1 AAC East) in Orlando; No. 25-ranked Cincinnati (4-1, 1-0 AAC East) on Nov. 2 at home; and No. 21 SMU (6-0, 2-0 AAC West) in Dallas.
The other three contests are against USF (2-3, 1-1 AAC East) on Oct. 26 at home; at Connecticut (1-4, 0-2 AAC East) on Nov. 23; and Tulsa (2-3, 0-1 AAC West) on Nov. 30 at home.
Finding four wins out of that half-dozen won't be easy.
"We understand who we are right now," Houston said. "We've got to find better ways to do things. We got to make sure the players we have we're asking them to do what is within their ability level. There are some things we have not yet installed our defensive scheme. We've got to continue work at progressing before we put other things in."
Houston also cited the lack of seniors in the program as a handicap. Counting Herrin before his new status for 2020, ECU has eight senior starters but only 10 seniors on the two-deep depth chart.
On offense, they are Herrin, starting left guard; Branden Pena, starting center; Fernando Frye, backup right guard; Anthony Watley, starting tight end; and Deondre Farrier, starting wide receiver.
On defense, they are Alex Turner, starting defensive tackle; Jalen Price, starting defensive tackle; Kendall Futrell, starting defensive end; Michael Swift, backup defensive end; and Colby Gore, starting cornerback.
As for the future, Houston already has 21 verbal commitments in the Class of 2020. There is a one 4-star prospect, quarterback Mason Garcia of Carolina Forest in Myrtle Beach, S.C., and there are nine 3-stars.
A year ago, when Houston was hired in December, there were no 4-stars and eight 3-stars. Five of the 3-stars were inherited and remained committed, while three others were signed with a late push rom Houston, including flipping running back Demetrius Mauney of Forest City in western North Carolina from Purdue.
The 2020 class is currently ranked No. 47 in the nation by Rivals.com, although with 21 commitments that number may decline as other schools fill out their recruiting quotas. In 2019, ECU was ranked No. 84; in 2018, No. 85; in 2017, No. 70; and in 2016, No. 78.
"We're excited with the class we have put together right now," Houston said. "They've all been on campus multiple times. We've had the entire class at a home game already. We're looking forward having them all back for one more home game as a group. I think they're excited about the future of the program. In our opinion it's a very talented group top to bottom."
* **
Houston also announced sophomore linebacker Delvontae Harris and defensive back Juan Powell have been reinstated to the team. They had been suspended shortly before the season started for stealing from parked cars on campus. The charges against them were dismissed when they completed community service.
They don't provided immediate help, but Houston added they'll have a chance to work their way back into the playing rotation.
* * *
I invite you to follow me on Twitter @shanny4055
Tom Shanahan, Author: Raye of Light http://tinyurl.com/knsqtqu
-- Book on Michigan State's leading role in the integration of college football. It explains Duffy Daugherty's untold pioneering role and debunks myths that steered recognition away from him to Bear Bryant.
http://shanahan.report/a/the-case-for-duffy-and-medal-of-freedom
Don't believe the myths at Duffy Daugherty's expense about Bear Bryant's motivation to play the 1970 USC-Alabama game or myths about the Charlie Thornhill-for-Joe Namath trade. Bear Bryant knew nothing about black talent in the South while he dragged his feet on segregation.
http://www.shanahan.report/a/forty-four-underground-railroad-legacy-facts
http://shanahan.report/a/myths-that-grew-out-of-1970-alabama-game-with-usc
http://shanahan.report/a/mystery-solved-in-thornhill-and-namath-myth
David Maraniss, Pulitzer Prize winner and biographer; "History writes people out of the story. It's our job to write them back in."
https://www.augustpublications.com/products/raye-of-light-jimmy-raye-duffy-daugherty-the-integration-of-college-football-and-the-1965-66-michigan-state-spartans
https://www.augustpublications.com/