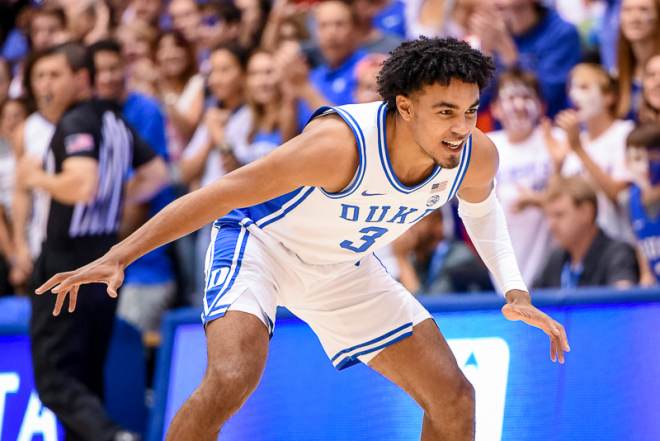 Coach K with a new formidable trio up front
Blue Devils pressure with athletic Tre Jones, Malcolm Goldwire and Cassius Stanley
Photo: Tre Jones
DURHAM – Duke basketball again confronts teams with a formidable trio, although it's not comprised of one-and-done NBA draft picks like a year ago. This trio doesn't require a hot shooting hand or drives to the basket to have a big night.
Its defensive hands create a road block to the basket.
The Blue Devils are pressuring teams before they can set their offense with sophomore point guard Tre Jones, junior shooting guard Malcolm Goldwire and true freshman small forward Cassius Stanley.
"Goldwire, Trey and Cassius -- that's a lot of athletic ability out front," Blue Devils coach Mike Krzyzewski said. "Matt (Hurt, freshman forward) and Vernon (Carey, freshman center) are good athletes, and you can bring in good athletes. I like how hard we played defensively, and our guys taking charges."
Goldwire had four of his five steals and Jones two of his three in the early moments in last week's exhibition win over NCAA Division II Fort Valley State, taking a 17-0 lead, a 68-27 halftime advantage and 127-56 final score. Duke obviously faces a tougher challenge in the Champions Classic when they No. 4-ranked Blue Devils face No. 3 Kansas at 7 p.m. Tuesday at Madison Square Garden in New York. Duke also can watch No. 1 Michigan State and No. 2 Kentucky in the nightcap.
Also follow my Duke stories in The Wilson Times
"We just have to play our game," Jones said. "It's a big-time match-up and big stage in New York. Madison Square Garden is one of the best arenas, it's my favorite place to play. We enjoying being in the moment on one mission."
The aggressiveness Coach K praised can translate against any opponent, and he was encouraged by the effort. He said he is relying on balanced lineup this year, a contrast from last season with the overwhelming talent of Zion Williamson (New Orleans Pelicans), R.J. Barrett (New York Knicks) and Cam Reddish (Atlanta Hawks).
Krzyzewski hasn't settled on a starting five and may not any time soon. He's substituted units against Fort Valley. At the 15:53 mark, senior Jack White, senior Javin DeLaurier, freshman Wendell Moore and junior Alex O'Connell entered the game with Jones remaining at point guard. At 14:01, Goldwire replaced Jones.
"This group is going to be a unit, not a starting five," Krzyzewski said. "Everyone's got to be ready to play. I'd call it old school, like older Duke teams, from years past. Not (Christian) Laettner (Bobby) Hurley or (Shane) Battier, or those guys, but a team that plays really good defense. Our kids want to do that. We're going to keep doing that."
Duke displayed an overpowering mix of pressure defense forcing turnovers (36), fast breaks (25 points), three-point shooting (13-of-28), offensive (19) and defensive (24) rebounding and – most importantly in a difference from a year ago -- working the ball around to any of among five men.
Krzyzewski didn't wait until the end of the game to single that out, noting the 15 assists at halftime.
"He talked about that at the half," Jones said. "That's how it should be. We shouldn't care who is scoring or how much. It could be a different person every night. We have to stay in the moment. That's how this team is going to be."
Routing a Division II school isn't significant, but a 67-28 lead at halftime and the final point total are reminiscent of a year ago when Duke's NBA trio toyed with Virginia Union, 106-64, and defending NCAA DII champion Ferris State, 132-48.
That's not to say there is a Zion to watch this year – college basketball will have to wait a generation (unless Eboni Bates of Ypsilanti (Mich.) Lincoln, this week's Sports Illustrated cover story, defies athletic generational trends) – but Duke showed with balance it can toy with the opponent. Fans, though, want to know who scored and how much. Well, there were six players in double figures out of 12 that tallied points.
Sophomore Joey Baker, coming off the bench, led the scoring with 22 points, including 6-of-8 from three-point range. Hurt scored 19, Stanley 16, Moore 15, O'Connell 12 and Carey and White 11 each. Goldwire, with seven points, started with Jones, Stanley, Carey and Hurt.
A year ago Duke's three-point shooting was inconsistent.
"Joey kept it simple," Krzyzewski said. "His teammates found him and he knocked down six threes. He's been doing an excellent job in practice, especially if he doesn't dribble the ball. If he can add that to our team that makes us a deeper squad."
CAUTIONING SAVARINO'S GRANDMA AND MOM
With 4:36 to play, Krzyzewski substituted the last three players on the bench, walk-on freshmen Michael Savarino and Keenan Worthington and junior Mike Buckmire.
Savarino, Coach K's grandson, is 6-foot, 182-pound guard from Durham Academy that hit two free throws and recorded an assist and a rebound.
Coach K was asked what it felt like to say to his grandson, "Savarino, get in there."
"I never said, 'Savarino, get in there,' " he said. "I told my staff we'll sub all five guys. I wouldn't disrespect Buckmire and just say put Savarino, even though his mother and grandmother are here. It was a cool moment. And Keenan too; Keenan is from Chapel Hill. They played like they know how to play, which they do. I'm glad (Savarino) hit his free throws; I thought the best thing he did was pass to Joey (for an assist). I like our walk-ons' demeanor.
"We're looking at not playing (Savarino) and Keenan so they have a chance to develop and see what happens later in their time at Duke. There other thing is to get my family off my back. I'm announcing that now. At end of every game, I hope we have an opportunity to put in subs, but they're not going in. And don't call the assistant coaches."
Coincidentally, a night earlier in Michigan State's exhibition win over Albion College, coach Tom Izzo's son Steven, who also is walk-on freshman that Izzo is redshirting, hit a free throw.
Coach K and Izzo can talk family and basketball it in New York or on Dec. 3, when the Blue Devils travel to Michigan State in the AAC/Big Ten Challenge.
* * *
I invite you to follow me on Twitter @shanny4055
Tom Shanahan, Author: Raye of Light http://tinyurl.com/knsqtqu
-- Book on Michigan State's leading role in the integration of college football. It explains Duffy Daugherty's untold pioneering role and debunks myths that steered recognition away from him to Bear Bryant.
http://shanahan.report/a/the-case-for-duffy-and-medal-of-freedom
Don't believe the myths at Duffy Daugherty's expense about Bear Bryant's motivation to play the 1970 USC-Alabama game or myths about the Charlie Thornhill-for-Joe Namath trade. Bear Bryant knew nothing about black talent in the South while he dragged his feet on segregation.
http://www.shanahan.report/a/forty-four-underground-railroad-legacy-facts
http://shanahan.report/a/myths-that-grew-out-of-1970-alabama-game-with-usc
http://shanahan.report/a/mystery-solved-in-thornhill-and-namath-myth
David Maraniss, Pulitzer Prize winner and biographer; "History writes people out of the story. It's our job to write them back in."
https://www.augustpublications.com/products/raye-of-light-jimmy-raye-duffy-daugherty-the-integration-of-college-football-and-the-1965-66-michigan-state-spartans
https://www.augustpublications.com/