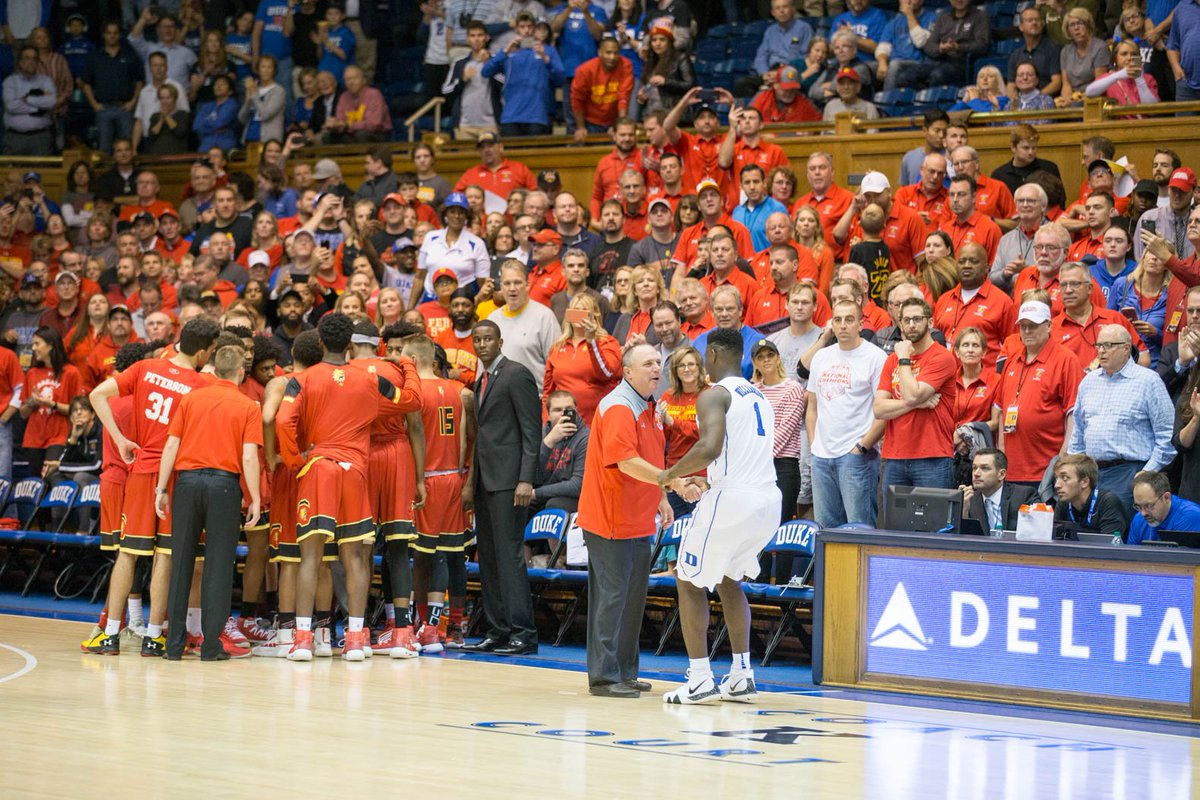 Coach K postgame concerns included Ferris
Duke coach hoped Bulldogs enjoyed Cameron and won football without Thrower
Photo: Ferris fans behind Bulldogs bench as assistant coach Dave Schlump greets Zion Williamson during introductions
DURHAM, N.C. – Mike Krzyzewski's post-game concerns ranged beyond grading his No. 4-ranked basketball team's exhibition performance against Ferris State. He wasn't gauging the Blue Devils' readiness for their season opener with Kentucky next week in the Champions Classic.
Coach K wanted to know if the Bulldogs, his guests according to his tradition to invite the reigning NCAA Division II champions, enjoyed their experience despite the score, a 132-48 rout Saturday at Cameron Indoor Stadium.
Ferris coach Andy Bronkema left Krzyzewski with no concerns -- the Bulldogs reveled in their two-day visit to the college basketball mecaa.
"We're not going to let anything ruin this experience and the time we had here," Bronkema said. "We'll pull some positives. There are certainly things to work on. I can't wait for practice, but again, there are no negatives with this experience."
Click here for my Detroit Free Press story from Ferris State's exhibition game Saturday at Cameron Indoor Stadium
The Bulldogs had been looking forward to trip since March 24 when they celebrated their DII title. That's the buzz in DII circles created by Coach K's tradition that he said arose from appreciating how "genuine" a DII final was nine years ago that he had watched on TV.
Ferris enjoyed the weekend from arriving on Friday and practicing in the Mike Krzyzewski Center to playing Saturday in Cameron beneath the five NCAA championship banners, all won under Coach K from 1991 to 2015, and the retired numbers of Basketball Hall of Famers that drip with royalty.
Krzyzewski's other post-game concern was whether Ferris' No. 2-ranked football team won its game earlier in the day against Wayne State. He appreciated football coach Tony Annese had allowed DeShaun Thrower, a starting safety on the football team, to make the trip to Duke as the Bulldogs' starting point guard. He was relieved to hear Ferris beat Wayne State, 38-28.
"That's a helluva a thing," he said, meaning the football win and Thrower taking part in the Cameron experience.
Coach K chatted briefly with Thrower in the handshake line.
"I asked him -- but I don't hear well anymore – and I think he said his back was stiff," said the 71-year-old Krzyzewski. "He didn't move as well as I saw him on tape, so I knew something was wrong. But he gutted it out. He's a strong kid."
Coach K also was impressed with the Ferris fan turnout. The school sold all 225 tickets available to paint red the section behind the Bulldogs bench allotted to them.
"God bless Ferris State and their whole fan base for coming down here," Krzyzewski said. "A national championship is a great thing for their school. You could tell how hard their kids played and the confidence they had in one another is why they have won. I'm sure they're going to have another successful season."
Ferris Assistant Athletics Director for Communications Rob Bentley, who also received a dispensation from Annese to skip his football radio play-by-play duties to broadcast basketball from Cameron's famed TV/radio crow's nest press box, said the school could have sold more tickets if available.
Many fans traveled from Big Rapids in addition to those from other cities and states. One was former Ferris player Danny Sutherlin (2009-2013). He traveled from Lansing, Mi., to vicariously soak up the event, although he added he reveled in Ferris having played exhibitions during his career at three other college basketball blue bloods, Michigan State, Michigan and Indiana.
"Those were great experiences for our teams, but there is something different about Duke," Sutherlin said. "I would have loved to play Duke, but watching these guys is just as rewarding."
As for the final score, Krzyzewski made it clear, despite the respective point totals, his team played harder and better defensively than it did in defeating Virginia Union four nights earlier in an exhibition,106-64.
He also credited Bronkema for sticking to the Bulldogs' style of play despite the DI vs. DII talent differential.
"We had a decision to make whether we were going to play our style and try to impose our will for whatever time we could or if we were going to game plan," Bronkema said. "We didn't think game planning was going to serve us well for our season.
"We've got a young team and we went at it. It was hard to do against them when they're in passing lanes and it was physical and they're as good as they are. We kept at it and I'm proud of our team."
Duke's four one-and-done players led five in double figures. R.J. Barrett scored 32 points with nine rebounds, Zion Williamson 23 with 10 and Cam Reddish 20 with five assists. Tre Jones scored eight with 10 assists and sparked the 1-2-2 press with four steals.
Ferris shot only 25.7 percent (19-of-74) against the length and rapid switching of Duke's defense. But those same shots, rushed against Duke's superior size and length, can be expected to fall at Jim Wink Arena this season.
Click here for my story on the legendary Jim Wink vs. overrated Dick Vitale
Taylor Adway, a 6-foot-8 senior that transferred to Ferris from Toledo of the Mid-American Conference, led the Bulldogs in double figures with 12 points and four assists. Carl Bow added seven, Greg Williams five and D'Angelo Hughes five. Thrower finished with two points, two assists and two steals.
Coach K wasn't alone in understanding Ferris enjoying the trip despite the score. There was no smirking from Blue Devils on the other bench when the wide-eyed Bulldogs took the Cameron court to gaze at the sights and feel the environment.
Said Duke junior Javin DeLaurier, a team captain and elder statesman for the young roster of one-and-dones:
"I think everyone looks around in awe the first time they see Cameron."
* * *
I invite you to follow me on Twitter @shanny4055
Tom Shanahan, Author: Raye of Light http://tinyurl.com/knsqtqu
-- Book on Michigan State's leading role in the integration of college football. It explains Duffy Daugherty's untold pioneering role and debunks myths that steered recognition away from him to Bear Bryant.
http://shanahan.report/a/the-case-for-duffy-and-medal-of-freedom

Click here for the link to order from August Publications
-30-