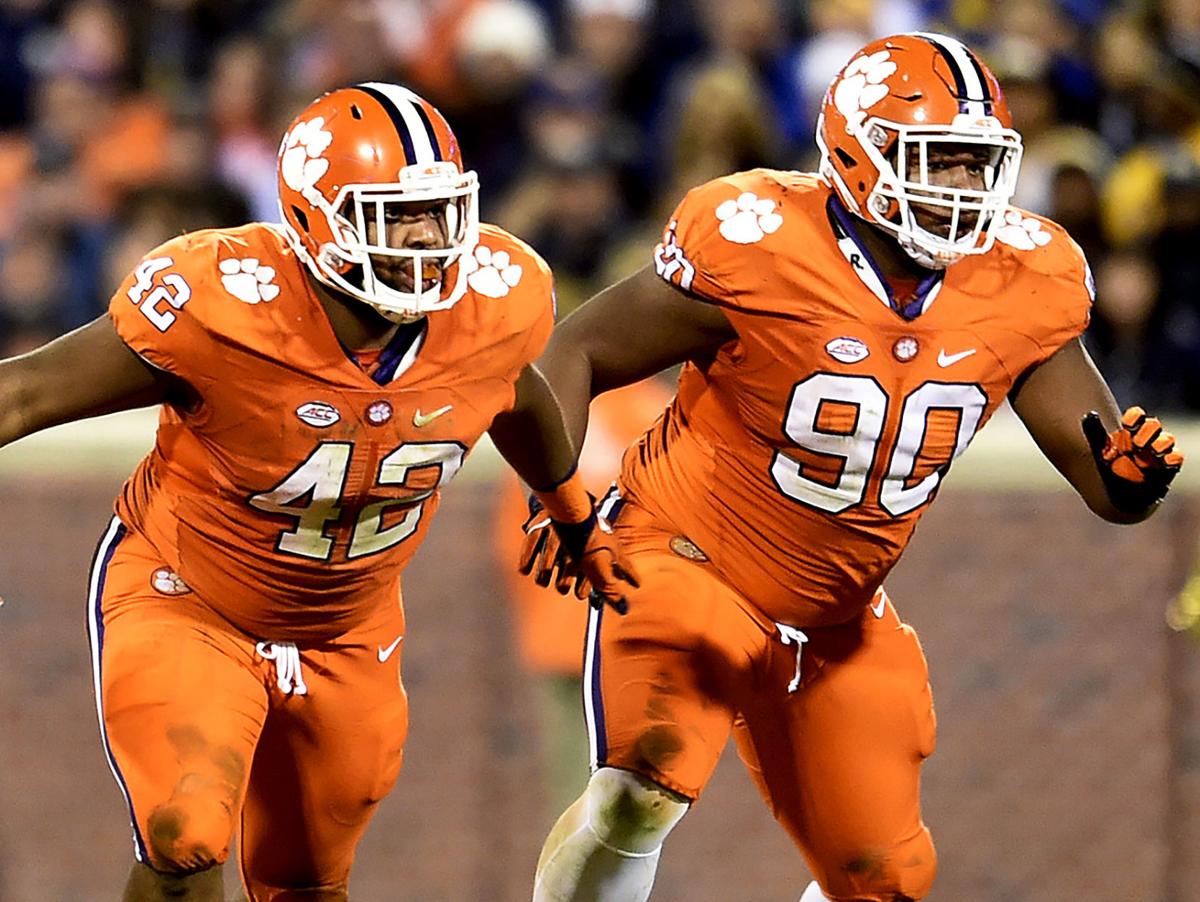 Clemson defensive line without challengers
If NC State thought it had an NFL D-line last year, look at the Tigers
Photo: Christian Wilkins (L) and Dexter Lawrence
Dabo Swinney finds himself in the unique position of facing a quarterback battle between returning starter Kelly Bryant and a true freshman Trevor Lawrence, but the Clemson coach has no such distinctive challenges on the defensive line.

He's got four anchors in place as returning starters with NFL futures.
Click here for the AllSportsDiscussion.com link
The titanic weight in the middle is Dexter Lawrence, who is potentially the first pick of the 2019 NFL Draft if he were to declare early. The 6-foot-4, 340-pounder from Wake Forest, N.C., is a back as a junior and third-year starter.

Next to him is Christian Wilkins, who passed up the draft to return as a graduate student. Wilkins (6-4, 300) was the big guy among the Tigers until Lawrence arrived in 2016. Swinney has said Lawrence is the first defensive lineman he's known to show up as a true freshman already with an NFL body.
The defensive ends also are returning starters: redshirt junior Clelin Ferrell (6-5, 260) and senior Austin Bryant (6-5, 265). They also had NFL options to consider, but none of the anchors decided they were eager to go overboard for the NFL at the expense of another national title run. This way they also can improve their draft stock.
"These guys didn't come back here to go through the motions," Swinney said. "They came back to get better individually and also to play on a great team."
Clemson is seeking a fourth straight program trip to the College Football Playoff and chance for a second national title in three years that also was enticing. The Tigers beat Alabama in the 2016 title game, but lost to the Crimson Tide, the eventual champions, in the 2017 semifinals.
"When your best players are like that, it sure makes everybody else pick their game up," Swinney said. "They have great energy level at practice. So it was fun to watch.
Then to be able to see them mentor and nurture the young guys that we have that at some point will be taking their place when they're out of here is, as a coach, man, it's fun to watch."
The players can take out insurance policies against injuries and their draft stock that are paid for by their college with funds from the NCAA.
Lawrence, Wilkins and Ferrell were all first-round ACC picks and Bryant a second-teamer, even though North Carolina State boasted four defensive linemen that were drafted.
N.C. State's Bradley Chubb was first-team All-ACC and a first-round pick, while Wolfpack tackles B.J. Hill and Justin Jones went in the third round and defensive end Kentavious Street in the fourth. The three draft picks settled for spots behind the Tigers.
That's the kind of returning talent Clemson is lining up in 2018.
Last year Ferrell led the team with 18 tackles for a loss an 9.5 sacks. Bryant had 15 tackles for a loss and 8.5 sacks.
Lawrence's numbers went down from 79 tackles to 39 and from seven sacks to 2.5, but that had a lot to do with a opponents testing a true freshman in 2016 and avoiding him as a proven talent in 2017.
Wilkins's 2017 numbers with 8.5 tackles for a loss and 4.5 sacks were similar to 2016, 13 and 3.5.
"There was no question about it — we're going to have a good defensive line," Swinney said. "I'm excited for those guys and their opportunities in this upcoming season."
I invite you to follow my stories on Twitter @shanny4055
-30-