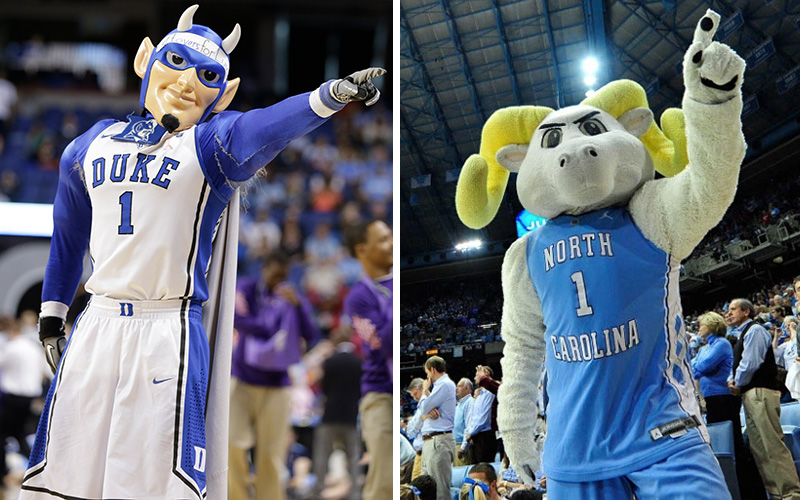 Carolina and Duke rivalry rolls across globe
Chinese sports network Sina bridges Great Chinese Famine to Battle of the Blues
Photo: 1) The mascots; 2) Sina's logo; 3) Roy and Wanda Williams
CHAPEL HILL, N.C. – North Carolina basketball coach Roy Williams and his wife Wanda grew up in early 1960s America, a time when parents chided kids for not finishing their dinner with an indirect reference to the Great Chinese Famine.
"There are 800 million people starving in Red China!"
Well, he and his wife have lived long enough to the see the once impoverished Chinese economy under ruthless communist dictator Mao Zedong evolve. It is a thriving 21st century economic powerhouse with a populace that loves basketball.
On Sunday, Roy and Wanda traveled to their 1960s roots in western North Carolina's mountains to celebrate Wanda's father's 95th birthday.
On Monday, Williams was back in Chapel Hill answering questions about his No. 8-ranked Tar Heels facing No. 1 Duke at 9 p.m. Wednesday at Cameron Indoor Stadium in Durham. Among the questions was some from a TV crew representing a Chinese network based in Beijing, Sina Sports.
"Hi, coach, I'm from China," interjected a reporter midway through the session. "A lot of people in China are fans of college basketball. They're into the rivalry with UNC and Duke. How would you describe the rivalry to Chinese people if you could use one word?"
Oh, how the world has changed. From Tobacco Road, an out-of-date term for 21st century ACC basketball, to "The World is Flat," the title of Thomas Friedman's 2005 book on the Internet instantly connecting continents.
China's 1.3 billion people are starved for basketball.
First it was the NBA, thanks to 1992 USA Olympic Dream Team, followed by the Internet and digital world making games readily accessible around the globe. Then Yao Ming, China's colossal 7-foot-6 star with the Houston Rockets, who played eight NBA seasons until 2011.

The NBA has surpassed soccer as the most popular sports league in China, according to multiple sports business reports. There are 300 million Chinese playing basketball, roughly the entire United States population
Now, it's the college game the Chinese have added to their basketball appetite.
"Oh, one word," Williams said before pausing to ponder the question.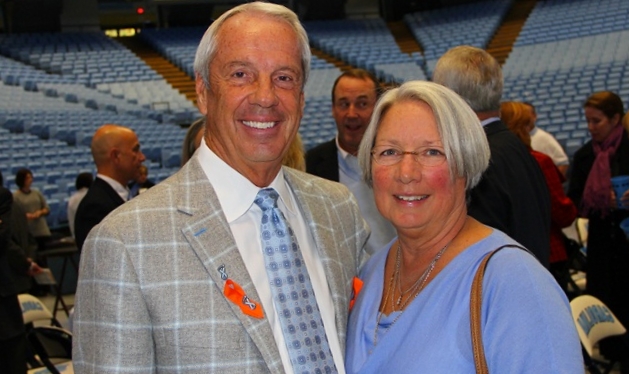 "No ... I don't want to use that word," he said to a roomful of laughter before he continued thinking.
"Vicious. It is two teams going at each other as hard as they can go. They want to win. It's a healthy. I've never thought anything dirty, but they are vicious contents. Part of it is they're 10 miles apart and how we (the programs) believe in many of the same things. The rivalry has been around for a long time. In families one goes to Duke and one goes to North Carolina. It's pretty ingrained. It's vicious, but not on the dirty side."
Little Roy of the 1960s ended up on Chinese TV as Ol' Roy at age 68 describing the Battle of the Blues.
The crew later asked North Carolina players the same question before practice at the Dean Dome.
"Intensity," chose Cam Johnson, a 6-9 graduate student guard. "There's the amount of times the rivalry has been played. You see the bloody pictures of Tyler Hansbrough
and Eric Montross. You see that it really means something. The intensity is ratcheted up a notch."
Luke Maye, a 6-8 senior forward, couldn't settle on one word.
"It's hard to put in one word, but I'll say this rivalry is all about excitement, it's all about fight it's all about grit. There are so many words to describe the passion."
All across China, basketball fans are following the Carolina-Duke rivalry while having vicious has been translated to 'edu," intensity to "qiangudu," and excitement to "Jidong."
In a flat world, the Carolina-Duke rivalry has rolled across the globe.
* * *
I invite you to follow me on Twitter @shanny4055
Tom Shanahan, Author: Raye of Light http://tinyurl.com/knsqtqu
-- Book on Michigan State's leading role in the integration of college football. It explains Duffy Daugherty's untold pioneering role and debunks myths that steered recognition away from him to Bear Bryant.
http://shanahan.report/a/the-case-for-duffy-and-medal-of-freedom
David Maraniss, Pulitzer Prize winner and biographer; "History writes people out of the story. It's our job to write them back in."
Click here for the link to order from August Publications