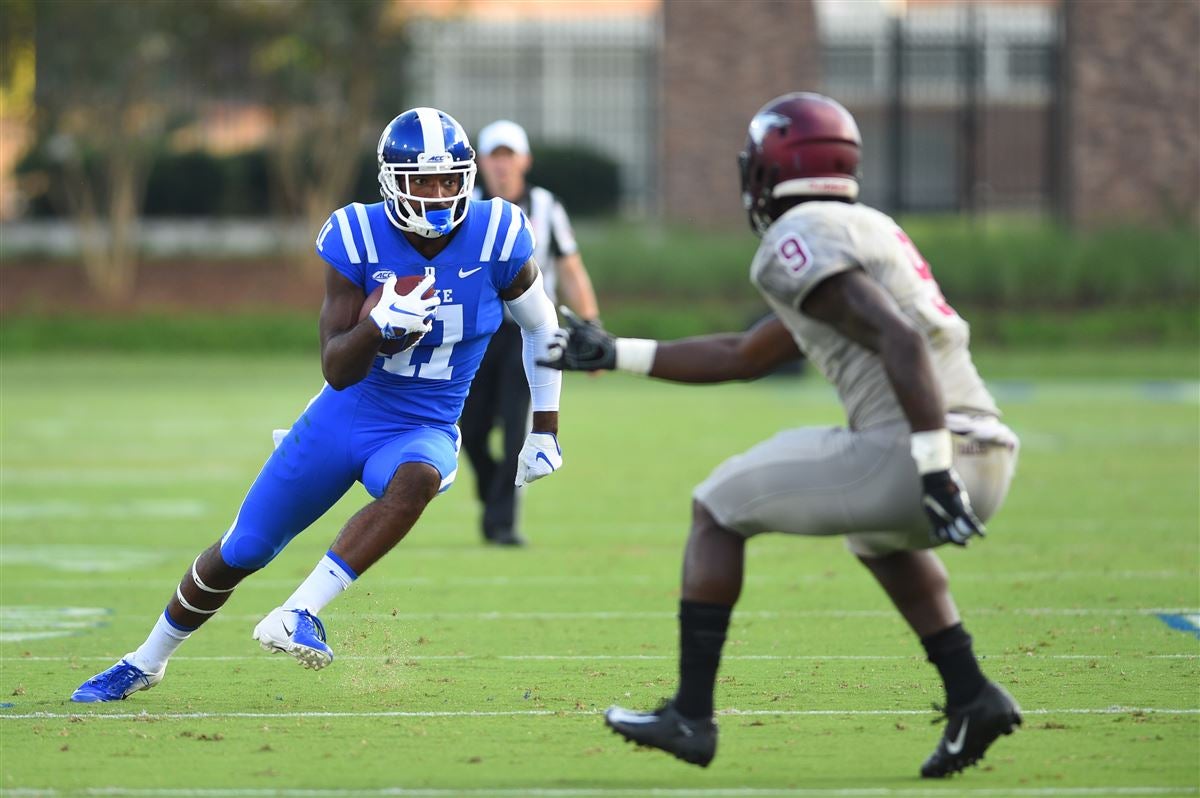 Bracey with scholarly Fishburne look and sound
Photo: Scott Bracey
So this is Scott Bracey. Yeah, he is an impressive guy. And that's before we see if he is on the verge of completing a breakout season.
Bracey met with the media for one of the first times – if not the first – since he arrived on campus in the Class of 2016 as a highly touted wide receiver recruit. He discussed Duke's ACC opener Friday night on ESPN at Virginia Tech along with his long road back from injuries to the playing field.
"The injuries have been frustrating, but it's the nature of the game," Bracey said. "Football is a physical sport so it happens to everybody. Regardless of who you are everybody has to deal with injuries. It's been frustrating, but I've kept pushing through it and it's made me stronger mentally and physically."
In 2019, Bracey has come out on the other side of injuries and frustration with a degree in sociology and a certificate in markets and management and is in graduate school in management studies.
In other words, the 6-foot-2, 205-pound redshirt junior from Richmond (Va.) Benedictine is an old soul. He wasn't a young kid that gave up on the sport or blamed someone else and transferred.
He not only sounds the part, he looks it with his professorial full-grown beard. Think a younger Lawrence Fishburne in the early 1990s, circa "Boyz N the Hood," playing a father teaching his son about life.
He also returned the Blue Devils (2-1, 0-0 ACC Coastal) feeling a responsibility to lead a young receiver corps; Duke graduated three starting wideouts and a starting tight end.
"I knew we had a lot of younger receivers coming in," Bracey said. "Younger players are looking to older guys to set the tone. I had to take a leadership role and show how it's done to the young receivers."
Through three games this season, Bracey already has seven receptions for 106 yards, although he has yet to score.
Those numbers top his career totals entering the season in yards (100) while needing only five catches to top his 11. In 2016, he redshirted after a hamstring injury the first day of fall camp that didn't heal; in 2017, he caught eight balls for 73 yards; and in 2018, three for 27.
There was a time when Duke coach David Cutcliffe said he worried about Bracey losing his confidence.
"You can't give people confidence," Cutcliffe said. "It's one of the big mistakes people make in trying to just give somebody confidence. You explain how they can earn it. But they have to earn it. I've had a multitude of college players, a lot of quarterbacks that say 'coach, I'm just not confident.' Okay, let's talk.
"I'm not going to tell you that I can give you confidence. I'm going to tell you exactly how you have to earn it. And it's about your work. Let's focus on your work. And if you start focusing on your work instead of what you want it to be then that's a start."
Bracey did the work. He said of his confidence, "Definitely at an all time high compared to previous years. I'm just continuing to play with more and more confidence. It will continue to push me as the year comes on."
The work included impressing his teammates, even if it was while on the scout team.
"Whenever you're playing a team sport," he said, "you want to have that kind of respect from teammates that builds camaraderie to play as a unit."
Cutcliffe said a focus for him, offensive coordinator Zack Roper and wide receiver coach Trooper Taylor was to remind Bracey while limited to the comeback trail that football is fun.
"I think you have to reinforce, reinforce, reinforce," Cutcliffe said. "But Trooper's energy has tried to make it a little bit fun for him. And we can't forget as coaches that the game itself –football you play it because it's fun.
"You shouldn't be playing it because you think you're going to get your school paid for. You shouldn't be playing in college thinking you're going to be a pro football player and get big money. You have to ultimately, deeply play the game because you love the game. And we have to help that. I think Scott's found that love again in the game."
Yeah, he's impressive.
* * *
I invite you to follow me on Twitter @shanny4055
Tom Shanahan, Author: Raye of Light http://tinyurl.com/knsqtqu
— Book on Michigan State's leading role in the integration of college football. It explains Duffy Daugherty's untold pioneering role and debunks myths that steered recognition away from him to Bear Bryant.
http://shanahan.report/a/the-case-for-duffy-and-medal-of-freedom
Don't believe the myths at Duffy Daugherty's expense about Bear Bryant's motivation to play the 1970 USC-Alabama game or myths about the Charlie Thornhill-for-Joe Namath trade. Bear Bryant knew nothing about black talent in the South while he dragged his feet on segregation.
http://www.shanahan.report/a/forty-four-underground-railroad-legacy-facts
http://shanahan.report/a/myths-that-grew-out-of-1970-alabama-game-with-usc
http://shanahan.report/a/mystery-solved-in-thornhill-and-namath-myth
David Maraniss, Pulitzer Prize winner and biographer; "History writes people out of the story. It's our job to write them back in."
https://www.augustpublications.com/products/raye-of-light-jimmy-raye-duffy-daugherty-the-integration-of-college-football-and-the-1965-66-michigan-state-spartans
https://www.augustpublications.com/