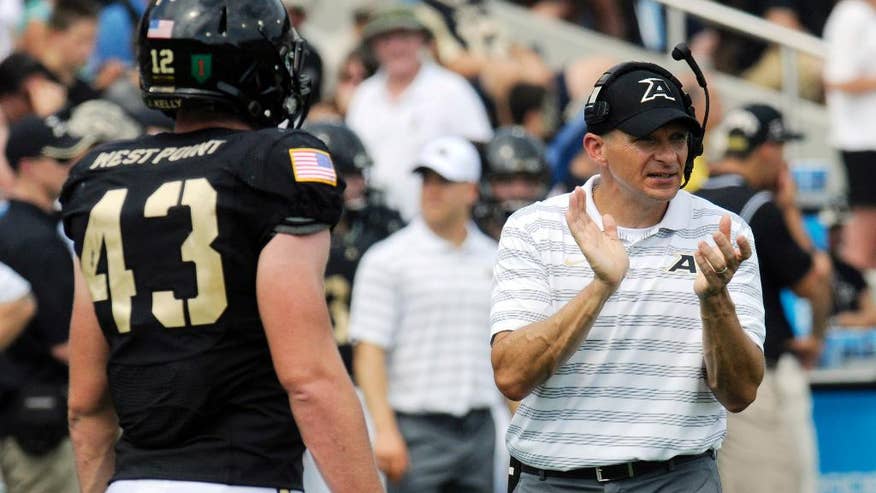 Army West Point program Monken envisions evolving
Expect more changes to depth chart when Black Knights open fall camp
Photo: Jeff Monken on the sidelines at last year's win over Buffalo.
The steps Army West Point head coach Jeff Monken takes to shape his own program are coming into focus with the completion of his second spring football.
That's evident from the number of young players moving into the two-deep depth chart and veteran players changing positions. Every adjustment advances the program from the one Monken inherited to the one he believes he can end a 13-game losing streak to Navy and a four-year bowl game drought. In addition, Army hasn't won the Commander-in-Chief's Trophy since 1996.
"We had some guys make position changes," Monken said. "We had some guys who haven't played a whole lot that found themselves in roles where they were the No. 1 guy for most of the spring. It was interesting to see how that played out and watch those guys respond to the opportunities that they had."
This following is a spring football look at changes on defense. Check back later for an offensive story, which brings us to Xavier Moss.
Moss, a junior in 2015, was a starting wide receiver last season that asked to be moved to defense. The 6-foot-2, 197-pounder adapted quickly; he's penciled in as a starting boundary safety.
As an addition to the secondary, Moss joins the strength of Army's returning roster alongside two starters at cornerback, junior Josh Jenkins and senior Chris Carnegie. Ryhan England, a sophomore next fall, is the starting field safety after assuming the starting role at the end of last season.
"Xavier Moss moving over to safety turned out to be a good move for us," Monken said. "He asked to move and have an opportunity to play on that side of the ball and I think he did some really good things. We were excited about that.
"All of the guys in the secondary really worked hard this spring and there were some improvements across the board. Tevin Long and Rhyan England got a lot of the snaps at safety and I thought they did a nice job. Steven Johnson moved from safety to corner and I think he's much more of a natural fit at that position."
They'll be playing behind two linebackers that enjoyed breakout seasons as a sophomore under Monken: Jeremy Timpf and Andrew King.
"Jeremy Timpf is a really good football player who made a lot of tackles for us a year ago," Monken said. "King is a very good inside linebacker; he is a big body and a physical guy, a good tackler and he does a nice job taking on blocks. Those two guys along with Jenkins and Carnegie who have played a lot of football are probably the strength of the defense right now just because of their experience."
The talent and experience on the backside is encouraging, but the Black Knights lack experience in the trenches, where they are usually undersized.
Senior T.J. Atimalala (5-11, 264) moves from a backup to starter at nose tackle. The defensive ends slated as first-year starters are sophomore John Voit (6-3, 237) and junior Jordan Smith (6-3, 254).
"T.J. Atimalala was a pleasant surprise at nose guard," Monken said. "He's been in a backup role since he's been here, but he did a nice job. I'm excited to see him."
Army returning starting center Matt Hugenberg also praised Atimalala's play earlier from their head-to-head battles in spring football.
But Monken emphasized the spring depth chart that emerged is written in pencil. He added two groups of his own freshmen recruits will arrive in the fall in the form of direct admits and USMA Prep School transfers. Monken has emphasized bigger bodies in his two recruiting classes. Two anticpated direct admit freshmen that are ranked as Rivals 3-star recruits are defensive end Kennith Brinson (6-3, 220) of Atlanta Marist and defensive back James Gibson (6-2, 195) of Chantilly (Va.) Westfield.
"The first fall we'll line up with clear No. 1 and No. 2 units but as fall camp unfolds there will be some other guys fighting for positions," Monken said. "Some will be freshmen, some second-team guys fighting for a starting position and some third-team guys fighting for a second team spot. There are always changes."
--- Tom Shanahan has featured Army, Navy and Air Force athletes for nearly 30 years in the San Diego Union-Tribune, Rivals.com and the Raleigh News and Observer. He attended his first Army-Navy Game after John Feinstein wrote in his book on the rivalry, "A Civil War," everyone should attend the Army-Navy Game at least once.
-30-