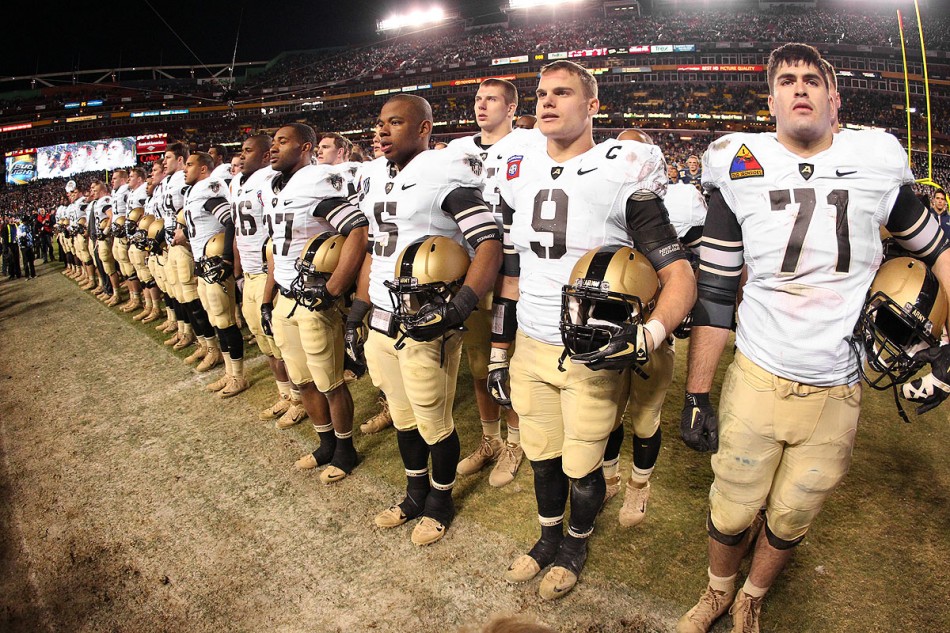 Army West Point experiences tradition with first win
AFAN: Air Force, Army, Navy newsletter on Black Knights' Matt Giachinta
A recent college football tradition since 9/11 has been Army, Navy or Air Force opponents standing with the service academy players as they sing their alma mater, win or lose.

The Eastern Michigan players did so last weekend at Rynearson Stadium in Ypsilanti despite falling to the Black Knights, 58-36. ...
"That's pretty much the way it is for every road game," said Army West Point senior fullback Matt Giachinta. "We always have a band with us for away games, and it's definitely a great feeling to sing the alma mater after a win. The Eastern Michigan players stood with us."
The Black Knights can expect more of the same this weekend but on a grander scale. Army (1-3) travels to Penn State (3-1), where the Nittany Lions play at 106,572-seat Beaver Stadium.
"That's going to be an awesome challenge for us," Giachinta said. "We're really excited about it."
The outpouring of respect for Army's players may be louder at Penn State, but it's equally genuine at stadiums big and small. They will serve a five-year military commitment upon graduate from West Point in a dangerous world that is haunted by Middle Eastern terrorism commands respect.
"When we go on the road we feel people appreciate what we're doing," Giachinta said. "We hear a lot of comments from fans saying they support us. We feel appreciation from the nation wherever we go on the road."
Giachinta, who isn't from a military family, is a 6-foot-1, 220-pounder from Paramous (N.J.) Catholic. At Eastern Michigan, he carried14 times for 95 yards with a long gain of 34.
The win was needed after a 0-3 start: Fordham, 37-35; Connecticut, 22-17; and Wake Forest on a field goal as time expired, 17-14.
"That was tough," Giachinta said. "Winning meant a lot for the program. We knew were getting better the last three games, but it all came together at Eastern Michigan. We want to take that momentum and move forward to Penn State."
Army rushed for 556 yards and gained a school record 654 total against a Football Bowl Subdivision opponent despite losing sophomore starting quarterback Ahmad Bradshaw to an ankle injury. His foot has been in a boot and his status is uncertain for Penn State. Senior backup quarterback A.J. Schurr rushed for 67 yards and two touchdowns and completed 3 of 7 passes for 70 yards without a TD and one interception.
In the triple-option backfield, Army spread out the rushing yards. Giachinta and starting fullback Aaron Kemper were 1-2 for the day with a total of 235 yards. Kemper carried 12 times for 140 with a 56-yard TD run.
At the two halfback slots, starters Joe Walker (5-87-1) and John Trainor (4-69-1) combined for 155 yards and two TDs. The backups totaled 91 fresh yards and two TDs: Drue Harris (8-60-2), Jordan Asberry (4-14-0), Nicholas Black (1-13-0) and Christian Drake (2-4-0).
Giachinta credited better blocking and tackling on a young team with 18 freshmen and sophomores – nine of each class – on its two-deep depth chart.
"A lot of times (the losses) came down to not blocking well or making a tackle," Giachinta said. "We knew the effort was there. We were playing hard and tough. We just had to hone in on getting the little things right."
With the Eastern Michigan output, Army is now No. 9 in the nation with 294.5 yards a game. Penn State's defense hasn't faced a triple-option scheme, but the Lions have been strong against the run, ranking 14th at 90.5 yards per game.
But whether facing Eastern Michigan of the Mid-American Conference or Penn State of the Big Ten, every day at West Point is about preparation. The cadets woke up to the same news as the rest of America heard about Russia flying bombing missions in Syria.
Aware American wondered what it meant for the future. Army's cadets and players went through their routine of classes and then to practice, which the players consider their easy part of their day. Giachinta was asked for his thoughts on attending West Point in such times.
"It takes a high level of commitment," Giachinta said. "It takes a lot of courage to serve in a time when there is a lot of uncertainty in the world. We're not sure where going to be in the coming year. It speaks to the guys at West Point that have come here and are willing to put their lives on the line for the nation. I respect everyone at West Point and everyone serving in the military for us."
The Black Knights will feel more of that respect at a road game in a new college football tradition this week