Another West Point influence on Okafor
Duke freshman center Jahlil Okafor says he still benefits from Terry Baggett's high school influence on him
Photo: Jahlil Okafor (second from right) and his Chicago Whitney Young teammates listened to future Army officer Terry Baggett. Below, 1) Jahlil Okafor with Duke and 2) Terry Baggett celebrating with Cadets after his 304-yard rushing performance to beat Eastern Michigan in 2013 at Michie Stadium.
College basketball fans understand the West Point leadership influence upon Duke basketball through Capt. Mike Krzyzewski (U.S. Army retired), a West Point graduate, former Army basketball player and head coach and the 35th-year general of the Blue Devils.

But another strong Army influence in the 2014-15 season has been West Point senior running Terry Baggett, an Academic All-American pick in the fall of 2014.
Duke freshman center Jahlil Okafor, the ACC Player of the Year, says so himself.
Baggett, who set an Army single-game rushing record with 304 yards in a win over Eastern Michigan in a 1,113-yard junior season, was Okafor's high school basketball teammate at Chicago Whitney Young. Okafor joined the varsity lineup as a freshman in the 2010-11 high school season when Baggett was a senior and team captain.
"I have the utmost respect for Terry," Okafor said. "When we played together, I respected whatever he was saying or doing. He was someone I looked up to in high school."
Duke freshman center Jahlil Okafor, Although Baggett's sport was football, the Whitney Young basketball coach asked him to serve as captain, even though he came off the bench. The Dolphins' starting lineup also featured Ohio State's Sam Thompson,who just finished his career as a starting forward for the Buckeyes in a second-round NCAA tournament loss to Arizona.
"I was a freshman and football was Terry's sport, so I didn't know much about him," Okafor said. "But we all had respect for him. Even though he only played limited minutes for us, he was a leader by example."
Okafor was asked about Baggett following Duke's Saturday practice in Charlotte between his NCAA Tournament debut games. The Blue Devils, the No. 1 seed in the South Region, won Friday over No. 16 seed Robert Morris and Sunday over No. 8 seed San Diego State to advance to face No. 5 seed Utah Friday in Houston.
The 6-foot-10, 270-pounder is standing tall as the projected first pick of the NBA Draft if he opts to leave school early. But lessons learned from Baggett, who will serve in the Army infantry upon graduation this spring as a lieutenant, remain with him. One of those lessons was work ethic.
"If he saw me not working hard, he would tell me right away," Okafor said. "I saw how hard he worked and how tough he was. It seemed like he always had some type of injury, but he was always battling through it. He was a relentless worker in games and practices. I picked that up from him."
Okafor's obvious advantage is physical superiority, but his work ethic is evident with the finesse moves his uses to the basket in addition to his size. Most athletes with his dimensions are content to overpower opponents, especially when it's easy to do at the high school level. Okafor likely wouldn't be averaging as high as his 18.1 points a game and 8.7 rebounds without the versatility of his fire and ice.
"I work a lot of moves with coach Capel," said Okafor of Duke assistant coach Jeff Capel. "I'm watching film with the coaches. They point out things that they think will work. It's been effective for me."
As a high school freshman, Okafor hadn't yet grown to his 6-10, 270-pound strengths, but he still wasn't a body to push around in the paint. Unless, he says, it was Baggett, a 6-0, 200-pounder, defending him.
"He was so strong," Okafor said. "I remember him guarding me in practice and being physical with me."
Thompson, who averaged 10.2 and 3.9 rebounds for the Buckeyes in 2014-15, echoed Okafor's respect for Baggett from their high school days in a preseason interview.
"Terry is one of the best teammates I've ever had," Thompson said.
As Baggett's senior year played out, he made a recruiting decision between Penn of the Ivy League and West Point. Okafor said he didn't raise an eyebrow when he learned Baggett chose the challenge of a military academy over a softer Ivy League lifestyle wearing elbow patches on his sport coat.
"It didn't surprise me at all," Okafor said. "He's as tough and disciplined as anyone I've ever known. He was man among boys when were were in high school. We all looked at him with awe. He carried himself the right way."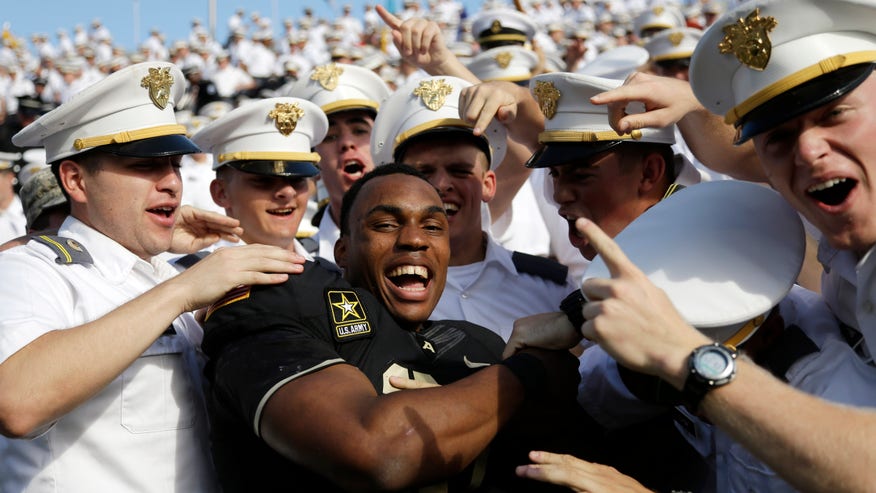 -30-