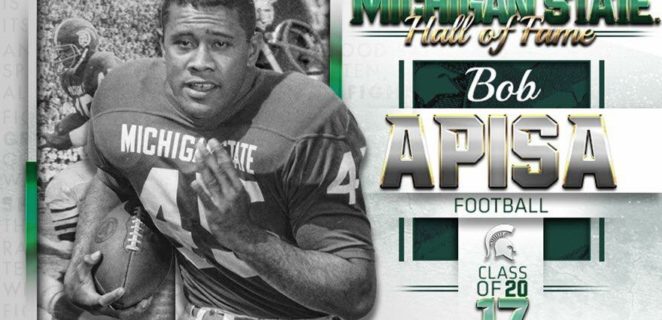 Another Hall of Fame tour for Bob Apisa
Michigan State two-time All-American named to Polynesian Football Hall of Fame
Photo: Bob Apisa's Michigan State Hall of Fame recognition
Bob Apisa's Hall of Fame tour continues into 2018.
The two-time All-American Michigan State fullback was named to the Polynesian Football Hall of Fame, the organization announced on Tuesday at the Sheraton Princess Kaiulani that is hard by Waikiki Beach in Honolulu.
His selection follows his recent enshrinement into the Michigan State Hall of Fame.
Apisa was the first Samoan named an All-American player when he played for College Football Hall of Fame coach Duffy Daugherty. Apisa was one of three players on the Daugherty's Hawaiian Pipeline that helped the Spartans win national titles in 1965 and 1966.
The Polynesian Hall Class of 2018 will be enshrined the weekend of July 19-20, which includes the Polynesian Bowl, a high school all-star game.
The back-to-back Halls have provided Apisa with emotional homecoming trips.
The Michigan State Hall of Fame ceremonies took place the weekend of the Spartans' Sept. 30 win over Iowa. Apisa's grandon, Jacob Isaia of Las Vegas Bishop Gorman, took his recruiting trip that weekend.
Isaia, a highly ranked offensive lineman, announced his commit to the Spartans in a meeting with Michigan State head coach Mark Dantonio. When Apisa later joined the two in Dantonio's office, Isaia told him about his decision. Apisa broke into tears.
The Polynesian Hall is a homecoming to Hawaii dating to 1952. That was the yaer he left American Samoa at age 7; his father had accepted a military post on Oahu.
American Samoans have a long history in the U.S. military. Their arrival at U.S. bases in Hawaii and Southern California and the sons' success playing high school football launched the wave of Polynesian athletes that continues in increasing numbers.
Apisa wasn't the first Samoan or Hawaii athlete to play on the mainland, but he is considered the godfather of the Hawaiian Pipeline based on his place in history. He cleared a path that led to Oregon quarterback Marcus Mariota as the first Samoan Heisman Trophy winner in 2014.
Apisa was one of the Hawaii' top high school athletes at Farrington. Including football, he played baseball and set a state record in the shot put.
The Polynesian Hall named Apisa to the 2018 class as a contributor.
His college career arguably qualifies him as a player, but the Polynesian Hall weighs pro football, college and high school careers. Apisa was drafted in the seventh round by the Green Bay Packers in 1968 when Vince Lombardi served as general manager, but his multiple college knee injuries prevented him from having a pro career.
Navy coach Ken Niumatalolo, who was the first Samoan named a head coach at a Football Bowl Subdivision school, spoke about Apisa's trailblazing career in the book "Raye of Light." Chapter 13 is on Apisa and Chapter 14 on Daugherty's Hawaiian Pipeline.
"I see Bob Apisa as not only a trailblazer for Samoan and Polynesian players but for coaches as well," said Niumatalolo, who was named to the Polynesian Hall in 2014. "You have to be a player before you're a coach. There are a lot of Samoan and Polynesians coaching now. Bob was a pioneer who opened doors for us."
Other athletes named to the Polynesian Class of 2018 are Herman Clark (Hawaiian), Ma'ake Kemoeatu (Tongan), Manu Tuisasosopo (Samoan) and Kimo von Oelhoffenm (Hawaiian).
Clark played at Oregon State and with the Chicago Bears; Kemoeatu played at Utah and the NFL with three teams; Tuiasosopo played at UCLA and with the Seattle Seahawks and San Francisco 49ers; Von Oelhoffen played at Boise State and with four NFL teams. The last three played on Super Bowl championship teams.
Former Hawaii head coach Dick Tomey served as the selection committee chairman. Tomey also recruited Polynesian talent as the head coach at Arizona and San Jose State.
"On behalf of the Selection Committee, I congratulate the outstanding Class of 2018," Tomey said. "Their accomplishments on an off the field make each of them truly worthy of this recognition."
Two other names related to Daugherty's Michigan State Hawaiian Pipeline, Charlie Wedemeyer and Thomas Ka'ulukukui Sr., were among the 18 finalists.
Wedemeyer was considered one of Hawaii's all-time top multi-sport high school athletes when Daugherty recruited him out of Honolulu Punahou.
He went onto a successful high school coaching career, including continuing to coach once he was diagnosed with amyotrophic lateral sclerosis. His life story was told in a Public Broadcasting System documentary, One More Season, and TV movie, Quiet Victory, the Charlie Wedemeyer story.
In Michigan State's 1966 comeback win over Ohio State that preserved the unbeaten Spartans' march to the 1966 Game of the Century with Notre Dame, Apisa, Wedemeyer and Dick Kenney scored all 11 points in Michigan State's 11-8 victory.
Apisa scored the game-winning touchdown and Wedemeyer caught a two-point conversion pass from Kenney following the score. Kenney also kicked a field goal earlier in the game.
The Honolulu "Star-Bulletin" celebrated a victory for the islands with this memorable headline: Hawaiians 11, Ohio State 8.
It can be considered a watershed moment in the wave of Polynesian football players that were about to influence the high school, college and pro games on the mainland.
Ka'ulukukui was Daugherty's point man recruiting Hawaii. Their efforts helped launch the influence of Polynesians on modern American football.
In all there were 11 Hawaiian players that played for the Spartans. The list starts with with halfback William Kaae in 1955 through defensive back Carter Kamana in the early 1980s.
Ka'ulukukui and Daugherty met when Michigan State played a home-and-home series with Hawaii in 1947 and 1948.
Another Michigan State athlete, quarterback Tony Banks, was among the finalists. He qualifies with Samoan ancestry. He led one of Michigan State's all-time upsets of Michigan with a fourth-quarter drive in 1995.
Banks began his NFL career as a second-round draft pick by the St. Louis Rams. His career included a Super Bowl ring with the Baltimore Ravens as Trent Dilfer's backup in Super Bowl XXXV.
Follow Tom Shanahan on Twitter at @shanny4055
-30-