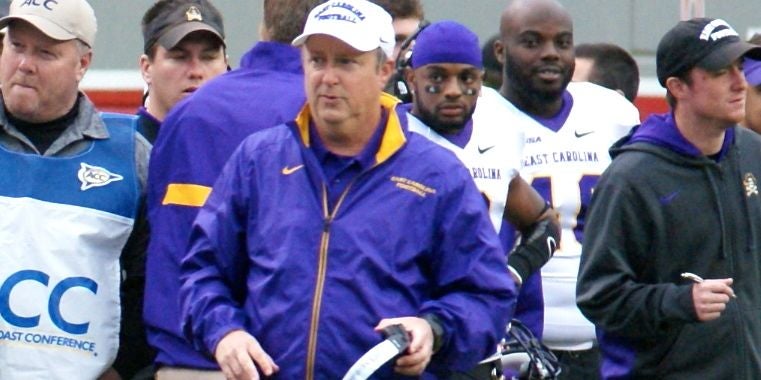 A final look back and the view that is ahead
Scottie Montgomery never made excuses; Mike Houston is bridging gaps
Photo: Donnie Kirkpatrick at ECU in 2015
Flipping the calendar to 2019 seems a good time to empty my East Carolina football notebook. Here is a look back at the chaotic dismissal of Scottie Montgomery followed by the ironically efficient hiring of Mike Houston four days later.
Talk about turning the tables.
In the aftermath of ECU's embarrassing 58-3 loss to N.C. State in the season finale, comments from Montgomery's assistant coaches and players were overshadowed by the rapid order of events. To leave those quotes buried isn't fair to Montgomery, with the character he demonstrated throughout tough times that faced him.
"Scottie doesn't make excuses," said David Blackwell, Montgomery's defensive coordinator that served as interim head coach, after a torturous game. "He's not an excuse maker; never has been. He takes responsibility. In my conversations with him, he apologized to the staff, feeling he had let us down. From my side of it we let him down."
In the words of "News & Observer" columnist Luke DeCock, Montgomery had been "hired to fail." He had replaced a popular coach, ECU alumnus Ruffin McNeill, who had been unceremoniously fired shortly after a 5-7 record in 2015 that had followed three straight bowl seasons and four in five.
But Montgomery never had a Nick Saban-like outburst, blaming the media or others during the course of a third straight 3-9 record. Montgomery was highly popular with his players, but the former Duke offensive coordinator and NFL assistant coach has kept a low profile since he was permitted to address the Pirates one final time.
Blackwell likely understood his days were numbered, but his parting words leaned on his ECU alumnus roots.
"I told our seniors, 'This is your university the rest of your lives,' " he said. "The one thing we've got to do as Pirates is we, alumni and fans, have got to get behind East Carolina. We've got get rid of the negativity. Our football program is going to grow and get better. There will be exciting things happening.
"I challenge our fan base to get behind whoever the next coach is. Get in the stands; be proud of our university. When I was at Clemson (as an assistant) after every game the first thing I'd do was see how ECU did. When I was at Pitt, it was the same. We've got a fractured fan base that has to come back together."
Houston was quick to bridge the gap between a fired coach and his successor with his words when he initially spoke to the team and his actions when he named his staff.
"I told them I know Scottie and I know Ruff," said Houston. "Ruff and I are good friends. I said they will never hear me talk negatively about a former coach. Those two guys gave East Carolina everything they had. I respect that. Players on my team now are here because of former coaches. I know they have an emotional attachment to them, but I look forward to building on what my predecessors have done here."
Houston largely brought his JMU staff with him -- retaining only one ECU assistant, defensive backs coach Brandon Lynch – but offensive coordinator Donnie Kirkpatrick and offensive line coach Steve Shankweiler are dripping with name recognition among the ECU faithful. They will continue their JMU roles at ECU.

Kirkpatrick previously coached 11 seasons at ECU, guiding the wide receivers under both Skip Holtz (2005-2009) and McNeill (2010-2015).
Shankweiler was in Greenville under Holtz (2005-09), Art Baker (1987-88), Bill Lewis (1989-91) and Steve Logan (1998-2002). His duties during those periods spanned the O-line and OC.
Houston was highly successfully at maintaining James Madison's winning program, claiming a Football Championship Subdivision national title in 2016 followed by a runner-up finish in 2017. But he also has proven he can turn around programs in tenures at The Citadel and Lenior-Ryhne University. His initial steps at ECU were to bridge the uncertainty gap with words to his new players and actions that named his new staff.
Kirkpatrick uses a spread offense similar to Montgomery's scheme, but Kirkpatrick prefers a heavier emphasis on the run. He pointed to his time under McNeill in ECU's 70-41 win over North Carolina in 2014. Kirkpatrick noted that although quarterback Shane Carden threw for 438 yards, Breon Allen added 211 rushing.
"We're going to have more (running) plays and different plays," he said. "They were running zone plays. We're more into gap plays, pin- and-pull plays and counter plays. We'll have more schemes up front. The passing game will be very similar."
Houston said on signing day he feels he has already recruited an every-down back, flipping from Purdue 3-star prospect Demetrius Mauney of Forest City East Rutherford in western North Carolina.
Kirkpatrick added he likes his quarterback stable with Holton Ahlers and Reid Herring. Ahlers won the starting job as a true freshman at midseason after Herring started the first five games his redshirt sophomore season. He added he likes a pair of Class of 2019 quarterbacks the Pirates signed, 3-star Bryan Gagg of Bradenton (Fla.) Braden River and two-star Alex Finn of Asheville Reynolds.
Kirkpatrick is very familiar with Herring, who committed to ECU while McNeill and Kirkpatrick were still coaching in the 2015 season.
"I know Reid had some ups and downs, and I think part of it was a lack of confidence," he said. "We've got to get that back. We'll need him throughout the year.
"Obviously, Holton got everyone excited with what he can do. He brings a whole new dimension with the run game and what he can do with his size. He can throw the ball, too. We want dual-threat guys. They're not the same, but we've got to prepare the offense so both can play."
On the other side of the ball, Bob Trott followed Houston from James Madison as defensive coordinator with a 4-2-5 scheme that is similar to what the Pirates played. In Blackwell's lone season, the total defense numbers improved early in the season from last in the nation in 2017, 129th at 541.7, until fading to a final ranking of 102nd (439.8).
"It's similar in that the alignment is close, but we call different things and the techniques will be different," Trott said. "The whole thing is we've got a plan and a system and they've got to buy into it. It will be an easy transition."
In the four days between Montgomery's dismissal and Houston's appointment, ECU stared at a perilous valley fraught with more Pirate Nation cannibalism that had been consuming the program with dwindling attendance. But a bridge seems in place from all sides, past and present, taking the high road.
An early measuring stick of where the program stands facing the future will be learned in the 2019 season opener. The Pirates open at N.C. State.
* * *
I invite you to follow me on Twitter @shanny4055
Tom Shanahan, Author: Raye of Light http://tinyurl.com/knsqtqu
-- Book on Michigan State's leading role in the integration of college football. It explains Duffy Daugherty's untold pioneering role and debunks myths that steered recognition away from him to Bear Bryant.
http://shanahan.report/a/the-case-for-duffy-and-medal-of-freedom
David Maraniss, Pulitzer Prize winner and biographer; "History writes people out of the story. It's our job to write them back in."
Click here for the link to order from August Publications